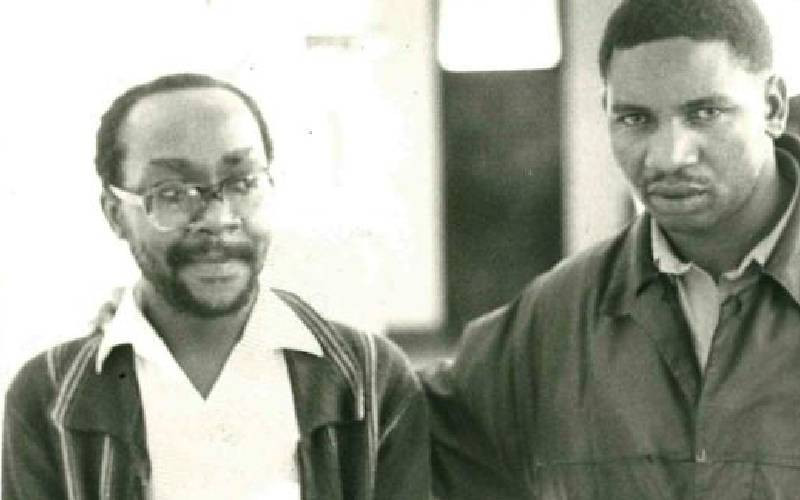 Like a ghost, the fleeting shadows of the resistance have been constantly moving, changing form and names from the day Kenya became a free state.
One of the most lingering movements, some historians say started December 22 to 23, 1974, when an ultra-secret Kenya Marxist Leninist party met in Nairobi. According to Mana Wa Kinyatti, the pioneers that attended were Adhu Awiti, Kamonji Wachira, Koigi Wa Mwere and Amin Kassim.
Around this time, the Kanu administration had just won the election and although most of Jomo Kenyatta's allies triumphed, some losers were challenging Munyua Waiyaki (Mathare), Onyango Mindika (Nyando) and Peter Kibisu (Vihiga).
One of the bitter petitioners was Moses Mudavadi who believed Kibisu won the Vihiga parliamentary seat illegally. Others who were unhappy were total man Nicholas Biwott who wanted Joseph Kurgat dethroned as Kerio South MP.
Further afield, the cold war pitting the Americans and communist Russia was at its peak and that is why the architects of the dissident movement were meeting secretly. America's CIA was toppling foreign leaders of governments they believed were sympathetic to Moscow and communism.
Originally, the radical academicians wanted to call their organisation December 12 Movement (DTM) but later adopted Muungano Wa Wazalendo Wa Kuikomboa Kenya (Mwakenya). This acronym became quite popular because of the publications the movement was producing such as Pambana and its association with radical scholars and university students further adopted it as a code name for smuggled material into examination halls.
University strikes also adopted Pambana and Comrade Power whenever they assembled to protest against injustices.
Kinyatti explains in his book, Mwakenya: The Unfinished Revolution that leading academicians subscribed to the secret movement and were contributing a third of their salaries to run the secretariat and the publication of the pamphlets which the government deemed seditious and would send many activists to detention.
Some of the prominent leaders in this struggle were former Chief Justice Willy Mutunga, Ngugi Wa Thiongo, Sultan Somjee, Ngotho Kariuki, Al-Amin Mazrui, Edward Oyugi and Shiraz Durani.
Despite operating in secrecy, the movement's publications were so hot that when dailies were given copies they declined to report about the ideologies some of which advocated for the toppling of the government.
But as one of the founders, Prof Maina Kiongo explained, Mwakenya was betrayed by his spouse who tipped the dreaded Special Branch, gave them a list and triggered thousands of arrests while others fled the country in the 1980s.
Related Topics