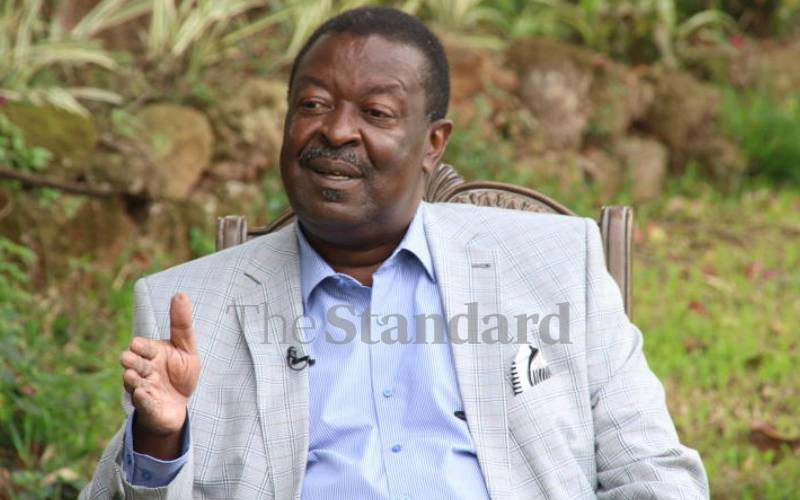 At least 11 police officers from the elite GSU unit are being questioned in connection with a burglary at Prime CS Musalia Mudavadi's home in Karen, Nairobi.
The 11 members of Mudavadi's elite Presidential Security guards were forced to record statements about the Sunday afternoon incident on Tuesday.
When the criminals broke into a house in the compound and stole a 40-inch television set and a gas cylinder, the Prime CS and his immediate family members were not at home.
Mudavadi and his family live in the same compound as the house where the stolen items were kept. It is approximately 10 metres from the main family home.
According to the police, the family discovered the break-in on Monday morning and reported it.
Officers involved in the investigation say the house is used as a store and is adjacent to another used by domestic workers.
The burglary was reported to Karen police by a member of the Prime Cabinet Secretary's family. On Sunday, the police went to the house to gather information.
On Tuesday, another team of investigators, including crime scene investigators, returned to the home for additional forensic investigations.
At the same time, investigators recovered CCTV footage that revealed two men were responsible for the incident.
The two were caught scaling the high perimeter wall from one end of the house and proceeding to the servant quarters.
It's unclear how these intruders managed to outwit the hawk-eyed GSU officers stationed in all corners of the house to provide 24-hour security.
The homestead also has a razor-wire electric fence to keep intruders at bay.
According to police investigations, the electric fence was not operational on that day. It is unclear whether the electric fence was defective or tampered with on purpose to facilitate the crime.
A senior police officer familiar with the situation said investigations have been taken over by the Lang'ata DCI officers who have been tasked with finding the burglars.
The senior officers refuse to comment on the matter.
"We have recorded the workers' statements and obtained CCTV footage to assist with the investigations," said the senior officer.
Related Topics