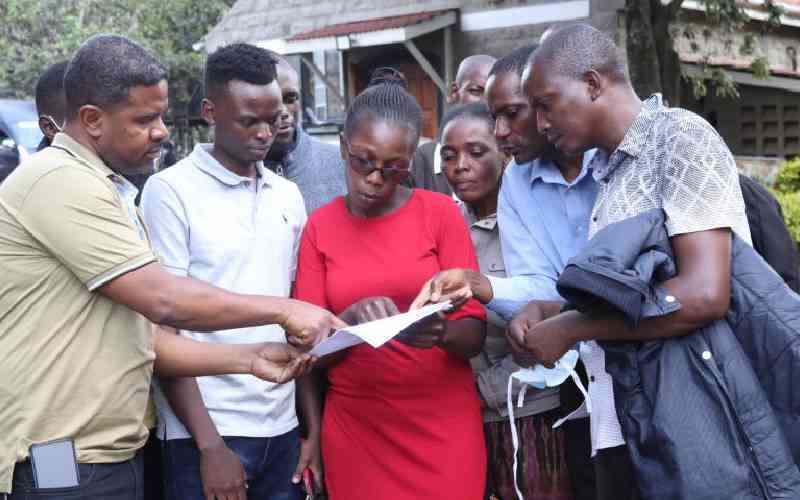 A Nairobi family is demanding justice for the death of a relative who was a prison warder in the rank of constable at Nairobi West Prison.
According to police, Ken Kavunga Wali was lynched by an angry mob on Christmas Eve after they allegedly accosted a woman along Muchai Drive in Kilimani, robbing her of her mobile phone and other assorted items.
The deceased was 28 years old and was from Hamisi constituency in Vihiga County.
However, the family has rejected the security agencies' claim and insisted that their relative was killed by police, citing conflicting reports on the crime and the results of the postmortem examination.
"My brother was arrested by the police at 9pm on December 24 at Kilimani area on a motorcycle with his friends. As a uniformed officer, he did not flee but instead identified himself to them.
"They took him to Capitol Hill Police Station instead of Kilimani Police Station," said his sister Mourine Wali at City Mortuary.
"How can a dead man killed by mob injustice go to a police station and record a statement?" she continued. "He had a pistol, so how come he didn't shoot anyone when he realised his life was in danger? The police have already classified him as a robber."
Mourine said they received a call from Nairobi West Prison and were informed that their brother had been killed in a robbery incident, was taken to Kenyatta National Hospital, and died there.
She also said they went to KNH, but no such person had checked in as the police claimed.
"His girlfriend witnessed police assaulting him in a police car, and at the mortuary, the clothes he was wearing were changed. We don't know what happened to his girlfriend, who was a key witness, and her current whereabouts are also unknown," Mourine said.
Alex Shonoya was recording a statement while wondering how his younger brother was killed at the scene by the mob.
"If you have been killed by a mob, how possible is it to go and record a statement at another place at the same time. They've already crucified him by convicting him. However, the postmortem report reveals that he died as a result of strangulation.
"You can't be strangled while being lynched by a mob," Shonoya said.
According to a report obtained by The Standard, the deceased died as a result of strangulation. The postmortem report was prepared by Dr. Peter Ndegwa who performed the autopsy at City Mortuary.
Ligature strangulation is defined as strangling with a cord, such as rope, wire, chain, or shoelaces, that partially or completely covers the circumference of the neck.
Hussein Khalid, Executive Director of HAKI Africa, said the police should explain how the prison warder died, claiming that they have the answers and that those responsible should be held accountable.
"If it was a mob, how come the matter was reported at Capitol Hill and not Kilimani Police Station where the incident happened? Where did the mob come from, and why was Kilimani deserted at the time?" Khalid said.
"Where did the mob come from to respond to the crime by the purported gangsters?" he continued. "Who is being duped by the police and the autopsy report? The police should bear full responsibility for the warder's death."
According to the Twitter page of the Directorate of Criminal Investigations (DCI), the deceased died as a result of a mob attack after residents cornered him following a robbery mission.
The DCI said Constable Wali was armed with a pistol loaded with 15 bullets and was part of a three-man gang that accosted a woman along Muchai Drive in Kilimani and robbed her.
According to the DCI, his two accomplices managed to escape but the deceased was cornered by the mob and beaten mercilessly.
Related Topics