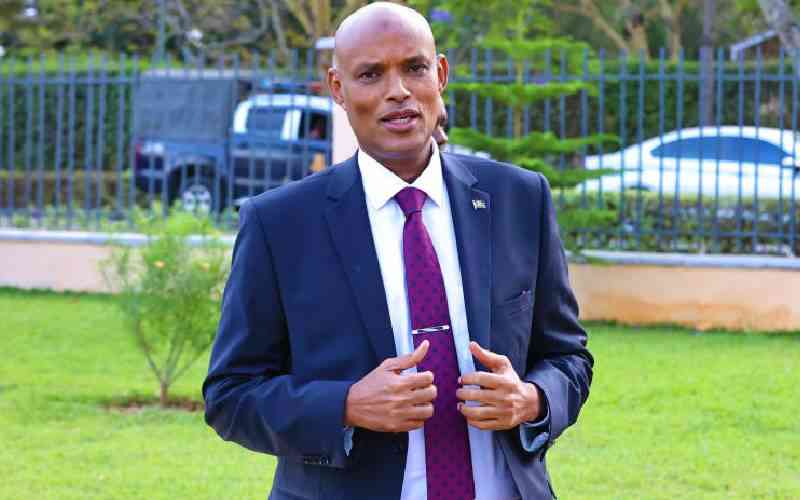 Forty days after the disbandment of the Special Service Unit, Directorate of Criminal Investigations boss Mohammed Amin is in the process of rebuilding another unit to combat crime.
Amin on Tuesday made changes in the DCI affecting 100-odd senior and junior officers.
In the changes, he announced the transfer of over 50 police officers to the office of the DCI Head of Operations Said Mohammed.
This clearly points to the fact that he is in the process of either rebuilding the defunct Flying Squad Unit or crafting a new elite unit altogether.
The Flying Squad Unit was disbanded by former DCI boss George Kinoti three years ago.
The Sunday Standard has established that Amin is yet to give a name to the new unit that is now dominated by officers who previously served in the Flying Squad Unit.
Once fully constituted and operationalised, it will be familiar territory for the officers as a majority of them worked together in Flying Squad Unit.
Mohammed, a seasoned DCI officer, is a former Flying Squad Unit boss.
On December 31, 2018, Kinoti, in a surprise move announced that he had disbanded the dreaded unit that had been in operation for over 20 years.
"With effect from today, the Unit (Flying squad) has equally been disbanded. This marks the end of the Flying Squad Unit and no officer will present himself or herself to the public as such. Equally, the Special Crime Prevention Unit (SCPU) has been scaled down to a smaller unit," Kinoti said then, adding that the unit had lost public trust.
All roles of the Flying Squad Unit including patrolling Nairobi's streets and cracking down on armed criminals were transferred to the new Special Service Unit, previously known as Special Crimes Prevention Unit.
Kinoti said SSU officers who had a countrywide mandate would lead the fight against organised crime, robberies and other complex crimes that were previously being handled by the Flying Squad Unit.
All officers who served in the unit were transferred to stations outside Nairobi.
Three years down the line, Kinoti's SSU faced a similar fate as the officers who served in his special unit are now awaiting deployment after the unit was disbanded.
President William Ruto spoke about the disbandment of SSU saying officers in the elite police unit had gone rogue and turned into killers.
"The police changed and became killers instead of protectors of ordinary Kenyans. I have ordered the disbandment of a special police unit that was killing Kenyans arbitrarily. We will change this country for the better," President Ruto said on October 16.
But former senior police officers say there is a need for governments to have these special units.
"It is a worldwide practice. Governments need people they can trust," said Sammy Kikami, a retired police officer who now runs his own security company.
"Governments need officers who are bold enough to do what your normal police officer on the streets can't do."
Another former police officer who was instrumental in keeping the Flying Squad Unit alive agrees. "These units are a necessary evil, and you can't do without them," he says.
Even as the new DCI boss gets down to business, questions abound on whether the new unit will survive.
Related Topics