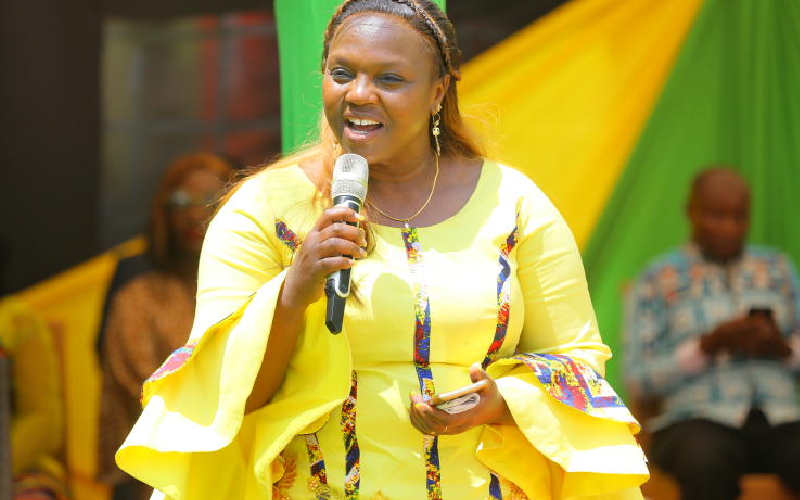 Police are investigating an incident where a Murang'a-based journalist was assaulted by security officers attached to Deputy President Rigathi Gachagua's wife.
Nation Media Group's Mwangi Muiruri was viciously attacked by security officers when he was covering a food distribution event led by Dorcas Gachagua at Greystone area in Gatanga on Thursday.
Video footage of the assault shows Muiruri being mobbed by a squad of plainclothes police officers, with one of them striking him hard on the face.
Following the attack, Muiruri recorded a statement at Kaguku Police Station.
Murang'a County Police Commander Ali Nuno said the matter is under investigation.
In his statement, Nuno said the officers responded when they saw an individual getting too close to Pastor Dorcas.
"He advanced towards Pastor Dorcas and the police could not allow him near her as he had no identification badge," claimed Nuno, adding that the officers were trying to stop Muiruri from reaching Pastor Dorcas.
"This was an isolated case. We as police officers maintain a cordial relationship with the media and respect the Fourth Estate."
Muiruri maintained his innocence pointing an accusing finger at the police officers saying one of them grabbed his phone when he was shooting a video of Pastor Dorcas at the function.
"Those who assaulted me should be arrested as they committed an injustice towards me as I was trying to retrieve my phone from one of the officers who had grabbed it," said Muiruri.
"I am going to pursue this issue to its logical conclusion, as I seek justice and make a statement that media are not here by default but have a right to carry out their duties in public."
He said the police assaulted him even though he showed them his press badge.
He also said he lost a mobile phone and all the cash he had in his pockets when the police officers were attacking him.
The incident has been condemned by several media-related organisations including Kenya Editors Guild (KEG) and the Media Council of Kenya (MCK).
The MCK condemned the incident terming it regrettable considering that the journalist had clearly displayed his press badge.
Even after he followed the instructions from the police officers, MCK said in a statement, he was still verbally and physically assaulted yet he posed no danger to anyone.
"There is an emerging trend where the police in plain clothes guarding senior government officials act with impunity and attack journalists in contravention of known laws," MCK said in the statement.
David Omwoyo, the MCK chief executive said it was a shameful, regrettable and worrying trend.
"The MCK urges the Independent Policing Oversight Authority (IPOA) to identify, publicly name and take appropriate action against the officers involved in the attack," he said.
The Kenya Editors Guild said the attack amounted to an assault against constitutional guarantees of media freedom, perpetuated by the presumed guardians of law and order.
Churchill Otieno, the KEG president said the Constitution in Article 32(2) makes it clear that the State shall not interfere with any person, engaged in broadcasting, production or circulation of any publication.
"The Guild would like to condemn the attack against the journalist and call for investigations into the matter and action against the officers," Otieno said.
Related Topics