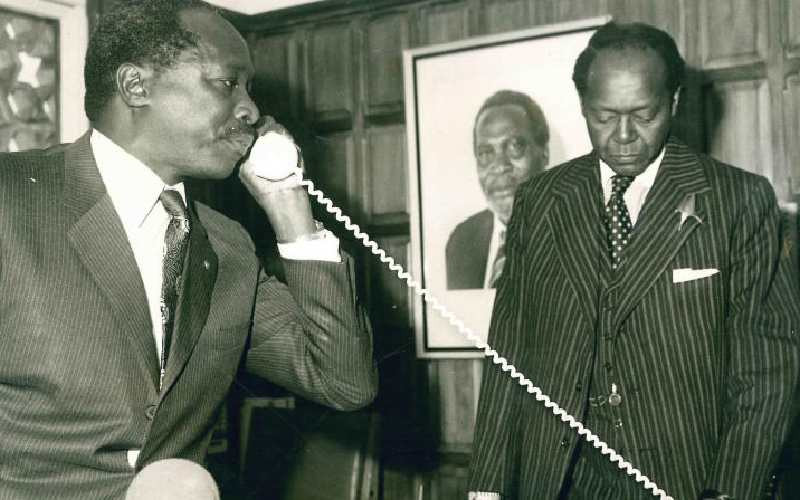 When things finally fell apart to an extent that the centre could no longer hold, mere anarchy was loosed on the Duke of Kabete, Charles Mugane Njonjo's empire, and his foibles were exposed.
When he was ultimately pulled off the pedestal in 1982, the country learned how the fallen constitutional minister who had previously served as the country's Attorney General had illegally acquired a string of diplomatic passports.
At the height of his power, Njonjo had five diplomatic passports, which although issued at different times, were all valid and even used for travel. Revelations that the powerful minister held multiple valid passports all issued by the Kenya Government baffled the commission that was formed to investigate him.
The first passport had been issued on May 31, 1965, and when it expired on May 30, 1970, it was renewed for another five years. Interestingly, three of the diplomatic passports bore the same serial number- D000003.
In one of the passports issued to him on September 7, 1979, by the Principal Immigration Officer, James Kasyula, Njonjo's profession was given as Cabinet minister.
In yet another passport issued on September 7, 1979, Njonjo's profession was given as Attorney General. This alteration was done by a senior immigration officer, Skathar Singh Sehenri, on the instructions of his boss, Kasyula.
It also emerged that Njonjo further held a unique passport, which was bound in hardcover, the only one in Kenya as other others had soft covers. He was given this passport as a gift by David Knight, a representative of London-based Aero Print Limited, which had been contracted to print the passports by the government.
Njonjo's rare passport had been issued on January 12, 1983.
He had ordered the passport tender to be awarded to Aero yet their cost of printing the passport was higher than the other bidders by £26,000 (about Sh3,843,020).
When the issuing officer, David Moseti, was questioned, just like his seniors in immigration, he said it was not recorded in the department's register where all diplomatic passports had been entered in September 1979.
Investigations later revealed that since the department of immigration had not ordered the printing of any hard-cover passport, Njonjo's unique issue had been printed and given out in a clandestine manner. Although he had used it on a number of occasions to travel, he had not signed it and there were no traces of records of his application.
Related Topics