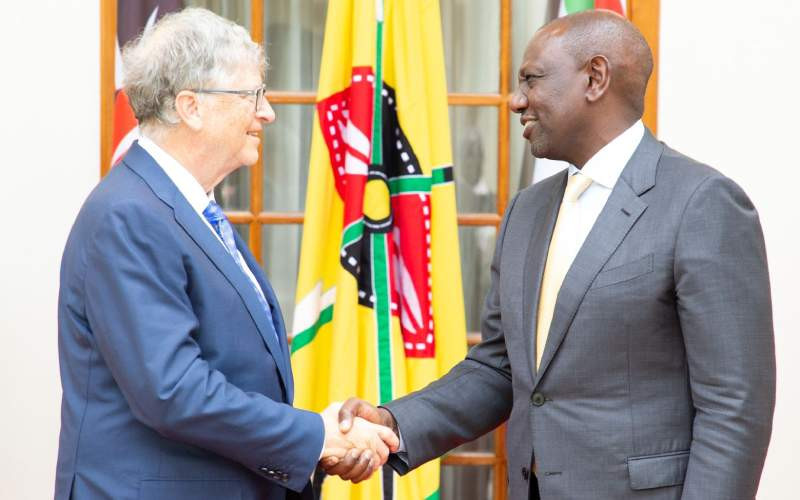 President William Ruto has hosted American business mogul Bill Gates at State House, Nairobi.
The businessman cum philanthropist jetted into the country for a two-day business trip on Tuesday, November 15.
In a tweet on his official Twitter page on Wednesday evening, President Ruto said that the government will collaborate with the Bill and Melinda Gates Foundation to realise food security and universal health coverage.
"We appreciate the support the Bill & Melinda Gates Foundation continues to extend to Kenya in realising our development goals, especially in the areas of healthcare, agriculture, and ICT sectors," Ruto's tweet reads in part.
"We will continue to collaborate towards the realisation of food security and universal health coverage in our country," he added.
Aside from meeting the president, Gates is expected to meet local, and national leaders and partners to forge new partnerships in supporting new innovations and ingenuity in African countries.
"Gates will be in Nairobi, Kenya, to visit national and local leaders and guarantees to meet regional scientists and innovators, and announce the foundation's forward-looking commitment to support new innovations and ingenuity aimed at improving health, food security, and gender equality in African countries," read a statement sent to newsrooms detailing his visit in the country.
Yesterday, Gates toured Makueni County to conduct a benchmarking exercise and lay groundwork for future partnerships, according to area governor, Mutula Kilonzo.
Mutula issued a statement on Tuesday, November 15, after meeting the American billionaire.
"We are privileged as a county to have hosted the co-chair of the Bill and Melinda Gates Foundation, Bill Gates. It is a trip that we have organized for a while," Mutula told members of the press
Gates last visited the country in 2016.
Since its inception in 2000, the Bill and Melinda Gates Foundation has supported partnerships with African regional institutions and national governments.
Related Topics