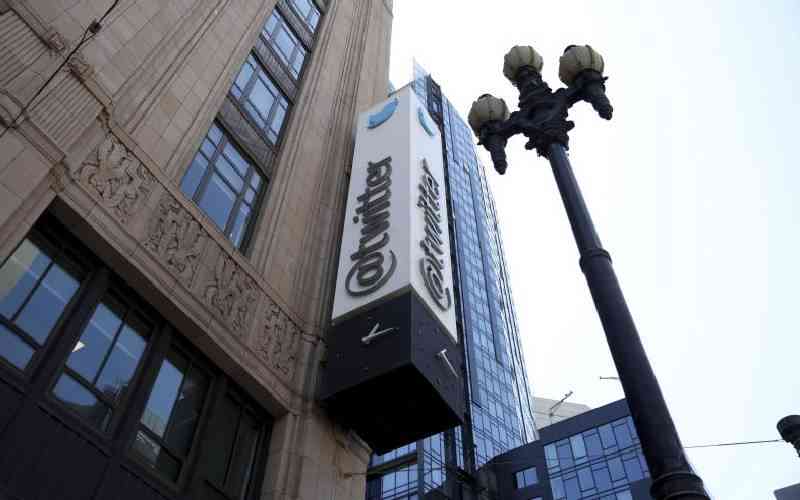 In football, when there is a prolonged quiet, Zlatan Ibrahimovic, a timeless footballer who plies his trade in Italy for AC Milan, resurfaces with something to say.
Often controversial, his chest-thumping and ridiculous comments that target fellow players, belittling them while exalting himself, cause excitement and elicit debate.
On Twitter, this was what former US President Donald Trump was mainly known for. But after the January 6 insurrection where his supporters thronged, and threatened to tear down the US Capitol in Washington, DC, he was booted out of Twitter.
While his supporters cried foul over what they claimed was suppression of free speech, billionaire Elon Musk became even more vocal on Twitter's capitulation, which included locking out Mr Trump.
Mr Musk, the entrepreneur known for founding SpaceX, Starlink, The Boring Company, and for being a long-time owner and head of Tesla, was faulted for influencing markets with his erratic tweets. And then one day, tired of censorship, he said he was buying Twitter.
In April, he bought a $2.9 billion (about Sh350 million) stake in Twitter, a 9.2 per cent ownership that made him the majority shareholder. Soon after, he agreed, with the board, that he was buying the social media platform for $44 billion (Sh5.4 trillion).
After protracted court battles, Musk had threatened to pull out of the deal due to what he termed the social media company's breach of multiple provisions of the merger agreement. He finally bought Twitter.
Immediately, many dynamics shifted. Top executives, including Twitter's Chief Executive Parag Agrawal, Chief Financial Officer Ned Segal, and legal affairs and policy chief were fired. Mr Musk was in full control.
A debate on whether Mr Musk, who claims to be an advocate for free speech, would reinstate Mr Trump onto the platform abound. Mr Trump, not one to be pinned down, continued disseminating his agenda on his Truth platform even as multiple trials targeting him ran in the background, and his house was ransacked and himself subpoenaed.
But after Mr Musk had "freed the bird", his ascent to the hot seat saw the use of the N-word on the platform immediately shoot up by nearly 500 per cent. "An emboldened cast of anonymous trolls spewed racist slurs and Nazi memes onto Twitter in the hours after billionaire industrialist Elon Musk took over the social network," Washington Post wrote.
Almost immediately after, Mr Musk announced that he would be charging everyone who had the blue checkmark, famously known as the blue tick, $20 a month to keep it. There was uproar over this, the few who have the verification mark, and those who aimed at getting it, clearly unimpressed. He reacted to the furore by lowering the charge to $8 a month.
"Twitter's current lords and peasants' system for who has or doesn't have a blue checkmark is bullshit. Power to the people! Blue for $8 a month," tweeted the richest man in the world.
Reactions, including people willing to voluntarily cede ownership of the coveted badge, did not rattle him. "To all complainers, please continue complaining, but it will cost $8," he wrote, a comment that attracted a million likes.
The techpreneur, who is followed by 113.9 million Twitter users, has seen his frantic moves affect the company's fortunes, data show.
The MIT Technology Review reported that Bot Sentinel, a firm which tracks inauthentic behavior on Twitter by analyzing more than 3.1 million accounts and their activity daily, "believes that around 877,000 accounts were deactivated and a further 497,000 were suspended between October 27 and November 1". Mr Musk closed the deal on October 27.
Further, said Bot Sentinel, 11,535 accounts they were monitoring had been deactivated, "meaning someone chose to close an account down".
"A further 6,824 were suspended, which happens when Twitter proactively removes accounts for inactivity, inauthenticity, or violation of site rules. That's approximately 0.59 per cent of the accounts Bot Sentinel monitors. In the week before Musk bought Twitter, only 5,958 accounts were deactivated or suspended, suggesting a 208 per cent increase in account losses in the days after the purchase went through," Bot Sentinel said.
A platform that has been fast rising, and on which Kenyans have formed a formidable battalion that stands like a social media army to safeguard local interests, could be in jeopardy, pessimists would say.
It is harder to get followers and reactions on Twitter than on other platforms, many would say. Yet Twitter brings diversity unlike any other platforms' and, in one trusted arena, subjects can trade barbs with their leaders as much as they please.
Some 22.38 per cent of Kenyans were on the platform as of October 2022, according to data from Statcounter. Only Facebook had a higher membership - 53.68 per cent of Kenyans.
But unlike Facebook, Twitter has, in the past, been seen as a platform for the chosen few, the avenue where leaders can engage in debates with their subjects and where people of note can confidently post their sentiments and generate debate. Sometimes, those who bring small talk are unanimously referred back to other sites "where everyone is".
On Twitter, organisations inform on what they plan to do, or are doing. Generally, there is more trust in content posted on Twitter than there is for equivalent information on other sites. Every self-respecting organisation, or person, fancies to be on Twitter, and to have a blue checkmark. As such, change of guard, and of policy, would certainly elicit mixed reactions.
The blue tick is Twitter's ultimate mark of quality. It makes one more trustworthy and more respectable. It increases interactions, as well. It also distinguishes real account owners from fraudsters.
Calls for freedom of speech have been widely questioned by minorities who often are the recipients of the callousness of the free-speaking keyboard warriors. At some point ahead of the United States' 2020 election, and in the aftermath, Twitter flagged numerous misleading Tweets from Mr Trump, whose rowdy followers were hell-bent on preventing President Joe Biden's ascension to the presidency.
Reuters wrote that Mr Musk "was deluged with pleas and demands from banned account holders and world leaders" immediately after the takeover.
Amidst all the pressure and the desire to stamp authority, the new boss has announced a new phase of firings, vowing to reduce the staff at Twitter as he solely makes the decisions.
It is believed he wants to cut about 3,700 jobs. The billionaire, who is said to have overpaid for Twitter by about $20 billion (Sh2.4 trilllion), is believed to want to slash the workforce by up to 50 per cent as he brings the company back to profitability.
Comedian and talk show host Trevor Noah recently said Mr Musk was hoping subscribers were going to make the same mistake he made and pay for the account verification, the blue checkmark so he would recoup his money.
On the upside, subscribers may now have to contend with fewer advertisements, with Musk favouring a subscription-based model over advertiser funding as he shakes off advertisers' nagging. Also, tweets might get a bit longer and threads, thus, shorter.
But without a clear pathway into how he will beat vile racists while allowing free speech, the platform might become a conduit for hate speech and division, and a money-minting premise.
Related Topics