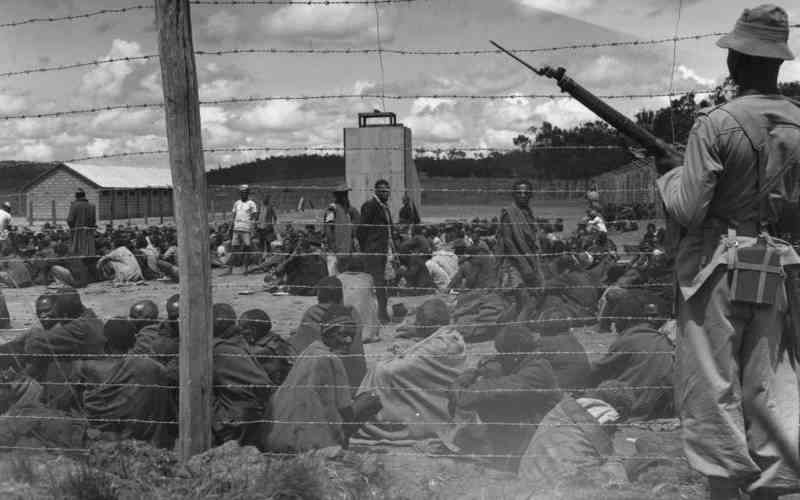 As millions around the world mourn the death of the world's second longest reigning monarch, Queen Elizabeth II, her exit has triggered dark memories of some of the travesties executed in her majesty's name in parts of Africa.
Had Queen Elizabeth ruled for three more years, she would have beaten the record set by Frances King Loius XIV, who reigned for 72 years and 110 days from 1643 to 1715.
In Kenya where the colonial past evokes emotional feelings, especially among senior citizens who lived through the colonial period, this presents moments of reflecting what seven decades of colonial subjugation did to their lives and those of their forefathers.
Some of the unspeakable atrocities visited on innocent villagers shortly after the queen ascended to power in 1952 were recorded and filed away in archives by administrators who never dreamed that their imperial empire would ever come to an end.
Sensitive information
And as the British rule in Kenya neared its end, there was a crafty plan where all the documents with embarrassing and sensitive information were destroyed or carted away.
The secret files released by the British government under the nudging of the court lays bare the elaborate plan which involved flying out some of the documents, either for safe keeping or burning. Even as the administrators tried to belatedly clean up their act, there were attempts by the colonial administration to offer immunity to its officers who had perpetrated heinous crimes against Kenyans.
Some of the files which were destroyed related to details of the release of Jomo Kenyatta, dossiers compiled on prominent personalities such as Daniel Moi, Jaramogi Oginga Odinga, Gama Pinto, Senior Chief Koinange and Michael Blundell.
But not even the meticulous British administrators with all their zeal could completely whitewash what they had done.
Stacks of files hidden away on the eve of independence that were later discovered at Hanslope Park near London lifted the lid off an elaborate conspiracy to cover murders and heart-wrenching torture methods committed by high-ranking officials sanctioned by their bosses.
The documents show top officials in London knew of the atrocities, which also included forced labour on suspected members of the Mau Mau freedom movement, which were against international conventions.
Freedom campaign
More than 100,000 Africans, mainly Kikuyus, were put into detention and concentration camps during the freedom campaign in the 1950s.
Officials repeatedly spoke of and gave amnesty to European officers involved in gross abuse of human rights, including what they refer to as "roasting" of Mau Mau suspects alive.
In one such memo dated February 17, 1955, the Governor Evelyn Baring said eight European officers implicated in murdering Mau Mau suspects by burning, beating or shooting to death would go unpunished.
In the letter to the Secretary of State Alan Lennox-Boyd, Baring writes that the murderers would "be given immunity from prosecution under the new policy."
He was referring new laws drafted by Attorney General Eric Griffiths-Jones, which granted immunity to those implicated in the crimes.
According to Baring a the secretary of state was to "avoid detail as much as possible" in a press conference in London in which he was to speak about the situation in Kenya.
Predictably, Baring objected to any investigation into the police or the loyalist guard arguing that cases of abuses should be dealt with by internally or by courts. There had been concerns, however, of collective abuses by the forces in concentration camps and during communal punishments in villages in Central Province. The Judiciary had demonstrated that it was more sympathetic to the offenders. In one case against two police constables accused of killing a man near Ruiru, the magistrate suggested the man died because he had a thin skull and the officers therefore could not be held culpable.
"There are some salient features in the matter. The most significant, and most unfortunate, is the deceased person had a skull, which was extremely thin. The medical evidence was that one blow, and not necessarily a severe blow, could impress on this skull injuries sufficient to cause death," wrote the magistrate before ruling the murder as "tragic accident" read the judgement which acquitted the murderers.
The AG was enthusiastic about torture methods the government was using to extract confessions and force Mau Mau to submission.
Griffiths-Jones approved of what officials called the "dilution" technique in camps.
Hardcore Mau Mau
Dilution was euphemism for brutal torture methods applied on hardcore Mau Mau members to force them to submit to the law.
The method was actively used in the late years of the emergency period, when thousands of prisoners in detention camps were being taken through the "pipeline" to be re-absorbed back to the reserves.
Since prisoners were resisting, Baring, on the other hand, justified the violence, saying the "resistance of these men breaks down quickly in the majority of cases under a form of psychological shock".
But as euphoric Kenyans were gearing towards elections self-rule, the administrators were busy destroying evidence of their crimes.
Details show some of the secret files, were flown to as far as Zambia, then known as Northern Rhodesia, for destruction.
On October 8, 1963, four months after Kenya had attained her internal self-governance, some files with intelligence committee monthly appreciations, were destroyed in Lusaka.
The destruction certificate was signed by administrative secretary to the governor of Northern Rhodesia, certifying that he had destroyed the documents, covering up to the March 1963, as requested by Kenya's Ministry of Defence.
Flurry of telegrams
However not all documents were destroyed as those found crucial but explosive in the hands of the incoming government was flown to Britain.
A flurry of telegrams took place between Nairobi and the Colonial Office in London to secure safe custody for the documents.
On October 18, 1963, five wooden crates full of documents were flown from Nairobi's, RAF Eastleigh Air Base, aboard Britannica Flight No.6037 to Lyneham.
According to the telegram dispatched by the then acting governor Patric Renson, the documents flown from Eastleigh were classified as historical.
Further correspondence show that minutes of meetings to prepare for the London Conference were not spared as some authors jostled for a piece of Mau Mau files in the hope of penning a book or two.
One such author was Margery Perham of Oxford, who wrote to the governor, Nairobi, requesting some of the Mau Mau documents.
But PM Renson informed Perham that such papers were so sensitive that they could not even be entrusted to the incoming government.
"We cannot say at this stage where these papers will be ultimately stored, but I have noted for future reference your suggestions that they be stored in Bodleian library," said Renson.
Long before the state of emergency eased, there had been a plan by some administrators who feared being prosecuted for their brutality against Kenyans to seek blanket immunity.
An exchange of informal letters by administrators show how some planned to frustrate inquiry into their past activities. Earlier in 1955, the governor had issued an amnesty, insulating officers serving in Central Kenya from prosecution with a caveat that those who persisted after January 18,1955 would be punished.
The officers had panicked after an ex MP, Dingle Foot and CID investigators uncovered how scores of people had been killed and secretly buried by security agents for flimsy reasons.
Related Topics