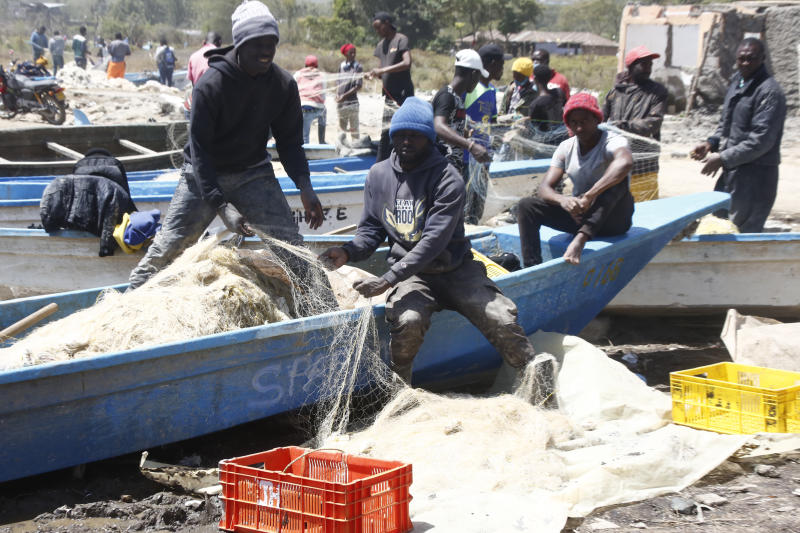 Kenya loses up to Sh45 billion every year due to illegal and unregulated fishing, according to marine scientists.
Unregulated fishing has also resulted in declining fish stocks.
Kenya Marine and Fisheries Research Institute (Kemfri) Director-General Prof James Njiru said the country lies "along the upwelling region of the tuna migratory path", thus lands the lowest amount of fish and attendant minimum economic benefits.
Prof Njiru spoke during a two-day Agritech Conference at Kisii University.
According to Kemfri, the country annually produces 130,000 million tonnes of fish from freshwater sources, which amounts to Sh30 billion. Lake Victoria accounts for over 95 per cent of the catch.
Further statistics indicate freshwater fish catch takes the bigger chunk of about 70-80 per cent. Though fishing is a multi-billion-shilling industry, Kenya, said Prof Njiru, has made low investments that have contributed to the loss incurred over time. Inadequate funding is also a major challenge.
"Illegal and unregulated fishing, environmental degradation, pollution, climate change, poor ocean governance, and lack of political goodwill are to be blamed for the grim situation," Prof Njiru stated.
But the government's dalliance with Blue Economy is gradually creating a paradigm shift: In 2019/2020 financial year, the government allocated Kemfri Sh1 billion, enabling the agency to invest in among other things; the Liwatoni Fisheries Complex in Mombasa, a tuna factory, and Bandari Maritime Academy.
During the launch of Vision 2030 in 2008, the government set objectives of increasing value in fisheries with targeted projects of the Aquaculture Business Development Programme at Sh10 billion and Kenya Marine and Fisheries Social Economic Project at Sh13 billion.
In this year's Budget Statement, the National Treasury allocated Sh1.3 billion to exploit resources under the Blue Economy, with National Treasury Cabinet Secretary Ukur Yatani adding that the government will further use Sh210 million for the rehabilitation of fish landing sites in Lake Victoria.
Fish cage
Fishing culture in Lake Victoria has shifted from traditional to modern fish cage culture culminating in about 6,000 cages which have created 6,000 jobs, said Prof Njiru.
According to Kemfri, fish cage production has gone up to between 2,500 and 5,000 metric tonnes annually, with a value of Sh800 million. The potential of fish cage culture, however, stands at 10 metric tonnes of fish with a maximum value of Sh1.8 billion.
But the impact of climate change directly affects the green economy with drought and floods leading to loss of marine life.
For instance, the current floods resulted in the loss of 120 lives on marine shores across the country.
Related Topics