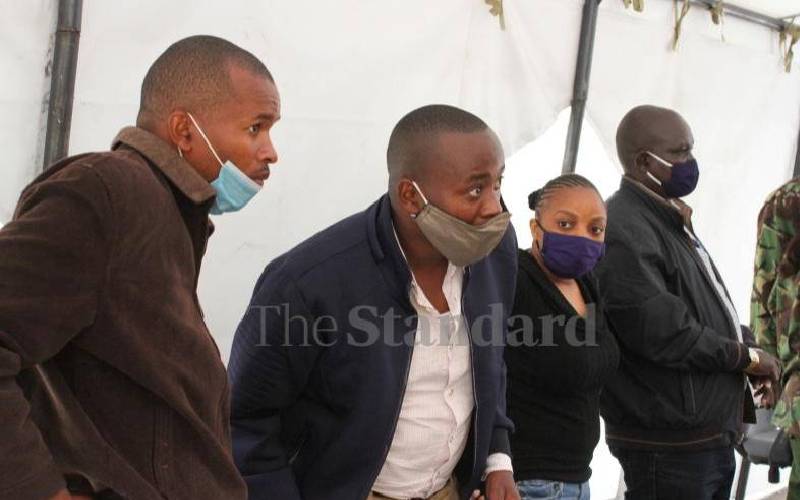 It has been nearly six years since lawyer Willy Kimani, his client and a taxi driver were killed in an open field, their bodies stashed in bags and dumped in a river.
From a dispute that started in April 2015, no one could have sensed what was to happen on the night of June 23 2016 when Kimani, his client Josephat Mwenda and taxi driver Joseph Muiruri in Soweto area within Mlolongo, Machakos County.
When the trial of five people accused of killing them concluded on Friday, the totality of evidence pointed to a well planned execution that would have passed as a case of kidnap were it not for technology, Kimani's unsuccessful attempt to solicit for help and confession by one of the accused.
It emerged from the long trial that Mwenda, being the source of the dispute, was the main target of execution. Kimani's crime was representing a poor innocent man who had sought help against police threats, harassment and intimidation.
Muiruri's death was a consequence of a dispute he knew nothing about. His only crime was ferrying Kimani and Mwenda to the Mavoko Law Court before they were abducted.
Their deaths remain a painful memory for their families who have waited for long to get justice; but within the next 60 days, Lady Justice Jessie Lessit will determine whether four police officers and a civilian are guilty of murder.
At the centre of the murder were Administration Police officers Fredrick ole Leliman, Stephen Morogo, Sylvia Wanjohi, Leonard Maina and Peter Ngugi who was a civilian police informer.
Just as the controversy surrounded the deaths of the three innocent souls, the trial of the five accused was also marked with controversy that made it one of the longest murder trials as noted by Justice Lessit on Friday when all parties made their final submissions.
"This is the longest case I have ever handled given that I am writing the last page of the proceedings which is page 6,114. But I have gained experience and everything submitted by the parties was well noted by the court," said Justice Lessit on Friday.
The prosecution's closing remarks was that they had proved the offence of murder against the five accused persons beyond reasonable doubt, backed by the evidence by 47 witnesses and 117 pieces of exhibits.
The accused persons made their case to prove their innocence and produced tonnes of exhibits and 15 witnesses.
In a bid to reconstruct how it all started, the prosecution tendered evidence of acrimony between the late Mwenda and Leliman with the bulk of evidence coming from Ngugi's confession which he tried to disown but failed.
Deputy Director of Public Prosecution Nicholas Mutuku in his summary stated that the dispute started in April 2015 when Leliman shot and arrested Mwenda, who was a motorcycle rider.
In a bid to cover up for his deeds, Leliman took Mwenda to Mavoko Law Court where he was charged with being in possession of bhang, resisting arrest and gambling.
"The deceased was aggrieved and reported the matter to Independent Police Oversight Authority and sought help from the International Justice Mission. It was at this point that the AP officer felt his job was at risk and hatched a plot to eliminate Mwenda," said Mutuku.
Leliman as he felt he could lose his job after IPOA took up the matter and he was summoned for questioning. IJM also tasked Kimani with defending Mwenda in the case at Mavoko Court.
When he took to the witness box to defend himself, Leliman admitted to shooting Mwenda on April 10, 2015 and initiating the charges against the deceased but gave a different version of the story.
According to the officer, Mwenda had resisted arrest after police officers on patrol stormed a place they were allegedly gambling in. Mwenda produced a knife which prompted him to shoot him in the right arm.
"I told him to put the knife down and surrender but he refused. I realised our lives were in danger and I shot him on the right hand. But we took him to hospital and subsequently charged him in court," said Leliman.
But according to the prosecution, Leliman's account was not true since Mwenda had given a different account of how the officer was threatening him for reporting him to IPOA for his actions and falsifying the charges.
Mwenda's case went on at the Mavoko Law Court and on the fateful day of June 23, 2016, he went for the hearing in the company of his lawyer Kimani.
Little did they know that a plot had been hatched to eliminate them.
This emerged through witness testimonies, phone data records and confession by Ngugi, the fifth accused who agreed to spill the beans after being promised a job by homicide detectives who were investigating the matter.
When Ngugi took to the witness box, he recounted events of that day some of which were captured in his confession.
According to the former police informer, he had planned to go to Gikomba market to buy clothes which he used to sell at his shop in Waithaka market when he received a call from a police officer asking him to go to Mlolongo Police Station.
When he reached the station, he was briefed by three police officers that there was a 'thief' who was going to court that day and that they wanted him to survey his movements. He was handed a phone and given numbers to communicate with.
"I was tasked with tracking the movement of the people while they were in court. I did not know them but I was told that there is someone who will identify them after which I would track their movements and report to another police officer," said Ngugi.
Ngugi said he monitored all their movements and swung into action immediately lawyer Kimani and Mwenda left the court and boarded the taxi which was parked outside the court.
"When they had finished in court, they got into a vehicle very fast, not in the usual way. It was very fast and I told the police officer Kamau all the details. He then told me to wait at the gate and informed me that someone will pick me up in a car," said Ngugi.
The prosecution's evidence showed that after Ngugi did his part in giving details of the taxi to Leliman and the fourth accused (Leonard Maina), the two officers used another car to follow them.
The two allegedly followed the taxi and when they reached the railway line a few metres from the Mavoko Law Court, they blocked the taxi and ordered the three occupants, Kimani, Mwenda and Muiruri to alight and enter their car.
"As soon as the three entered the other car, Ngugi was instructed to drive the taxi car and dispose it of in Meru. He however said the fuel was not sufficient and he opted to dispose it in Kikuyu, Kiambu County," said Mutuku, the prosecutor.
Ngugi in his testimony confirmed that he saw the taxi which was being used by Kimani and his client on the road after which he was instructed by an officer called Kamenju to take it to Limuru.
Meanwhile, Leliman and Maina are said to have driven the three to Syokimau Police Station where they found the third and fourth accused (Morogo and Wanjohi) on duty. They bundled them into the cells without booking them in the Occurrence Book.
It was while at the cell that Kimani sensed that their lives were in danger and managed to write a note on a piece of toilet paper and passed it through a hole to motorcycle riders passing nearby. He gave a number which the rider said in his testimony that he tried to call but could not get the person mentioned.
When darkness fell, Leliman and Maina are said to have swung back to action when they allegedly went to the station, fished them out of the police cells and put them in the boot of a car.
At this point, the prosecution went back to Ngugi's confession where he said they went to a field in Soweto, within Mlolongo under the cover of darkness, and the executions took place.
A post-mortem report by chief government pathologist Dr Johansen Oduor showed that the three were killed by being hit with blunt objects on their heads before being strangulated.
Kimani's head was smashed with a heavy object, Muiruri was strangled then pounded on the head with the blunt object while Mwenda who was the main target was severely tortured, hit on the head and suffered internal bleeding and fractures.
Ngugi had confessed that after the killings, the bodies were put in gunny bags, stashed in the boots of two cars and the journey to dump the bodies in a river started.
He told the court that he was instructed to drive one of the cars to Thika while the other followed behind and when they reached Mlolongo, they met Leliman who gave them money to fuel the cars for the journey.
"We passed Thika Town and headed to Ol Donyo Sabuk River. One of the police officers told me to open the car boot and I saw them remove things that were in funny bags. Shortly after, the other car also arrived and they removed a similar luggage from the boot," said Ngugi.
Related Topics