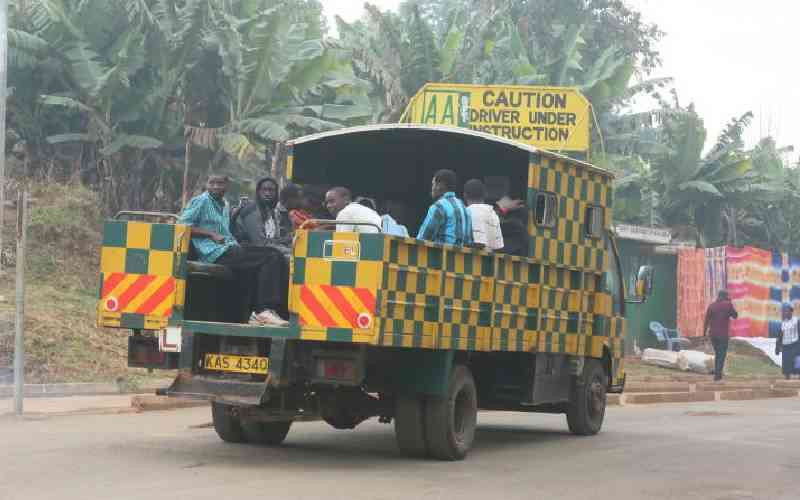 The National Transport and Safety Authority (NTSA) last week begun a re-test of all Public Service Vehicles (PSVs) and commercial vehicle drivers.
NTSA insists that the periodic retest will be mandatory, conducted every three years before a driver renews their licence.
"The re-test is for commercial and public service vehicle drivers and is a pre-requisite for renewal of driving licences with class endorsement(s); 83, D1, D2, D3, C, Cl. CE and CD. 2," NTSA said.
These classes comprise drivers of commercial and school buses, matatus, and taxis.
Refresher driving courses are designed to update and improve the skills and knowledge of experienced drivers.
These courses are particularly beneficial for individuals who have been driving for a long time and want to stay updated with the latest traffic laws, regulations, and driving techniques.
However, in Kenya, it is not uncommon for some drivers to fail these refresher courses. On Motoring this week, The Standard explores the reasons why drivers may fail re-tests and shed light on the challenges they face.
Complacency and overconfidence
According to Michael Kiarie, an officer at the Authority's vehicle inspection centre along Likoni Road, Nairobi, one of the primary reasons drivers fail refresher driving courses is due to complacency and overconfidence.
"Experienced drivers often develop a sense of comfort behind the wheel, believing that they know all there is to know about driving," he says.
This mindset can lead to a lack of attentiveness during the course and a failure to absorb new information or techniques. Drivers may dismiss the importance of refreshing their knowledge, assuming they have already mastered the necessary skills.
Difficulty adapting to new technologies
Advancements in automotive technology have introduced various new features and systems to modern vehicles.
"We now have cars that have advanced technologies like lane departure warnings, adaptive cruise control, and collision avoidance systems, among others. Drivers who trained in the 80's and early 90's have not been exposed to these technologies or who have limited experience with them may find it challenging to understand and utilize them effectively," Kiarie added.
Inadequate knowledge of new traffic laws
Over time, traffic laws and regulations evolve to accommodate changing road conditions and enhance safety. Drivers who fail to keep up with these changes may struggle with the refresher course, as they may not be aware of the latest laws.
This lack of knowledge can result in errors during the course, such as incorrect responses to hypothetical scenarios or failure to demonstrate an understanding of current traffic rules.
Refresher courses often cover these technologies, and drivers who struggle to adapt may fail to demonstrate proficiency in their usage.
Resistance to change
Naturally, long-time drivers may be resistant to change. Refresher courses often introduce updated driving techniques or alternative approaches to certain situations.
"We have seen some experienced drivers being reluctant to adapt to these new methods, clinging to the familiar ways they have been driving for years. This resistance can hinder their ability to pass the course we recommend," the NTSA official said.
Lack of practice and exposure
Even with years of experience, drivers who rarely encounter certain driving conditions or scenarios may face challenges during a refresher course. For example, individuals who primarily drive in urban areas may struggle with rural or highway driving techniques.
Similarly, drivers who have not practised parallel parking or defensive driving skills may find it difficult to perform these tasks satisfactorily during the course. Lack of exposure and practice can contribute to failure.
The retest exercise follows a directive from Transport Cabinet Secretary Kipchumba Murkomen to have all commercial and public service vehicle drivers undergo re-examination.
Related Topics