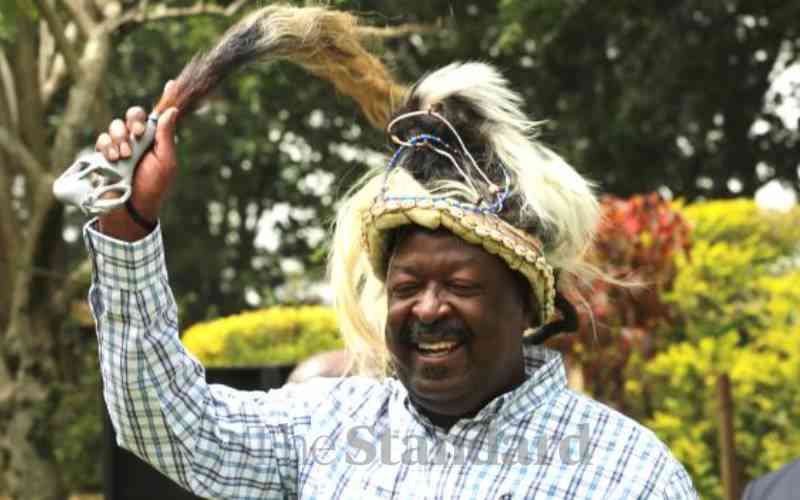 President William Ruto's recent reorganisation of government presents Prime Cabinet Secretary Musalia Mudavadi with a brilliant opportunity to serve his country and invest in his political future.
It also suggests that the president was serious about having a substantive Prime Cabinet Secretary position. He may be out at "Railways," but Mudavadi is squarely in the heart of power.
If he can put his technocratic hat on, assiduously implement the president's agenda, and avoid dabbling in base "watu wetu" politics, he will do Kenyans a lot of good and gain significant political mileage.
Four headline roles stand out. First, as the chief coordinator of the government's legislative agenda, Mudavadi can influence the content of legislation to advance popular policies (and claim partial credit for them).
He can also build a rapport with legislators and in so doing cultivate grassroots goodwill. I am sure that in Speakers Moses Wetang'ula and Amason Kingi, he has potential allies in this regard.
Second, Mudavadi has been assigned the specific role of coordinating implementation of policies with the Interior Ministry. Interior is the eyes, ears and hands of government.
Anyone with access to its personnel has reach throughout the country. A good politician would leverage that access to build friends in key positions throughout the government's administrative apparatus.
It is a testament to the president's trust in Mudavadi that he has been granted this role. The third role, supervision of the technical monitoring and evaluation of policy and programmes, presents yet another opportunity to make friends by not only giving marks to ministries, departments and agencies, but also ensuring they get what they need to succeed.
Lastly, Mudavadi is in charge of chairing committees of permanent secretaries (PS). While his chief rival in government, Deputy President Rigathi Gachagua, chairs Cabinet committees, Mudavadi has access to PSs.
Given the important role of PSs in both policy formulation and implementation, it is arguable that Mudavadi will have greater influence on what gets considered as potential policy and what ultimately gets done.
All this to say that the ball is now squarely in Mudavadi's court. If he chooses to become dependable technocrat, he will prove himself indispensable in government, burnish his political resume and, above all, help move the needle on improving Kenyans' lives.
-The writer is an Assistant Professor at Georgetown University
Related Topics