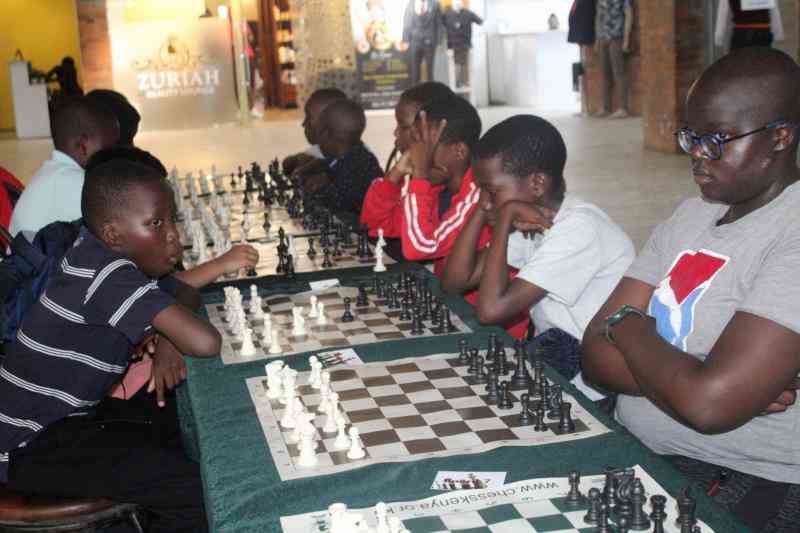 Rishit Ravat and Zena Ibrahim are the 2022 Mega City Mall Junior Chess Tournament champions.
Zena of Victoria Chess Club (Golden Elites Academy) finished top of the Under 16 and 18 girls' category with five points and a tie break score of 20 points.
In chess, a tiebreaker is used when two players in the same tournament group have the same score at the end of a round. The player with the highest tiebreaker score wins.
Shukri Shakira came second with a tiebreak of 18 points. Malia Jane Akinyi of Kisumu Senior completed the top three with five points and a tiebreaker of 15.5 points.
In the boys under 16 and 18 combined, Ravat of Victoria Chess Club (Kisumu Senior Academy) topped with six points and a tiebreak of 16.5 points.
Joshua Prince (Light House) came second and Reyna Collins (Maven Club) third to close the podium finish. Both scored four points and were separated with a tiebreak as Prince had 20 points and Reyan 17 points.
Speaking after the one-day event, Chess Kenya Vice President and tournament director Andrew Owili thanked all those who attended the event saying that it was a milestone.
Owili who also doubles as chairman of Victoria Chess Club said through sponsorship from Mega Properties, Funscapes and Chess Kenya the event was a success.
"The fact that the tournament was now hosted in a mall was testament to the fact that chess is growing in leaps and bounds in Kisumu and that we are charting new waters. We urge more sponsors to come on board in future events," said Owili.
Chess Kenya President Benard Wanjala also commended Victoria Chess Club for organizing a successful tournament and said that the top 2 players in every category would be sponsored to attend the Chess Festival at Sarit Centre in Nairobi.
In the under-6 categories, Neil Chacko, Hussein Silim and Kyle Aswa all of Victoria Chess Club swept the top three spots as Adriel Sewe and Breetaliza Amanda of Mudasa Academy won the under-8 boys and girls categories respectively.
Jeshurun Oluchiri of Rafiki Classical Christian School and Skylar Amor of Victoria Chess Club won the under-10 boys and girls category.
In the under 12 boys, Curtis Reuben of Victoria Chess Club won the top award as Abigael Nafula topped the girls' category.
National Chess Instructor Isaac Ondeng confirmed participants from Kisumu and the neighboring counties as well as Nairobi attended the first edition of the tourney.
Related Topics