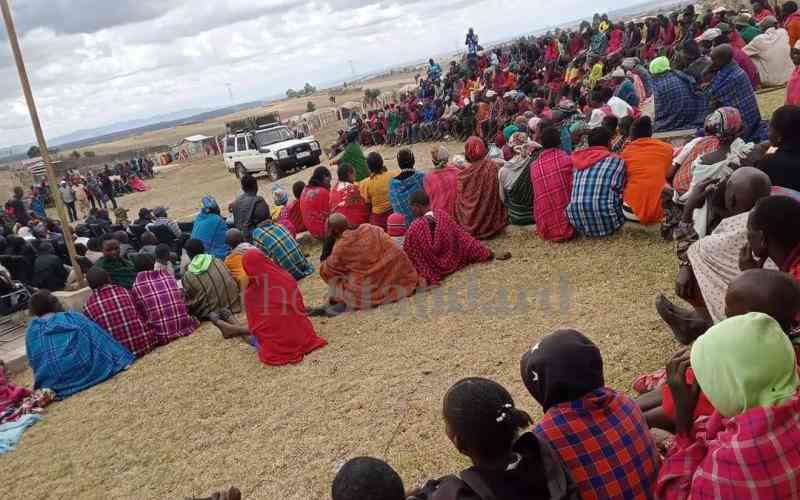 A humanitarian crisis looms in a camp hosting 2,000 families who fled banditry-prone areas in Samburu County.
The families left their homes almost three weeks ago when Interior Cabinet Secretary Kithure Kindiki launched the second phase of security operation in North Rift counties that are affected by banditry.
The families camping in makeshift tents at Loibarnkare Township left their homes in Losuuk, Longewan, Pura, Ikeeksapuki, Sepei and Ololomolg.
Prof Kindiki had directed civilians living in specific bandit-infested areas to evacuate as the government prepared to flush out bandits hiding in rugged terrain.
The families in Samburu are facing starvation, harsh weather and lack of basic amenities.
"These people are living in deplorable conditions and we call on the government to suspend the operation," said Samburu Governor Lati Lelelit, who visited the displaced families on Tuesday.
He said the families who voluntarily moved to safer areas after the government directive had no food, medicine, shelter and water.
"They are now sleeping in the cold as the rainy season begins. The national government must urgently intervene," he said.
Governor Lelelit appealed to Prof Kindiki to immediately conclude the second phase of the operation so that the families can return to their homes.
"The people are suffering. We need urgent intervention from the national government and non-governmental organisations and other well-wishers before the government restores security," he said.
Samburu Senator Steve Lelegwe, who accompanied the governor, pleaded with the national government to supply food and provide shelter for the families.
Christine Lenaboyo, who was displaced, blamed a neighbouring community for perpetrating violence against the Samburu people.
"Our children and the elderly are in a pathetic situation. They are sleeping in the cold yet they have homes, mattresses and blankets. We need help!" she pleaded with the government.
Another displaced person, Beatrice Lesiamito, said they have nothing to eat.
Authorities in the region were not keen to comment on the matter, saying they have already informed their bosses about the challenges the displaced persons are facing.
"The National government is aware of the situation on the ground. We give updates every day, and we hope the situation facing them would soon be addressed," said Samburu County Commissioner Henry Wafula.
Related Topics