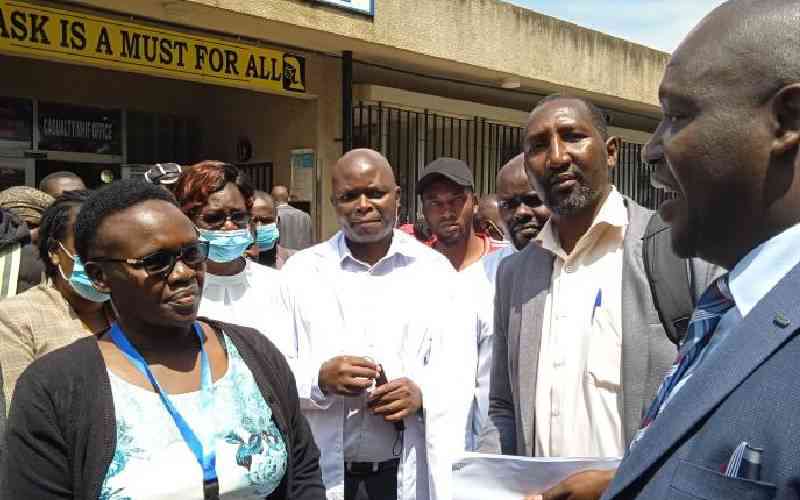 Kericho Governor Erick Mutai came to face to face with the drug shortage patients encounter at the County Hospital when seeking treatment.
Dr Mutai who made an impromptu visit on Wednesday morning was shocked to discover that the hospital's pharmacy only had amoxicillin, children's syrup, and Panadol in stock.
"It's a very unfortunate situation since most of the patients who seek treatment at the health facility expect the pharmacy to be well stocked with drugs and non-pharmaceuticals only to be forced to buy the same in commercial pharmacies and chemists," he said.
Mutai added; "When patients come to opt to come to the hospital instead of the private facility and they don't get drugs at the outpatient facility, it becomes a big burden to them," he said.
He blamed the drug shortage on theft by cartels within the procurement department as he ordered the Chief Office Dr David Ekuwam to reshuffle staff at the department.
"Drugs are procured and then without the knowledge of the hospital authorities the medicine and Non-pharmaceutical are sold private pharmacies and chemists in Kericho town and other trading centres," he claimed.
Mutai warned owners of private chemists and pharmacies who will be found with drugs bought by the county or national government that stern action will be taken against them.
He ordered the County's chief pharmacist Dr Emanuel Korir to immediately prepare a report explaining the exact cause of the situation at the county's largest hospital.
"We want to understand the situation so that we can iron out any issues around it objectively and maturely," he said.
Even then the governor ordered the county director of medical services Dr Betty Langat, Dr Ekuwam, and Dr Korir to ensure that the pharmacy is restocked with all the essential medicine within three days.
"The directive must be observed as we look forward to making a better plan to ensure that at no time will the county's health facilities lack drugs," he said.
Related Topics