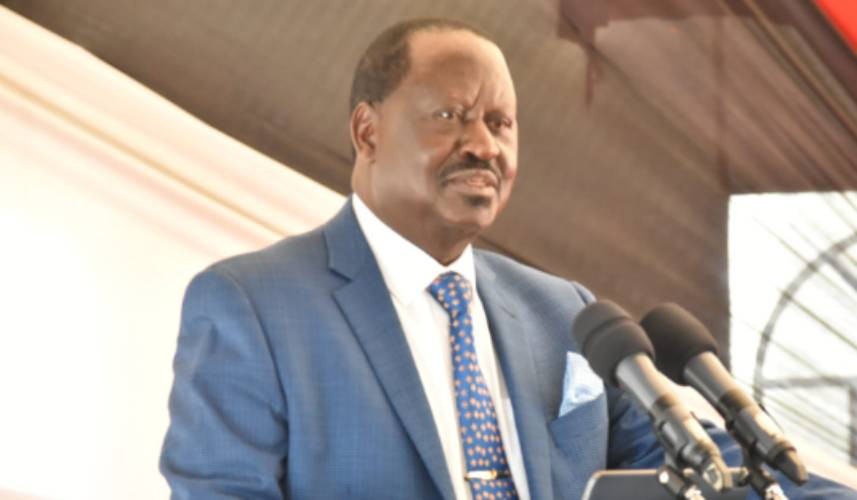 Azimio leader Raila Odinga has intensified his efforts to persuade President William Ruto to abandon the proposed Finance Bill, 2023.
The bill is scheduled for the second reading in Parliament on Thursday, June 8, 2023.
During a press conference held in Nairobi on Thursday, Odinga called on President Ruto to stop burdening Kenyans with additional taxes and, instead, focus on adopting a more friendly approach to alleviate the financial pressure on them.
"We have noted that the regime has run out of sound bites and explanations for these proposals and has resorted to threats. But we have agreed with our MPs on what to do: vote against any tax rises," said Odinga.
"Should Ruto overrun the National Assembly, we will regroup and overrun him in the wider National Assembly of the whole people of Keny," he added.
Odinga outlined ten demands urging President Ruto to prioritise the people's needs over taxes in the proposed Finance Bill:
One: Eliminate duplication of county roles and responsibilities. The proposed bill allocates an additional Sh35 billion for health at the national level, despite health being a devolved function.
Two: Implement zero-based budgeting. Instead of basing the budget on previous allocations, start from scratch and justify every expenditure.
Three: Avoid expanding the size of the budget; instead, reduce it and live within means.
Four: Instead of introducing new taxes, focus on sealing the loopholes that result in revenue losses.
Five: Cease non-essential government expenditures, including the appointment of Chief Administrative Secretaries.
Six: Reduce the overall size of the government.
Seven: Decrease non-essential domestic and international travel.
Eight: Suspend ministerial out-of-station allowances, ministerial house allowances, and domestic allowances for cabinet members and principal secretaries.
Nine: Take decisive action to combat corruption and prevent the misappropriation of public funds.
Ten: Finally, Azimio demands that Ruto displays humility by withdrawing the bill, offering an apology, and seeking forgiveness from Kenyans for the anxiety caused. This will allow him to start afresh.
Odinga stated that by addressing these concerns and taking the recommended actions, President Ruto will demonstrate his commitment to the welfare of Kenyans and alleviate the burden of excessive taxes.
One of the proposals in the bill suggests that Kenyans should contribute three percent of their income towards the Affordable Housing Program, with a corresponding matching contribution from their employers.
Odinga has threatened mass action if the Bill is passed.
Related Topics