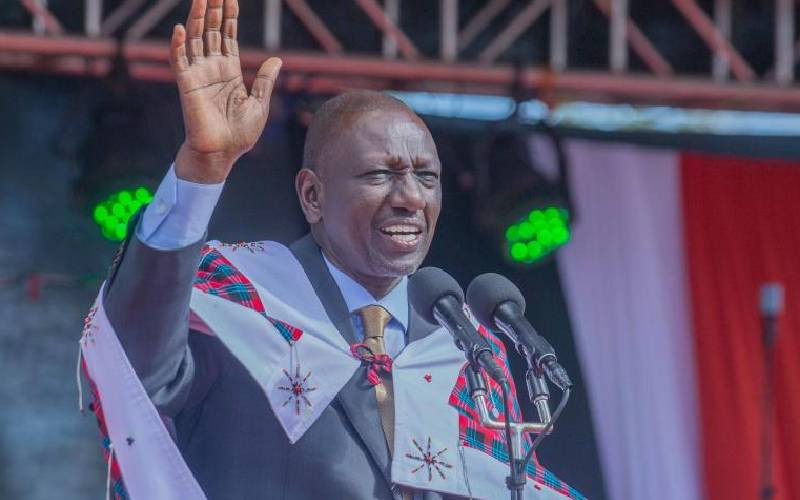 President William Ruto has accused those opposing the Finance Bill 2023, including his proposal for a housing fund levy of being dishonest and deceitful.
Speaking in Narok County during a prayer and thanksgiving service and homecoming party for Environment Cabinet Secretary Soipan Tuya, the president vowed to pursue his agenda of transforming the country and delivering on his campaign promises.
DR Ruto, who was accompanied by almost three-quarters of his Cabinet and over 100 Members of Parliament (MPs), said the affordable housing project would be a win-win for Kenyans because it would allow them to acquire property and create employment opportunities.
"We all agree as leaders that there is a problem of unemployment among the youth in the country, six million are unemployed, and 800,000 join the job market annually. We spend millions of shillings educating them, and it is time to plan for them to join the labour market." "It will be foolhardy for us not to put in place a deliberate, comprehensive, practical plan to tap on their skills after leaving school."
A million homes
Ruto said the housing project will address unemployment through the construction of around one million homes in five years, with an average of 200,000 homes a year.
The Head of State said he was waiting to see which MP will vote against the Bill, which will create employment for youth, and address the housing problem in the country.
"I will be waiting to see that MP who will vote against the Bill. I am waiting to see where they will stand so that we know who are against our plan, which we sold to Kenyans during the campaigns," Ruto said.
"We cannot be people of deceit. Azimio said they supported the housing plan, and Kenya Kwanza said they supported it. How can we agree, during the campaigns that housing will create opportunities, spur the economy, create jobs in steel and cement factories, and then change our minds now?"
Deputy President Rigathi Gachagua accused some leaders of misleading Kenyans about the Finance Bill 2023, saying taxes must be paid to realise development.
He took issue with a section of the media, accusing them of misleading Kenyans. "We will continue to call the media out for causing confusion in the country," he said.
Opposition leader Raila Odinga said the contribution should be voluntary just as ex-President Uhuru Kenyatta did during his tenure.
Related Topics