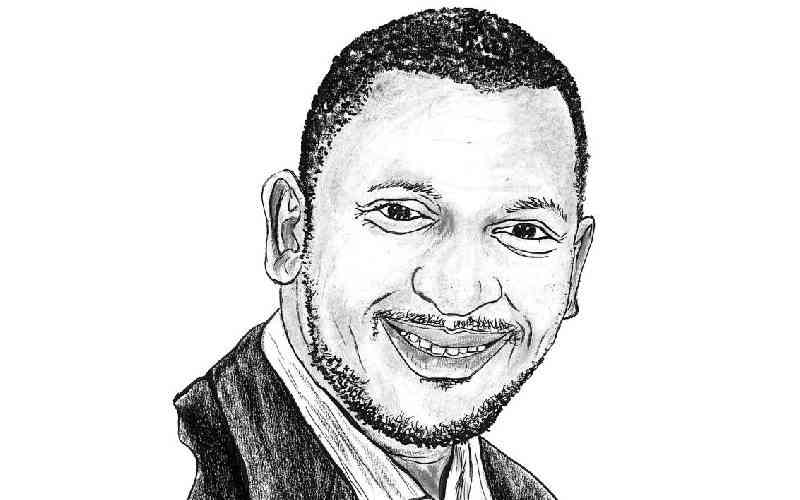 I was back to Nanyuki recently, checking if the Brits in the barracks are on best behaviour, now that King Charles is on his way here. For those who have forgotten, those lads, many of them high on illegal stuff, had a habit of killing local girls and depositing their bodies in septic tanks.
To help in the process of espying the Brits, I secured the company of two buddies who sought different sort of fun: one wanted to watch a Premier League match, which was happening somewhere in rural England; the other wanted to watch the rugby World Cup finals between South Africa and New Zealand.
I didn't care for either because I was in Nanyuki to watch a stage play, Meetings, by John Sibi-Okumu. But before I could sit to enjoy the play, which was directed by Martin Kigondu, my travails from Joburg, where I had a short-lived stint as a plumber, caught up with me. Even with my burgeoning expertise, I couldn't run a hot shower.
"Did you let the water run for ten or twenty minutes," our young hostess asked. I said there was a huge difference between 10 and 20 minutes and, in any case, I did not travel half across the country, coursing through the counties of Kajiado, Machakos, Nairobi, Kiambu, Murang'a, Nyeri and Laikipia to test the duration that their showers took to heat.
When I get into that mood, things are unlikely to end well, so I was herded to another room before I could cause a breach of the peace and where I was assured the shower had been tested.
It turned out lukewarm, but I suppose when one is so close to the Equator, the idea of hot and cold can get a little distorted.
Out of shower, maybe partially showered, I scampered off to dinner, leaving my bag unopened, ready for a hasty exit, especially since I hadn't paid. Yes, it's vital to make those calculations.
Maybe not so fast, I thought to myself, after a hearty, vegan meal. I had not anticipated tasty, Indian cuisine in this town known for its hedonism, so a hot shower faded in my hierarchy of needs. I was ready to stay the night.
The following day, Meetings, was staged to an eager crowd of young and old, black and white, re-enacting the family saga revolving around a returned exile, Augustus (Gibson Ndaiga), and whose love child, Faoulata (Red Brenda) is entangled with the son of his collegemate, Meshack (Ben Tekee). The two men have a dark, shared past that neither man is willing to confront.
That task is left to Augustus's younger brother, Julius (Emmanuel Mulili) who plies whisky to summon the courage to say the unsayable. Will this bleak past jeopardise the future of the two youngsters?
The woman of the moment is Grandma (Marianne Nungo), not just in her pivotal role as the glue that holds the family together, but also as the custodian of a restive past — she raises her granddaughter, Foulata — and has the wisdom to verbalise what's at stake, after Julius's meltdown.
The past should not deny a future that belongs to the young, she philosophizes, pointing to Augustus's other son Samora (Cosmas Kirui), born and raised abroad, but who is also keen on taking root in his father's land.
This is a particularly optimistic view of the future — without a clear roadmap of how to exorcise intergenerational trauma — but it is enough that the play was unveiled on the Equator to announce the birth of outstanding actors like Nungo, our Viola Davis in the making.
Related Topics