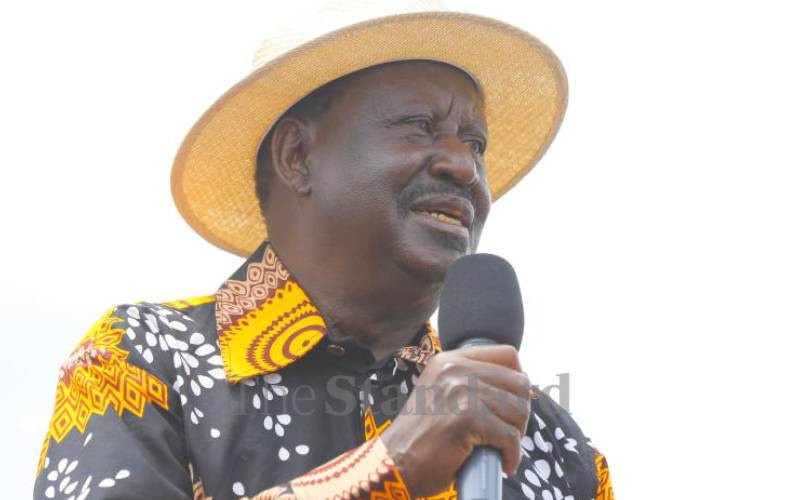 Ondiek Kennedy's article in The Standard on September 12, 2023, titled, 'Nyanza doesn't need political kingpins; let Raila be the last', was not only driven by inter-ethnic malevolent intentions, but also laden with baseless propaganda and misrepresentation of facts.
Mr Ondiek should have first consulted scholars of Luo history before attempting to pose as an expert on the imaginary antagonistic relationship between the Luo of the South and their kith and kin in Central Kavirondo.
Had Mr Ondiek bothered to revise his High School history notes, he would have been informed that at no time was Jaramogi Oginga Odinga ever in political competition with Tom Mboya.
While Mboya was born in Kilimambogo and conducted his politics in the urban centres of Thika before moving to Nairobi, Jaramogi was born and bred in the Luo hinterland, fully immersed in the traditional culture of his people.
Indeed, to further dismiss Mr Ondiek's argument that South Nyanza has never been considered for the mantle of Luo leadership, it's important to note that the Karachuonyo clan alone has produced half of the nine leaders of the Luo Council of Elders, the latest being the controversial Riaga Ogalo who died in 2010. Karachuonyo is in present-day Homa Bay County which Mr Ondiek claims to have been marginalised by Central Nyanza.
In fact, contrary to Mr Ondiek's diatribe against Jaramogi, it is Mboya who is on historical record to have been used by the post-colonial regime to stifle the progress of other Luo leaders after the post-independence dissolution of Kadu, leaving Kenya a Kanu one-party state.
Non-Luo politicians within Kanu would later conspire with Mboya to weaken Jaramogi's hold on the then-ruling party by creating eight provincial vice precidencies to replace the post of deputy party president (Jaramogi's post). Jaramogi was later put under prolonged house arrest with the hope of propping up Mboya. We all know how that conspiracy ended with those whom Mboya thought were his friends putting a target on his back.
Mr Ondiek avers that the Luo Nation deserves a fresh start away from what he calls the politics of defiance characteristic of, and promoted by Raila Odinga. Again, memory fails Mr Ondiek.
What he forgets to mention is that it is this politics of defiance against unpopular regimes that first endeared Raila to the suffering poor across the broad spectrum of the Kenyan multi-ethnic collage, before ensuring his lynchpin status as the defender of the downtrodden cast away into political oblivion by successive governments keen to marginalise the Luo as a punishment for raising their voices in defence of inalienable human rights and equality for all.
Contrary to Mr Ondiek's historical fact-twisting, Raila did not bulldoze himself into being the undisputed leader of the Luo nation. Being a community that is naturally attracted to those who stand in truth and walk in the light, Raila's difficult time in the trenches during the struggle for the second liberation did the automatic speaking for him and handed him the natural heir to his father's political without peer.
Then there is this hint of personal vendetta that Mr Ondiek espoused against Siaya Senator Oburu Odinga's careful choice of words interpreted to have been a tacit endorsement of Ugunja MP Opiyo Wandayi as the next Luo kingpin. Mr Ondiek goes ahead to contradict himself by stating that Luos don't need political kingpins anymore while at the same time differing with Oburu on who should be the next Luo kingpin.
If there was the clearest indication that Mr Ondiek was speaking on behalf of someone not amused for being bypassed in the Luo succession debate, that confusion was the greatest hint of them all.
Related Topics