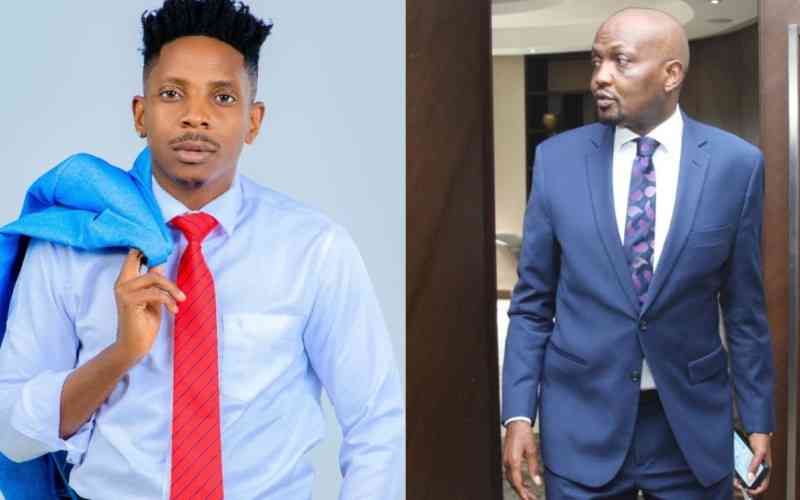 Comedian Eric Omondi on Friday thanked Trade CS Moses Kuria for sponsoring his trip to the US seven years ago but asked the President William Ruto administration not to overtax content creators.
Omondi said that would go a long way in enabling them to afford a good life and enjoy the fruits of their labour.
"After hearing Moses Kuria speak, I decided to take myself to London just for lunch and also thank God for how far He's brought us.
"Thank you bwana Kuria for sponsoring my tour 7 years ago but PLEASE dont TAX Content Creators 15% so that they are able to tour on their own. Wewe unaelewa struggle ya Vijana na Wasanii ambia Orezo awapatie time kwanza wa grow," he said.
On Wednesday this week, the duo was part of a debate on Citizen TV that highlighted the rising cost of living and contentious clauses in the Finance Bill.
Omondi had raised concerns about the proposed housing levy, saying no Kenyan citizen is without shelter but a huge number of people are struggling to afford basic needs.
"There are no homeless people in Kenya but there are thousands of families and children who are going hungry. The conversation should be about the high cost of living that President Ruto, then a candidate, promised to lower. We are having the wrong conversation," said Omondi.
Kuria swiftly responded by saying he regretted funding Omondi's trip to the US seven years ago, adding that he wished he would have used that money to party.
"Seven years ago, I took Eric Omondi to America using my money so he can see the world but from the way he is talking right now, it would have been better if I used that money to party because I don't see the point he is trying to push through," said Kuria.
View this post on Instagram
A post shared by Eric Omondi (@ericomondi)
Last week, President Ruto commended the efforts of comedians Timothy Kimani aka Njugush and Eddie Butita in utilising their creativity to make money.
Speaking during the Kenya National Drama Festival State Concert at State House, Nairobi, the Head of State said the two had set the bar in making a living from monetising their content.
He added that they probably make more money than his salary.
"Njugush and Butita are great artists who today are monetising their content. Pongezi sana…those two young men are making more money than my salary.
"Msiwaone hivi ati wamevaa sijui T-shirt namna gani…they are serious entrepreneurs. Congratulations for being the example to many of our young people and knowing that the creative space, the YouTube space is available for jobs for our young people," said Ruto.
Related Topics