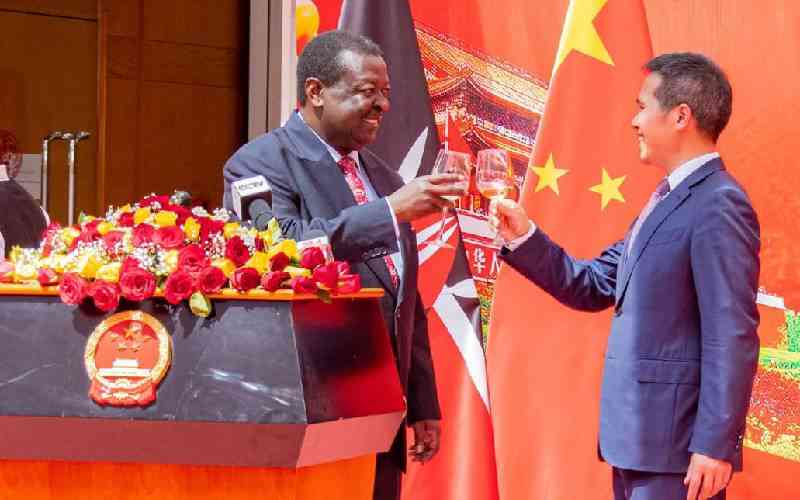 Prime Cabinet Secretary Musalia Mudavadi has praised China's substantial foreign direct investment in Kenya, particularly in critical infrastructure projects that have significantly contributed to the country's development.
Mudavadi who represented the government on Wednesday to commemorate the 74th anniversary of the founding of the People's Republic of China (PRC) in Nairobi said it is worth noting China's commitment to the principle of non-interference in its internal affairs.
While commending the strong fraternal ties between the two countries Mudavadi further lauded China's remarkable achievements and the resilience of the Chinese people, which have contributed to the country's impressive transformation into a modern nation.
"We applaud China's robust foreign direct investment, particularly in infrastructure projects. Let's continue strengthening our ties, enhancing cooperation, and pursuing shared opportunities for mutual growth," said Mudavadi.
President William Ruto is scheduled to attend the third summit marking ten years of the Belt and Road Initiative in Beijing.
During this visit, he is expected to hold discussions with Chinese President Xi Jinping on the sidelines of the forum, which is set for mid-October.
Notable ventures under the initiative include the 670-km Standard Gauge Railway connecting Mombasa Port and the Naivasha Dry Port, and the Chinese-built- Nairobi expressway.
The Chinese Ambassador to Kenya Zhou Pinjian while highlighting the significance of China's relations with various nations delivered an inspiring address, reflecting on China's phenomenal progress over the past seven decades.
The envoy emphasised the hard work and resilience of the Chinese people, who, under the leadership of the Chinese Communist Party, have surmounted numerous challenges to achieve remarkable national development.
One striking example of China's progress is the substantial increase in life expectancy. At the time of the PRC's founding in 1949, life expectancy in China was a mere 35 years. Zhou noted it has more than doubled, exceeding 78 years.
The envoy stated another remarkable transformation has occurred in the fields of education, healthcare, and security.
China has built the world's largest education system, providing opportunities for millions of students to pursue higher learning.
Its healthcare system has also seen significant advancements, contributing to the improved life expectancy mentioned earlier.
Ambassador Zhou highlighted China's evolution from a nation that couldn't produce a tractor at its founding to becoming the world's largest manufacturing hub.
This achievement he said underscores China's rapid industrialisation and economic growth, which have catapulted it onto the global stage as a great power.
Turning to China's relationship with Kenya, Ambassador Zhou emphasized the profound impact both nations have on international and regional affairs.
He described Kenya as an equal partner and expressed China's readiness to elevate diplomatic relations to new heights, promoting mutually beneficial cooperation.
Related Topics