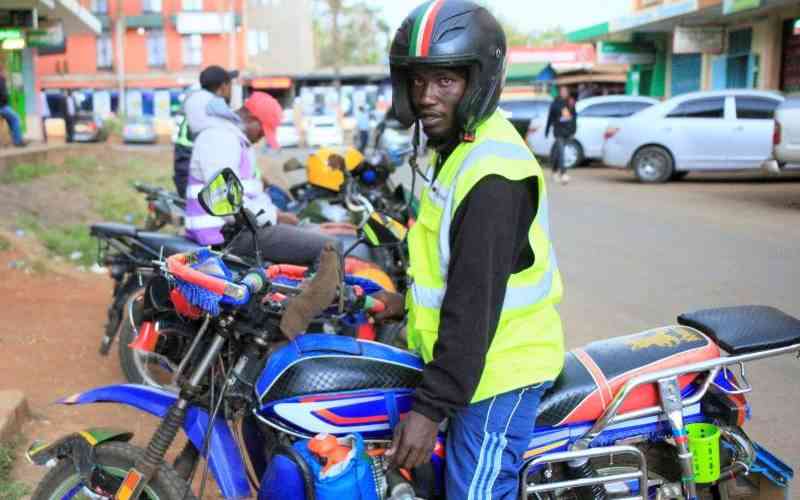 As Kenyans continue to feel the pinch of increased fuel prices, some boda boda operators have modified their motorcycles to use Liquefied Petroleum Gas (LPG).
Jeff Kinuthia, who operates at the Nyeri Town stage, is among 40 riders who have gone for the cheaper alternative. With the modification, he refills the 3kg cylinder for Sh500 weekly, the amount he says he spent per day on fuel.
"I used Sh3,500 while in the new venture, I'm only using Sh500, which increases my savings," he says, adding that the use of LPG is a smart move in mitigation of climate change.
Researchers recognise LPG gas as a low-carbon alternative fuel, which emits 33 per cent less CO2 than coal and 12 per cent less than oil. It also emits almost no black carbon, arguably the second biggest contributor to global warming.
Another operator John Kamau says can now easily pay his bills, including school fees for his three children.
"I have been in motorcycle transport for seven years and, coincidentally, when the fuel hikes occurred last month, it is when I started getting profits in my course of work," says Kamau.
Two weeks ago, the Energy and Petroleum Regulatory Authority increased pump prices to Sh211.64 for a litre of petrol and Sh200.99 for diesel.
But cooking gas prices have dropped after the Finance Act, 2023, removed taxes on imported LPG.
Kelvin Wanjohi, the person behind the innovation in Nyeri, says he adopted the idea from a friend in Nairobi. "I used to travel to church in Ruiru and that's how I found a friend mounting a gas cylinder in his bike."
Diploma graduate
A diploma graduate in automotive engineering, Wanjohi connects the pipe from the gas to the carburettor, and mounts a gadget to prevent the gas from moving backwards forcing it to go directly to the piston and then to the engine.
"I'm always busy modifying boda bodas in Nyeri where I have so far modified over 40 riders from Othaya, Karatina, Nyeri town and Kieni," he says.
The modification costs about Sh4,000.
But how safe and legal are the LPG-propelled motorbikes?
According to Wanjohi, fears that the innovation is a danger is misplaced. "I guarantee you that the LPG system is properly installed. This is because they come with an automatic fill limiter that prevents overfilling," he says
"The system also comes with pressure-relieving valves that avoid any form of pressure build-up that could damage the entire motorcycle's engine components."
However, insurers are skeptical of the safety features, which are also not included in the logbook.
"One of the principles governing insurance practice is that any modification to an insured item is frowned upon because the altering tends to interfere with the industry-approved standards," says Ng'ang'a Mbugua, an insurance underwriter.
The law also prohibits such modifications. Section 51 (Sub-Section One) of Kenya's Traffic Act says: "No fuel shall be used in any motor vehicle except that specified in the vehicle license in respect of such vehicle or, in the case of a motor vehicle the motor unit of which is a compression ignition engine, light amber mineral fuel oil or a substitute therefore which is approved by the Minister by notice in the Gazette."
But the National Transport and Safety Authority cannot act because current regulations do not require boda bodas to be inspected.
"For any modifications, NTSA should be in the picture to evaluate the safety. We hope the regulations will be gazetted soon so that we can regulate the sector," says Opera Nyaroya, NTSA's deputy inspector, motor vehicle inspection.
Related Topics