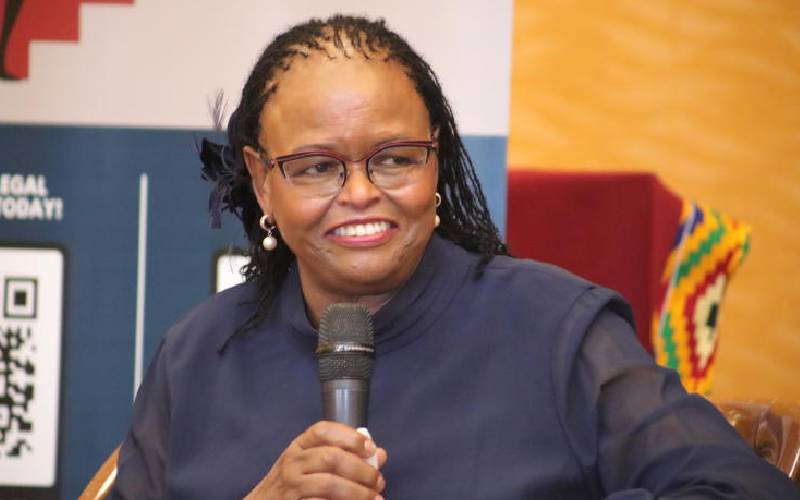 Chief Justice Martha Koome has warned judges against delaying cases, which then dents confidence among court users.
She regretted that despite the judges being facilitated to determine their cases in reasonable time, there was still delay. "And the delay is in two categories; delay in delivery of judgements where in some cases the delay is for a period exceeding three years. Stature prescribes the period/time to be taken to prepare decisions. I see no reason why judges are not complying with those timelines," said CJ.
The CJ, who was accompanied by principal judge of the High Court Justice Erick Ogola and Supreme Court judge Smokin Wanjala, made the remarks at Pride Inn Flamingo hotel in Mombasa.
She was opening High Court leaders' conference for judges reflect on their performance and collective responsibility.
She said the second delay was in pronouncing decisions. "The reality is there are litigants in our corridors searching for decisions delivered months earlier," she said, adding that the situation should not continue.
She said as leaders in courts they have a role to play and ensure good management of cases to avoid building up huge backlogs of pending determinations.
Justice Koome directed the High Courts to change how they handle cases both at the registry and during proceedings.
The CJ said quick delivery of justice must be responsive to needs of Kenyans. "The High Court must reshape its work methodologies, both at the registry and in court proceedings, to be responsive to justice needs of Kenyans," said the CJ.
She said time had come for judges to be the driver and face of the people centred justice system instead of courts being a feared place.
"We must do all we can for the High Court to embody a people–centered approach delivery of justice," she said.
She told the judges to make sure courts were not just about providing services but about understanding unique justice needs of it users as that was the only way for Kenyans to appreciate their work.
She said judges have to be innovative and promote of out court solutions such mediation, arbitration and alternative justice system.
She also asked the judges to continue learning and encourage use of new technology to drive efficiency.
The CJ however said the judges must not forget integrity and accountability. "As High Court leaders we are not just responsible for dispensing justice but also for championing highest levels of integrity and accountability within our ranks," she said.
She said judges must persistently champion 'judicial hygiene' which was about keeping judicial house clean.
"It is about ensuring that at every corner of our judiciary system is free from the dirt of corruption and every inch of our operation is pointless in terms of integrity," said the CJ
She expressed displeasure at some reports about complaints against the judicial officers she said was appalling.
"Drawing from investigation and pending complaints at the Judicial Service Commission and office of Judiciary Ombudsperson, I urge all judges to exercise extra caution and balance when dealing with those tasks to support them," she said.
Related Topics