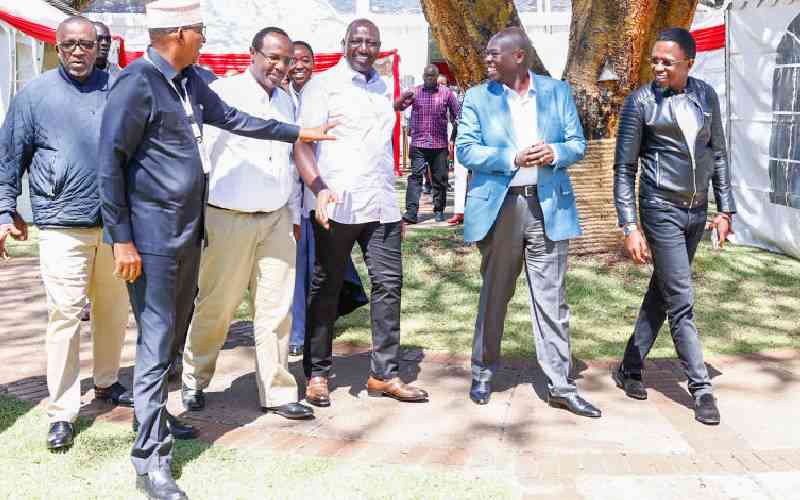 President William Ruto on Thursday told Cabinet and Principal secretaries attending the three-day retreat at Fairmont Mount Kenya Safari Club in Nyeri to observe austerity measures.
Ruto, who arrived at the high-end facility popular with tourists at 4pm, is said to have been infuriated by the high number of aides who accompanied the CSs and PSs.
After interacting with the attendees, President Ruto asked to meet the CSs and PSs in a separate hall where sources said he stated that the government officials were not observing austerity measures.
In the meeting that began at 7pm, Ruto reportedly told the government officials that he did not condone wastage and wondered why CSs and PSs had come with personal assistants and other staff when they were not going to participate in the meeting.
"Why do you have to be accompanied by your PAs and other staff in this meeting? Why not even drive yourselves here," Ruto is reported to have asked.
He asked the top officials not to have the Big Man Syndrome because his government did not have space for that and called for servant leadership.
He told the CSs and PSs who had brought their staff along to cater for their (staff) accommodation and meals from their own pockets.
After the evening meeting, most of the CSs and PSs released their staff to travel to Nairobi.
On Friday, Ruto released a statement on the agenda of the meeting but not again before an awkward moment at the beginning of the meeting.
He entered the meeting room at exactly 8am and three PSs who arrived after the meeting had started were turned away.
After the morning session, Ruto, while addressing the media, directed members of his administration to ditch bureaucratic government traditions and processes and embrace technology and innovation for efficient service delivery.
He told his team to be conscious of the results but at the same time run the government professionally and efficiently.
"I require you to clear your desk in a day. Don't hold the government to ransom by allowing files to pile on your desk. They are not ornamentals or gifts but there for you to make decisions," he said.
He also directed all ministries to work with the Information and Communication Technology (ICT) ministry to digitise all government services. "By leveraging technology, we shall collect every penny that is due to the government."
He also directed government departments to consolidate, formulate and package government services in order to attract investors. "Water is a commodity that we can sell to off-takers for irrigation. We should package water for harvesting activities into investment programmes. We can replicate this idea in other government programmes."
Such a retreat, the president announced, will be held yearly to take stock of achievements made on set priorities that will be picked in the current retreat.
"There shall be the formation of break up groups to delve into details of priorities set. Every ministry will give us timelines which they expect to actualise our manifesto," he said.
He said in the future, all government meetings including the next Cabinet meeting will be paperless with him running the government on digital space. "Sending a letter takes longer than sending an email, for a letter, there must be a messenger from the two ends. It is time Kenyans got the value of resources that they have put at our disposal," President Ruto said.
Government services, Ruto said, must go digital for purposes of efficiency and sealing loopholes of pilferage. "The ICT ministry knows what it must do and each ministry must liaise with ICT to make sure this happens. So far 300 government services are digitised, 500 are not."
He called on the ministries to be creative in the delivery of services, and work with the private sector to make this possible.
"The government agenda is the Kenya Kwanza manifesto and the approach must be bottom up. For example, in registering farmers so that we support them with farm inputs, those with between one and 1,000 acres will be covered," he said.
He directed his Cabinet to work beyond their villages and the county and ordered them to appreciate what Kenya looks like. "Your service must reflect the national responsibility assigned to all of us and as we carry out the responsibilities, we must know that we have a contract with the people of Kenya."
The President also reiterated his proposal to have members of his Cabinet answer questions in Parliament for checks and balances, saying his meeting with Members of Parliament today will seek to address and solve the puzzle.
"We shall have a session with MPs to agree on how the people's representatives are going to work with us to make it possible for us to go to Parliament to prosecute our agenda and answer to the people's representative on what we are doing," he said, adding his administration has a contract with the people of Kenya that was signed on August 9.
"They may not reach your offices, and they may not have shoes but they are our bosses and yours, too, through us. In any transaction, the interest and aspirations of Kenya must be taken into our account," said Ruto.
Related Topics