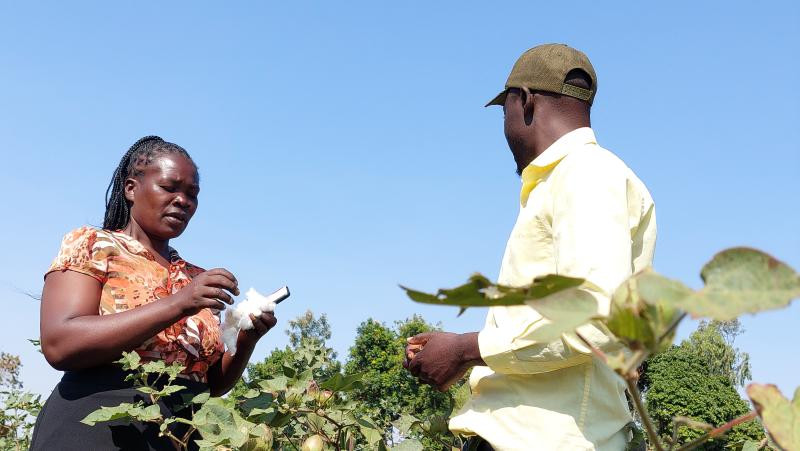 The government distributed 17 tonnes of Bt cotton seeds to farmers in Busia County to boost cotton production and revive the textile sector.
Bt cotton is a genetically modified pest-resistant plant cotton variety that produces an insecticide to combat bollworms. The Busia cotton project is part of the government's bigger plan to revive agricultural value chains across the country.As part of this, the Kenya Agricultural and Livestock Reserch Organisation (Kalro) is working towards establishing the first-ever certified cotton seed system in the country."Kalro has already branded cotton seed that is certified and soon will be able to provide all cotton farmers with seed," Teresia Okiyo a plant breeder in charge of the cotton research programme at Kalro Kibos Centre said.She said in 2017, Kalro fibre crops directorate in collaboration with the Brazilian Corporation Agency and Tanzania and Burundi got involved in a project dubbed "cotton Victoria" geared towards improving the competitiveness of the cotton sector."Through this project they were able to do a feasibility study. As Kalro we started advancing on varieties that they had namely KSA 81M and Hart 89M suitable for ecological zones in Western and Eastern regions respectively."This year, Okiyo said Kalro has planted 14 acres of seed at Kibos while in Mwea 20 acres that will produce certified generation one seed."We started bulking the early generation seeds to produce certified seeds and in 2018 we did generation one and in 2019. This year we managed to brand cotton seed that is certified and we believe that with time we are going to provide all our farmers with quality seed," she said.She however noted that the seed they have planted at their centres will be further multiplied together with some contracted farmers who will be doing the multiplication."This project is going to set an entire seed system for us. It is a first one in the country after more than a 100 years after cotton was introduced in Kenya," Okiyo said and confirming that the equipment's are already in place and what is left is just the building up of the structure to put seeds.Farmers, Okiyo noted were used to just getting seeds from the ginnery to plant and that there was never a system of producing certified seed and these same farmers were not practicing good agronomy like spacing, weeding, crop protection thus ending up losing yields.When it comes to offtaking, the researcher noted that the government has used a lot of money to completely put a new brand ginnery in Mulwanda are in Busia and it has a huge capacity even to absorb all the cotton being produced in this region.
Farmers she noted, will no longer struggle with where to sell their produce.
"The government has now set minimum price at Sh55 per kilo and this could rise."Okiyo encouraged farmers to make informed choices and decision on where to sell, how to bargain but even more on how to manage their crops since the tropical environment in the area normally has a big challenge of weeds."Many of our farmers were never weeding so we have a weeding trial and we have established that if a farmer weeds within the first 30 days of crop emergence and the another one at 60 after, the crop smothers weeds and we are therefore recommending just two weeding season per season and the farmer will be able to harvest a very good crop," she said.Kalro, she said is training farmers on proper crop management.Okiyo advised farmers to follow good agricultural practices when it comes to pest control, do crop rotation by breaking the plant with cereals and legumes, and also practice intercropping the cotton with determinant legumes like beans, cow peas or pulses such as green grams. They were also advised to work in groups so that they can enjoy economies of scale and high bargaining power during selling. Dennis Mapesa from Nambale Sub County who inherited a cotton farm from his parents, said he grew up with proceeds from cotton sales. His parents stopped planting at some point due to poor harvest and pay.Mapesa thanked the national government for the Bottom Up Economic Transformation Agenda plan that has revived cotton industries."I want to thank the President and the Ministry of Agriculture for all they have done to revive cotton farming in Busia county," Mapesa said.Cotton was introduced in Kenya about a century ago and it was then a very vibrant sub –sector. The sector started collapsing as there were no structures in place like seed production and marketing was not well streamlined.Kenya Kwanza Government has invested in the sector and two weeks ago embarked on free distribution of cotton seeds and insecticides to farmers in Kisumu, Busia and Bungoma counties.
Related Topics