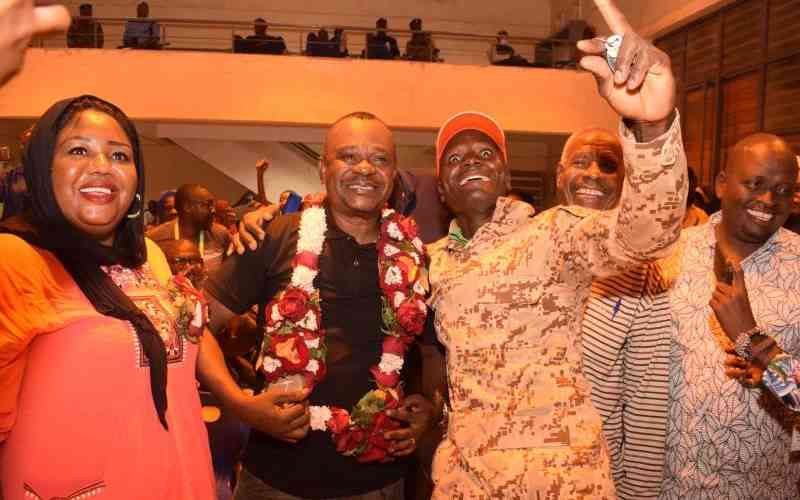 ODM leader Raila Odinga's dominance of the Coast politics was evident in this year's elections after his Azimio la Umoja One Kenya Alliance coalition party won a majority of elective seats.
This is despite the over four-year sustained onslaught from Deputy President William Ruto whose United Democratic Alliance (UDA) won only four of the 30 parliamentary seats at the Coast.
Political leaders and analysts have said Raila's firm grip on Coast politics was due to historical and ideological connections his late father Jaramogi Oginga forged during the colonial, post-colonial, and multiparty eras.
The roots of these links, they said, can be traced to Mr Jaramogi's bromance with anti-colonial fighters, and independence leaders like Sheikh Salim Balala, Mzee Mohamed Jahazi, Robert Matano, and many others.
Raila has maintained these ties but also built new networks with a new crop of leaders like Mombasa Governor Hassan Joho, and enhanced his credibility as a champion of land rights and Kadhi's Court at the Coast.
"Raila's connection to Coast is not only historical but also ideological. Initially, he benefited from the alliances his father built but he has since established his networks and point men who assist him to win in Coast," said Mohamed Jahazi.
After independence, Mzee Jahazi and Salim Mohamed Balala were Jaramogi's trusted allies at the Coast. Jahazi said Jaramogi used them to counter the federal system (Majimbo) wave espoused by the late Ronald Ngala.
Their unwavering support of nationalism ideology paid off after Jaramogi pushed for their election as Special Members of Parliament (SMP) to represent Mombasa in 1963. SMP seats were similar to the current nominated MPs in Parliament, but unlike now, they were voted in by elected MPs in Parliament.
"He played a big role that led to our election to represent Kanu interests in Mombasa. This is after all the MPs were elected on Ngala-led Kadu tickets," said Jahazi, adding that Jaramogi was also close to Robert Matano.
But former Kisauni MP Ananiah Mwaboza said Raila's dominance of Coast politics was due to his past crusade against marginalisation and historical land injustices.
"He also supported the theory of federalism during the 2010 constitutional reforms. He can be described as the father of devolution, which is very popular at the Coast," said Mwaboza, an ally of Ruto.
He added: "Unlike other national political leaders, he never forgot his family's old and new friends at the Coast. This election showed that it was still not easy to dislodge Raila from Coast."
In Mombasa, ODM won five of the six MP seats through Omar Mwinyi (Changamwe), Badi Twalib (Jomvu), Rashid Bedzimba (Kisauni), and Mishi Mboko (Likoni). Mohamed Ali won Nyali parliamentary seat on the United Democratic Alliance (UDA) party ticket.
The orange party also bagged 25 out of 30 Members of the County Assembly (MCA) seats. ODM's Mohamed Faki was re-elected to the Senate and Zamzam Mohamed won the Woman Representative post.
In Kilifi County, ODM won four of seven parliamentary seats. Pamoja Africa Alliance (PAA) won Ganze and Rabai constituencies, while UDA grabbed the Kilifi North MP seat.
ODM also retained the Kilifi Senate and Woman Representative seats through Stewart Madzayo and Gertrude Mbeyu, respectively. The orange party will also control the Kilifi County Assembly after it bagged 29 out of the 35 MCAs seats. The other six seats went to PAA.
In Lamu, Raila's Azimio won Lamu East and Lamu West, Senate and Woman Representative seats through the Jubilee Party. Issa Timamy of Amani National Congress (ANC) is the Lamu governor-elect after thrashing Jubilee's Fahim Twaha.
In Tana River, Governor Dhadho Godhana of ODM retained his seat. The Senate seat went to UDA's Danson Mungatana who made a political comeback after 15 years in the cold. ODM's Saidi Hiribae and Ali Wario successfully defended their Galole and Garsen parliamentary seats, respectively.
In the same county, Azimio won 11 MCA seats, UDA had three, while Ford-K won one.
Yukob Adow of UPYA won the Bura parliamentary seat and Amina Dika of Kanu bagged the Woman Representative seat. Both parties are in the Azimio coalition.
In Taita Taveta, Azimio also stamped its authority after Jubilee Party won Mwatate and Wiper Party bagged Wundanyi, Taveta, and Voi parliamentary seats.
The county's senate seat went to Jones Mwaruma of ODM while Lydia Haika of UDA won the Woman Representative seat. Andrew Mwadime who defected from ODM days before the polls to contest as an independent won the governor's seat.
And in Kwale, Fatuma Achani of UDA bagged the governor seat while Feisal Bader (UDA) was re-elected to represent Msambweni constituency.
ODM won senate seat via Issah Boy and Woman Representative seat through Fatuma Masito. Results in the four constituencies were: Lungalunga (UDM), Kinango (PAA), Msambweni (UDA) and Matuga (ANC).
But Mzee Jahazi, in an interview, said that Raila has also cultivated the political network that has enabled him to have a tight grip on the region's politics.
Julius Ogogoh said Raila's links with the Coast became more visible during the 1992 multi-party elections where he found himself on the same side with the so-called Young Turks in Coast like Prof Rashid Mzee.
"Raila was the architect of the Ford-Kenya and Islamic Party of Kenya (IPK) deal that propelled people like the late Salim Khalif Mwavumo in Likoni and Prof Rashid Mzee in Kisauni to Parliament. These are some of the old ties that still bind," said Ogogoh, the Executive Director of the Commission for Human Rights and Justice in Mombasa.
He added: "His unequivocal defence of the Kadhi's Courts in 2010 was similar to what his father did in the 1960s. Like his father, he has also championed land rights, especially at the Coast. The reputation he has in Coast is unmatched and long-standing."
Related Topics