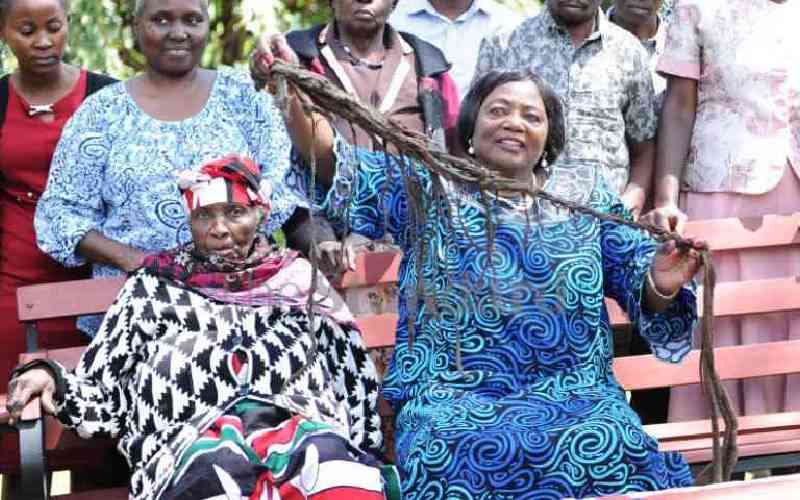 Field Marshal Muthoni Kirima, who was laid to rest on Friday in Nyeri County, has been unrecognisable to many Kenyans who grew up when founding President Jomo Kenyatta was long gone.
In fact, anybody born at the turn of this century heard her name for the first time on April 2 when she had her seven-decades-old dreadlocks were shaved by Mama Ngina Kenyatta, widow of Mzee Kenyatta.
The revered Mau Mau figure, daughter of peasants and the only woman who rose to prominence in the freedom struggle by being ranked a field marshal, Kirima's participation saw her rub shoulders with the Kenyattas.
She joined the independence struggle aged 20 by acting as a spy and offering to carry food and information to the Mau Mau fighters hiding in forests before joining the physical war.
After executing raids against colonialists, she attracted the attention of Kenya Land and Freedom Army General Dedan Kimathi who nicknamed her 'weaverbird' due to her ability to weave brilliant strategies.
She sacrificed motherhood for the struggle and has often described Kenya as her only child. Even after independence, although the first government looked into her personal interests, Muthoni vowed never to shave her hair until freedom fighters were taken care of and the body of the Mau Mau General given a decent send off.
Muthoni was not as poor as fellow freedom fighters and this was largely because of the help by the Kenyattas.
In a past interview, the heroine said she came out of the forest together with other freedom fighters to meet Kenyatta at the heroic Ruringu stadium. She cultivated her relationship with the first family, which made her rise to entrepreneurial heights.
She sought permission from Mzee Kenyatta to sell elephant tusks which the Mau Mau fighters had collected and hid in the forests and was subsequently issued with a Game Trophy Dealers Licence which was legal until the late 1970s.
"I sold the ivory and bought land in Nairobi where I developed rental premises and in Nyeri where I built myself a comfortable home," she then told The Standard.
In 1990, Muthoni was nominated as a councillor in Nyeri Municipal Council. She continued being an outstanding defender of the freedom fighters and their descendants who remained paupers despite their sacrifice to the country.
"Despite their integral role in fight for independence, we have been forgotten and most freedom fighters were not resettled," she said in an interview.
Then came the historic shaving of the 70-year old dreadlocks at the height of campaigns between Azimio and Kenya Kwanza coalitions in an exercise led by Mama Ngina Kenyatta. It climaxed with a ritual of slaughtering a goat to reawaken the spirits of Gikuyu unity.
Later in an interview with The Standard, Muthoni set the record straight by confirming that she had invited Mama Ngina to shave her dreadlocks.
She said although their welfare had not been considered by the government since independence, her shaving will not block anything in store for them.
"For me, I feel like I have just come out from the forest and I'm now living in an African reserve. I feel the air flow on my head and feel very free," she said.
"I have not been coerced because I still hold the strength I had during the fight for independence. I can fight off anyone who may go against my will. I never received a penny and my decision was conscious and I'm glad for my actions," she added.
On her relationship with Mama Ngina, Muthoni said after she was received by Mzee Kenyatta at Ruringu stadium, the first President would later fly her alongside Mama Ngina to Mombasa where their relationship started.
"It was Mzee Jomo Kenyatta who received me from the forest at the historic Ruring'u Stadium where I placed my skinned cloth near the Kenyan flag. At one time she flew me with Mama Ngina to Mombasa and I have enjoyed a cordial relationship with the family," she said.
She added that she shared many things in common with Mama Ngina. Whereas she was in Mau Mau, the former first lady spent the emergency period incarcerated in Kamiti while her husband was jailed in Maralal.
Muthoni in April this year, visited Mama Ngina at her Muthaiga home to thank her family. She thanked Mama Ngina for clearing her pending bank loan amounting to Sh4.7 million, buying her a home in Nyeri last year and accepting to shave her dreadlocks.
She said cutting her hair symbolised the end of the struggles Kenya underwent under colonial rule, and that the era of fighting for freedom was now behind.
Mama Ngina received gifts from the field marshal that included goats, a pot, a three-legged stool, a traditional tray, a kiondo (African basket) and food from her shamba.
Muthoni then asked Kenyans to love one another and live in peace. "We are one people, and if we cultivate peace, for the sake of our children, they will grow up in a nation that knows how to live and work with each other," she added.
Related Topics