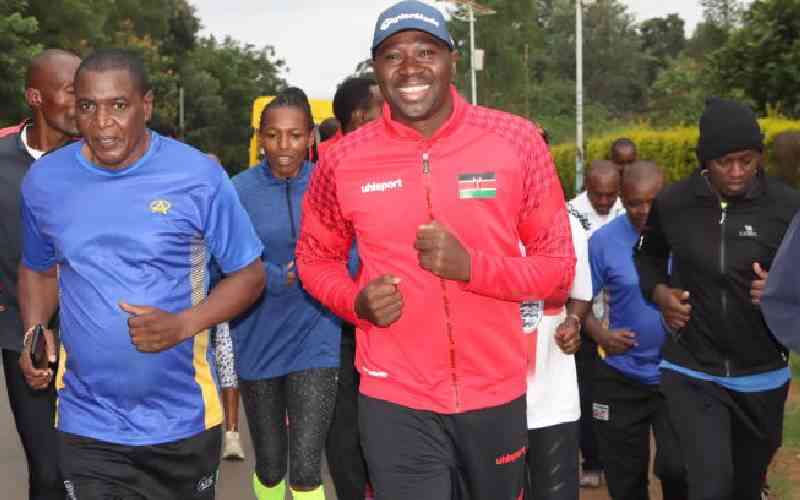 Athletics stakeholders in Embu County are now calling for stiffer penalties for doping to protect young athletes from engaging in the vice.
Athletics Kenya Embu branch chairman Stephen Njeru said the National Assembly should pass a law that will ensure those who engage in drugs are not only banned but also jailed to deter others from doing it.
Speaking during the under-20 team selection at the University of Embu grounds, Njeru warned athletes from Mt Kenya East to desist from chewing miraa as it contains banned substances.
He also advised upcoming athletes to avoid over-the-counter medication as some drugs also contain banned substances.
"Kindly avoid khat. Any time you need medical services, ensure that you consult a qualified medic and inform them that you participate in sports," Njeru said.
Njeru also warned against age cheating adding that it affects the game and those engaging should also be punished.
Continue participating
"After cheating on age, many sportsmen want to continue participating in sports even when they grow old and that's how many end up using drugs to stimulate their bodies, it should not be allowed at all," Njeru said.
Kenya Secondary School Sports Association Secretary Elijah Kiarie observed that the athletics initiative between Athletics Kenya and Embu County will go a long way to nurture and grow upcoming talents who will now have a permanent training camp.
He noted secondary schools do not have standard grounds for practice and professional coaching knowledge adding that the schools will benefit from Athletics Kenya's expertise.
Professional coaching
"School heads should take advantage of this initiative to ensure students participating in the sports get professional coaching and exposure," he said.
Embu County is in the process of selecting a team from all sub-counties to compete at the county level where a team will be selected for the regional championships.
Local stakeholders are also selecting an under-20 team for a permanent camp that will continuously help identify and nurture upcoming talents.
A parent, Judith Muthoni, observed that schools should support sports by creating more time for such activities.
"I was an athlete in the 80s and since then many upcoming talents have not been nurtured in Embu, the reason we must all support the initiative to have an under-20 camp in our County," Muthoni said.
Related Topics