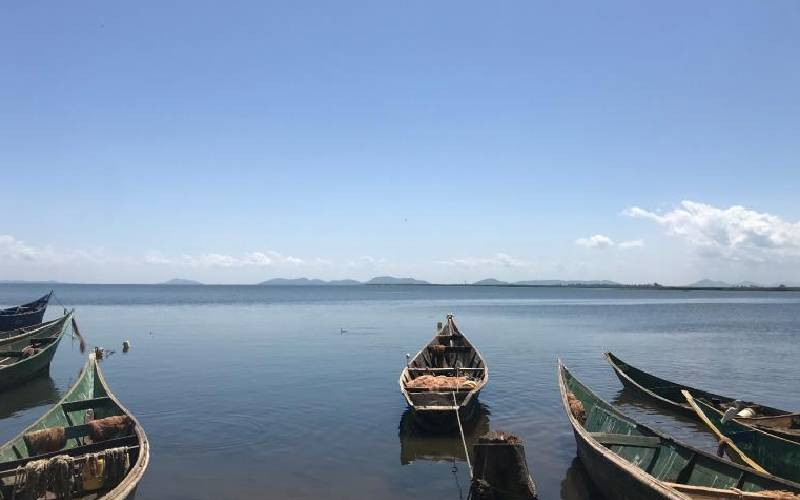 We love boasting of the countries we have visited. After visiting Siaya, I have no doubt in my mind it's time we started boasting about the counties we have visited. Sit, relax and enjoy my story.
The visit was simple, I just hired a car from Kisumu. Self-drive gives you the freedom to stop and explore.
My first destination was Usenge Beach. About an hour's drive from Kisumu City, Usenge town welcomes you after passing through Ndori, Akala, Bondo and Namonye.
You leave Oele and Uhunya Beach on the way to Usenge or Yimbo-Usenge. The beach has no sand. But it's a beach with several canoes by the shore, some are under construction, others abandoned. Fish cages float along the shore, an innovation more like zero grazing. Water is drawn directly from the lake for drinking using jerrycans. It looks clean.
Usenge Beach has other secrets. The water level is rising and a building that was once a market is halfway submerged. Beyond fishing, boats are a means of transport.
I found one "matatu" filled with merchandise and passengers heading to Mageta Island.
This island is special to me. My father-in-law spent time in detention on Mageta Island. It's my lasting but sad link to Siaya.
His experience on this gulag must have been heartbreaking. The other gulags were Hola and Manyani. The choice was clever-dry or humid places, while the masters lived in the white highlands devoid of mosquitoes and other bloodsuckers.
From Kisian near Kisumu to Usenge, one notes a number of things. Maize is the staple crop but seems to be struggling.
Rain or soil fertility? Dairy cattle are missing, too. Traditional breeds graze by the roadside. Local and global influence merge. There is Prof Anyang Nyong'o Secondary School, and Alabama Country Lodge, too. The land is flat, which makes driving easy and fun. Homesteads are not fenced. An elder I gave a ride to told me, "This is not Central."
Then added that fencing was also prevalent in Rift Valley. Devki, where is your market? There are fewer churches in this region compared with Central Kenya – yet no fencing!
River Yala
I was tempted to explore beyond Usenge. Osieko Beach is further ahead.
Through what looked like a causeway, we drove with my guide, Wuod Nyangi. He had dyed his hair.
We stopped to admire River Yala's estuary. Deltas seem common in oceans. Geographers?
The rise in lake water has submerged some homes on the Usenge-Osieko road, which would benefit from repairs. Climate change is real. You get into Got Agulu before Osieko.
We stopped by the causeway to admire fishermen landing their catch; a few tilapias. I noted they do not return the small fish to the water.
The scene was very biblical, only that I have no spiritual powers.
I was schooled by Wuod Nyangi on some Luo traditions; eg who eats sundu (back of the chicken). You can't eat sundu when your elder brother or dad is there. I was schooled also on the direction simba (hut) or new boma must face. And you can't build a simba or boma before your elder brother.
Bananas and cassava from Uganda are on sale in Osieko.
Sand harvested from a deeper part of the lake is brought onshore by boats and then offloaded manually for sale. Charcoal is on sale, too. Cooking ugali (kuon) outside is normal. One fascinating scene was someone cooking ugali outside next to some omena drying!
Omena is dried like maize in the Rift Valley. Osieko, like her sister Usenge, seems to thrive on fishing and trade.
For Osieko, I was warned; you can easily get lost and enticed by beauties from Manyala across the lake on the Ugandan side. I did not wait for nightfall to confirm that. Reed is used to make chairs and mats. Hawking water was also common on both beaches.
Unlike Mombasa beaches, there are no five-star hotels but you get five-star respect and hosting - from strangers.
Even when locals noticed I could not talk the local language, I was at home.
I noted Swahili is not at "home" in Luo nation! Why are capitalists blind to these beaches? Through with beaches, I drove to Bondo, visiting Kang'o ka Jaramogi. The mausoleum is well kept with Martin showing me around.
I was mesmerised by the collection of Jaramogi's shoes.
Who plucked one of his photos taken in 1964 with Tom Mboya and others? I wish our leaders can build such museums and libraries - American style.
Schoolchildren kept streaming into Kang'o posing for photos
I heard one teacher scolding a child that the mother will complain if the child was not in the photo. Khaki shorts for schoolboys are still around? I visited Jaramogi Oginga University. Universities should be tourist attractions.
Who would not want to visit Havard or Oxbridge? Then a drive through Bondo town with new and fancy buildings. Who buys "executive coffins" on sale opposite the police station? The town's fame is bigger than its size.
Beautiful sunsets
The day was almost over. An hour's drive through Thim, Anyuongi, Owimbi, Chianda, Gagra, Ragengni and Naya lead me to Luanda Kotieno Beach.
Paying Sh1,040 for my car, I boarded the ferry to Mbita.
I got more than I bargained for.
For about an hour, I admired the most beautiful sunsets, so far in my life, against islands, hills and water. Only a sunrise on a ferry from Vancouver, Canada mainland, to Vancouver Island was that nostalgic.
Sitting on the ferry, soothed by the evening breeze, I reflected on the day. What do we really do in the noisy and crowded city?
Do we really know what we miss hooked on our TVs and sports bars? Who will reward the innocence of the countryside?
Peaceful and respectable men and women eking out a living from nature. Who created the myth that Luos are violent? This country is beautiful, explore it. Still, sticking with Big 5 and coastal beaches? Wewe kaa hapo tu!
Next week; Letter from Rusinga Island, Homa Bay and my thoughts on why the Luo elite marry from the mountains.
Related Topics