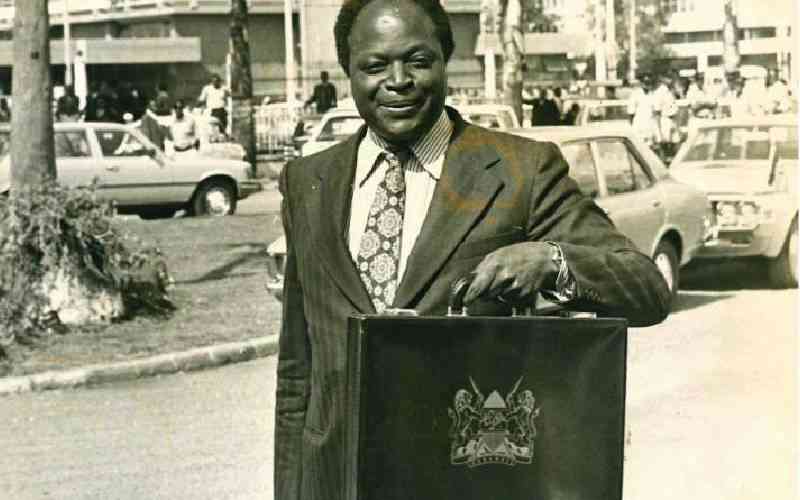 Back in the days when it was fashionable to fundraise for communal projects through harambee, the government saw an opportunity to raise extra revenue by subjecting the money raised to taxation.
This did not go down well with some Members of Parliament (MPs) who felt the government was reaping where it never sowed by trying to benefit from funds raised to cover some of its inadequacies.
So riled were some MPs that Githunguri MP, Arthur Kinyanjui Magugu, cornered Finance and Planning Minister Mwai Kibaki demanding action.
Magugu wanted Kibaki to stop the taxation of all money donated to harambee projects and all other funds collected for similar purposes across the country.
Magugu was disturbed that many philanthropists giving their money for certain projects were disheartened because rarely were the targets met as the government demanded a cut from whatever sum was collected.
Kibaki, however, told Magugu why the taxation won't be scrapped. "It is not discouraging. All of us make some contributions every weekend to self-help projects. This in fact is digging into our pockets than any taxpayer would be able to do," Kibaki said.
He explained that this was a healthy exercise and encouraged Kenyans to dig deeper so as to fund worthwhile projects adding:" I am sure no taxpayer is going to get in as deep as the communal spirit of helping a self-help project will get."
After realising that Kibaki and the government were unrelenting in taxing harambee money, the MP for Iveti North A.N Mutunga suggested that a mechanism be worked out to have a limit on the amount that could be taxed.
"Many people in this country contribute to charitable organisations like Red Cross, St Johns Ambulance, Eldevale Trust and others. Those contributions are as important as contributions to particular self-help projects," Kibaki said. He argued that exempting such contributions from tax was a major decision that he was not prepared to take at that time, explaining that it would be quite complex.
"It would be difficult to deal with such a matter. I am sure it would be better to continue with the system where contributions to charitable organisations and to self-help groups are over and above that is required within our tax laws."
It has been 53 years since Kibaki made these pronouncements on July 1970.
Holders of public office have since been banned from harambees. When he took over Kenya's leadership in 2003, he implemented the Constituency Development Fund (CDF), which has been instrumental in funding projects at the grassroots.
The CDF too has been under attack while the State's appetite to levy taxes even on some mundane items like fake nails and beards continues to outrage sections of its citizenry.
Related Topics