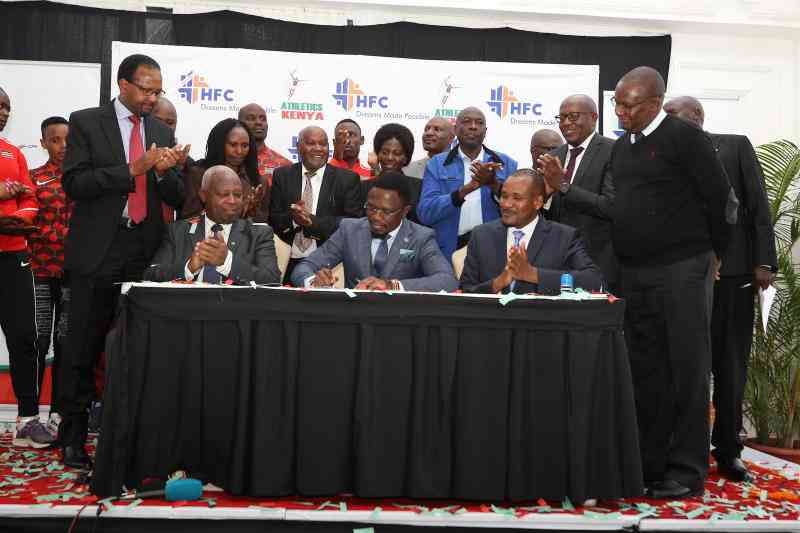 Athletics Kenya (AK) has announced a partnership with Housing Finance (HF) Group that will enable thousands of athletes to own homes at affordable prices.
Through its banking subsidiary, Housing Finance Corporation (HFC), the partnership will allow the over 64,000 athletes, who are members of AK, to purchase homes at affordable rates from the Kenya Mortgage Refinancing Company.
Each athlete will also be trained on prudent financial management as well as the importance of planning for affordable housing while still active.
AK president Jack Tuwei hailed it as an idea whose time was long overdue, noting that it is another milestone towards securing the future of Kenyan sportsperson long after retirement.
"Many times we have heard and read stories of sportsmen and women living in abject poverty despite bringing glory to the country. Many of them are struggling to pay rent or are incurring a lot of expenses towards the same. With this new partnership, as an athlete, you are assured that you will always have a roof over your head," Tuwei said on Tuesday.
He also encouraged as many Kenyan athletes as possible to come on board, use their prize money to invest in affordable homes under the new partnership.
HFC Group CEO Robert Kibaara described the historic partnership as strategic and relevant to the company's mission of enriching lives.
"As a bank we are committed to strategic partnerships that enrich lives and strongly believe that through this partnership, we will empower our gallant sportsmen and women to gain to access credit and own their homes," Kibaara said.
Related Topics