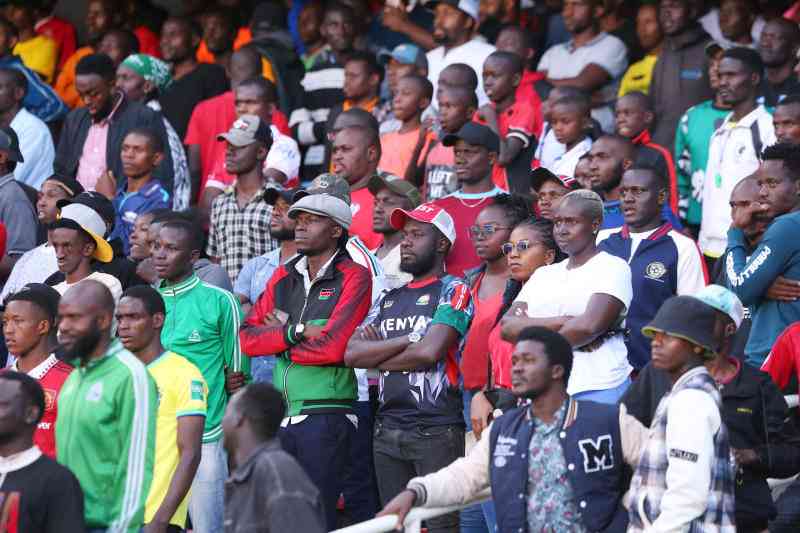 Some fans booed. Others just walked away and the most patriotic applauded the national football team, Harambee Stars, inside the rapidly emptying Kasarani Stadium.
Defender Joseph Okumu just waved. Captain Michael Olunga, after a not-so-pleasing display, appreciated the fans in the stands.
Moments later, he walked straight off the pitch, head bowed, shoulders defensively stooped. A painful 1-0 loss to South Sudan in a friendly match, was not a result most of them had wished for.
You can't blame them much. South Sudan are 167th in the Fifa ranking, while Kenya were ranked 105. After the loss, Kenya dropped to 109th.
With Kenya, Tanzania and Uganda having won the bid to host the 2027 Africa Cup of Nations, surely, Harambee Stars fans will not want a repeat of the same predicament.
This time round, it won't be against minnows, but crème de la crème of African football.
"We are going to build teams that will not just add numbers in the tournament," said Sports Cabinet Secretary Ababu Namwamba after arriving from Cairo, Egypt, where the bid victory was announced by Confederation of African Football (Caf).
"We are going to prepare sides that will contest effectively for the trophy. Harambee Stars (Kenya), Taifa Stars (Tanzania) and Uganda Cranes will be prepared in away that has never been seen before."
The three East African states presented a joint quest dubbed the East Africa (EA) Pamoja Bid that beat other continental powerhouses to bag the rights.
Namwamba highlighted several things that must be done with speed ahead of Africa's premier football showpiece.
"We are going to upgrade our sporting infrastructure to be at the same level with the continent and rest of the world. This is the only region that has a single tourist Visa entry," Namwamba said.
"We want to have an arrangement that allows for free movement of people, goods and services. This will bring to fruition the spirit of the East Africa tourist visa which will act as one shot for the countries."
Ahead of the tournament, Namwamba said Kenya is going to build a brand new sports cathedral dubbed the Talanta Stadium in Jamhuri which will host football and rugby games.
He added that other arenas to host the Afcon in Kenya will be Kasarani Stadium, Nyayo Stadium, and Kipchoge Keino Stadium, in Eldoret.
Namwamba said the three countries will agree on who will host the tournament's opening ceremony, closing ceremony, group stage matches, semis and the final, but added that the final decision lies with Caf.
Meanwhile, the Sports CS said their victory to host the 2027 Afcon was not a fluke but was achieved through effective planning.
"We deserve the rights and chance that Caf has granted the EA Pamoja Bid. When we announced this bid at State House in Nairobi with President William Ruto, we assured people of Kenya and East Africa that we had a good bid," said Namwamba.
"We were confident because we had put together a formidable document. It was a quest that ticked every single box that was required by Caf. We had good plans for infrastructure and other supporting elements like hospitality, security, safety, communication, and travel, among others," he added.
"Our bid was actually the best one on the table. We believed it's a quest that has the element to translate into a very successful tournament."
Namwamba also hailed Presidents William Ruto, Samia Suluhu (Tanzania) and Uganda's Yoweri Museveni for playing a vital role in fronting the bid.
He also thanked the regional technical team and respective football federations for their invaluable role in the Afcon bid process.
Related Topics