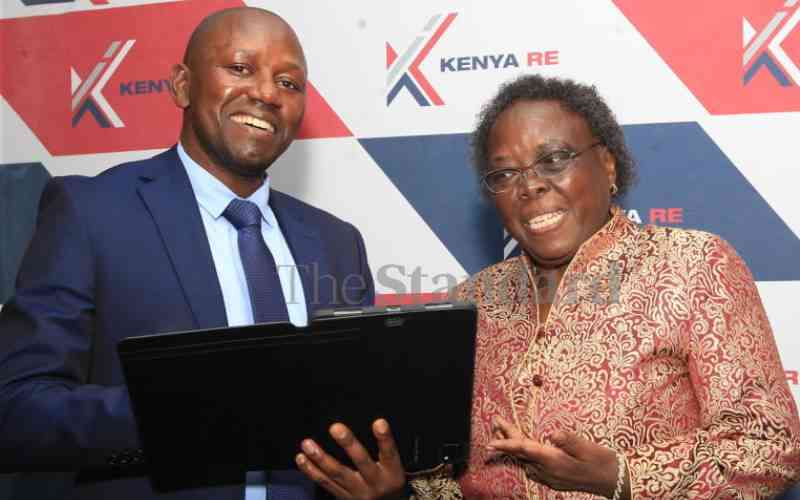 Kenya Reinsurance Corporation is strategically withdrawing from the Indian market where the firm foresees a loss of Sh3.2 billion in premiums.
The withdrawal has been informed by a hit the reinsurer has taken which also saw its net premiums for the half year ending June 30, 2023 drop to Sh6.4 billion from Sh9.7 billion in 2022.
Even so, the reinsurer still posted a nine per cent growth in profit after tax of Sh900 million within the period.
Kenya Re Managing Director Hillary Wachinga said the withdrawal is strategic as the firm takes a haircut on its top line, and seeks to cement its bottom line.
The focus has changed to Kenyan market and its subsidiaries in the rest of the continent.
"We have tentatively decided to focus our energies on the bottom line, not on the top line. The outcome of it is a better bottom line," the MD told Financial Standard in an interview last week.
"It is very difficult to have a haircut on the top line and still make some profit down there."
During the half year, Kenya Re took less business in India of Sh500 million compared to the same period in 2022 when the premiums stood at Sh2.5 billion.
"Which again was not business per se but runoffs," Dr Wachinga said.
Strategic withdrawal
The main loss is from the agriculture line of business which has been vastly affected by climate change, he said.
"Initially I feel we did not have a good understanding of the Indian market. And as claims started hitting our books, we started monitoring the risk profile of India and we narrowed down to agriculture."
It is this decision that informed the strategic withdrawal, which he said is specifically for the agriculture line of business.
"For other business classes, we still have our presence there and I can confirm some of those lines of business are quite profitable," he added.
India contributed Sh5 billion to the reinsurer's top line and even after the haircut, Wachinga said it will still contribute more than Kenya.
"India still remains our biggest market. Kenya is our second largest market."
Amid the anticipated business loss in India, Wachinga said he projects to gain Sh1 billion from the local market.
"From the Indian market alone, we are expecting to take a hit of around Sh3.2 billion and our target is to get additional Sh1 billion from this market and of course from the African region.
"This is very important because we are not only trying to protect our bottom line but also, I think we have neglected our local market for a long time; and you cannot go everywhere and forget we have a mandate to create resilience in our local market."
He said the reinsurer will be optimising the performance of its subsidiaries as it seeks to get replacement business from the loss in India.
This will see a refocused target not only for the Kenyan market but also Democratic Republic of Congo (DRC) and South Africa. For the latter, the MD said they are barely scratching the surface.
Kenya Re seeks to open satellite offices in support of its subsidiaries.
"We have committed capital tied in those subsidiaries and I think some of them are covering a wide territorial scope and it is only fair if we have some support for them," he said.
Huge premiums
A satellite office in DRC will be put up to support Ivorian subsidiary and Uganda. For the South African region, there is a subsidiary in Zambia but the company will work to have a satellite office as well.
This is because the subsidiary covers 10 countries, yet the South Africa economy is much more compared to the other nine countries.
"We are trying look for strategy on how to best to handle South Africa and also Angola," Wachinga said.
"Those are two countries with very significant premiums and risks and, again, with very thin margins so quality underwriting is key."
"South Africa alone, for instance, contributes 70 per cent on gross written premiums in Africa and currently we are getting less than $1 million (Sh150 million) from that market.
"We are trying to do our feasibility on how best to get into that market."
Kenya Re provides reinsurance services to more than 482 companies spread out in over 83 countries in Africa, Middle East, and Asia.
According to its 2022-2026 strategy, the reinsurer targets 100 countries and 1,000 companies.
Related Topics