President Willian Ruto, his predecessor Uhuru Kenyatta and Azimio leader Raila Odinga are among high profile figures who have shared how they first met their wives.
In 2017, Uhuru, during an interaction with Kenyans on his personal Facebook account, revealed how he went through her elder brother, with whom they were schooling at St Mary's High School in Nairobi, to meet her.
"This is an interesting one," he responded when someone asked about his relationship with the first lady.
"How did I meet the First Lady? When I met her she was not the first lady. She was an ordinary, wonderful and beautiful girl," he said.
"I first met her brother. We went to the same secondary school and quickly became friends and it is through him that I managed to meet his younger sister and we started a relationship that has lasted from high school until now. I am thankful to God for that," said Uhuru.
They married at the Holy Family Basilica in 1989 presided over by the late Maurice Cardinal Otunga and they have three children - Jomo, Jaba and Ngina Kenyatta.
However, while marking International Women's Day the following year, Uhuru appeared to change his story.
This time, he said he met the future First Lady when he was out swimming with his father, first President Mzee Jomo Kenyatta and he nudged him to befriend her.
On his part, President Ruto has previously revealed how he and First Lady Rachel met in the church where they both attended.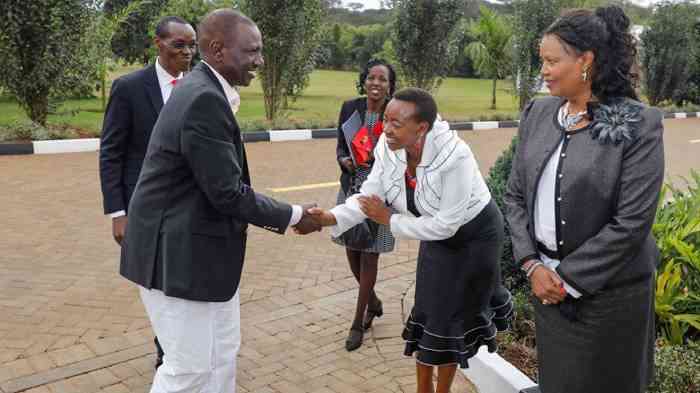 "She was a member of the choir like me, we were both members of an Evangelistic team called North Rift evangelistic team," he said.
Ruto said he was an evangelist at the time.
"We used to go for missions together in various places. She did a course in education," he said.
Rachael, after her secondary education at Butere Girls High School, studied Bachelor of Education Degree at Kenyatta University.
"She was posted to Kessup girls for teaching practice and I was generally around and that is where our love history grew from. The rest is history," Ruto said.
Rachel and Ruto got married in 1991.
For Raila, he revealed in an interview with KTN in 2016 that he met his wife, Ida while he was a lecturer at the University of Nairobi.
He said he and his cousin had gone to visit her brother who lived in Pangani estate then and found Ida and her sisters having a family get-together.
It was love at first sight and though Ida never took it seriously Raila pursued the affair and won her hand in marriage.
Related Topics