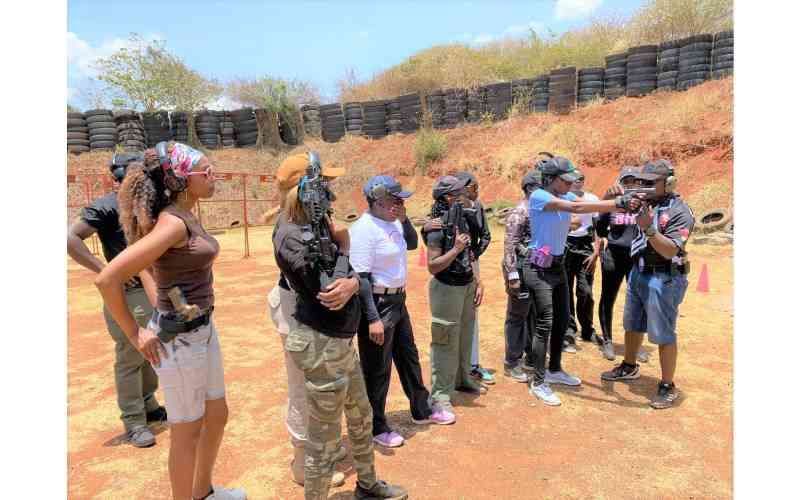 While adrenaline rush activities are not common for women, there are a few who excel in these activities. Shooting sports, however, is still largely perceived as a male-dominated sport, with few women engaging in it. To attract more women into shooting sports, the NGAO-K Sports Federation sought ways to rope in more females during the International Women's Day celebrations.
Pauline Munyi, an ardent sports shooter and the Chairlady and Youth Representative of the NGAO-KENYA Sports Shooting Federation and the National Gun Owners Association, identified an opportunity to take it up a notch by identifying something that women could do collectively. Through the several interactive shooting events in International Defensive Pistol Association (IDPA) and International Practical Shooting Confederation (IPSC), they realized that a particular component was missing.
"We realized that women are a minority, so we needed to find ways to attract them. Besides that, there is an aspect of Corporate Social Responsibility (CSR) that we can incorporate into shooting so that it can add value to us," said Pauline.
Thus, Pauline came up with an endeavor to create value for women shooters through a collective effort, which they named The Pink Target. Their motto is Women Shooting for a Noble Cause.
The Pink Target identifies groups of women from artists, corporates, media, disciplined forces, and the like, who are endeared to charity. They organize tailored shooting opportunities where they can come in and take part.
Depending on the level of exposure, The Pink Target conducts shoots and organizes sessions for those who do not have prior experience. They take the participants through structured, well-tailored, safe, and monitored shoots.
The Pink Target looks at attracting sponsors who will come on board and engage in raffles, contributions, and other fundraiser activities. Whenever they organize charity shoots, they will have already identified a cause that they want to support.
The Pink Target will form a good part of their calendar shoots throughout the year. They will also factor in days where women are recognized, such as Mother's Day, Breast Cancer Awareness Day, International Women's Day, International Day of the Girl Child, among others.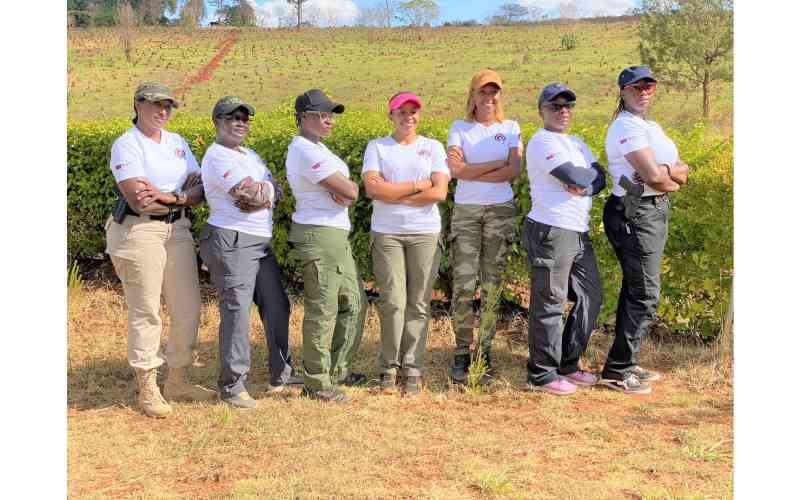 Here are some Pink Target ladies who share their experiences:
Elizabeth Cherono (Civilian shooter)
I am a Sharpshooter who is very passionate about shooting sports. I am also part of the Pink Target women's initiative. When I started shooting, we were only 3 ladies, but now we have grown to over 30 ladies who are shooting really well. We are looking forward to getting Experts and eventually a Master. In performance, I am the reigning lady champion in Pistol-caliber carbines, having triumphed in the IDPA African champs 2021-2023.
Husna Ramadhan (GSU recce company)
I was recruited into the Discipline Forces at the age of 19 years, in 2021. I'm now 21. I am a fairly new shooter, having joined the sport late last year. I am very passionate about it, and so far, I am doing really well. I am happy to be part of the Pink Target movement, and I hope to be a master shooter someday.
Grace Wanjiku (Kenya prisons)
I am a band member with the Kenya prison's band. As a band, we take part in many national occasions. I am an alto voice lady, I play the saxophone, and I am also a sign interpreter. I began shooting competitively in 2021. After 6 months of training, I went to Italy to compete in IDPA championships. Shooting sports are enjoyable. It not only teaches you how you can counter an attack, but it also keeps you fit.
Priscillah Wangui (National Police College Kiganjo)
I work with the National Police College Kiganjo, but I am currently attached to RTC Nairobi. I am attached to shooting sports because for one; It gives you a sense of belonging.
Shooting requires a lot of dedication and discipline. It requires you to be present mentally, as well as physically. Remember we are dealing with live ammunition and we know what will go wrong if we make any mistake.
I have been shooting for the last 4 years in IDPA, IPSC, fulbore and small-bore. But air weapons is where my domain is.
I have worked hard and become a Safety Officer in shooting sports. I'm really grateful to our instructors like Masters' Sammy Onyango, Ibrahim Ndung'u, and Eng. Robert Nyamongo who have really stood with us in the sport.
Related Topics