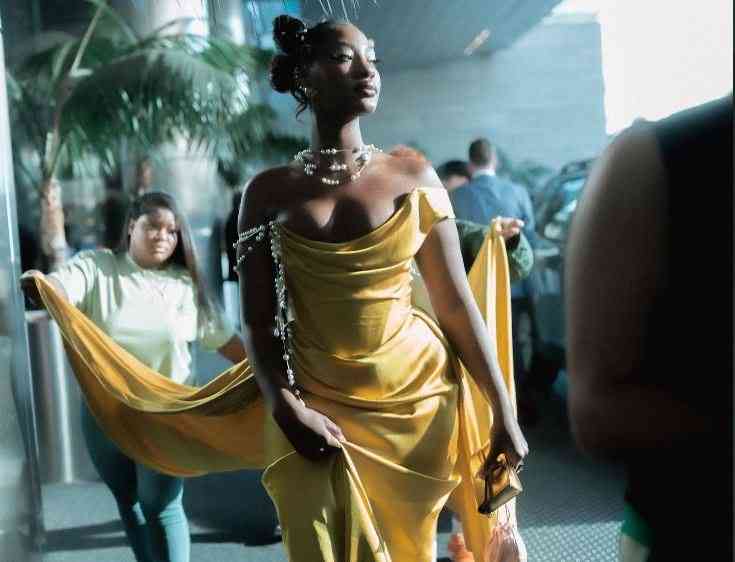 Tems is not only the biggest star on the continent right now, but also the first female Nigerian artiste to win a Grammy, on her first Grammy nomination.
With hit songs such as Avoid Things, Found, Damages and Try Me, the singer won after being nominated for Best Melodic Rap performance for her role in Wait for U, the 2022 hit song by Future, featuring Drake.
This comes shortly after the immensely talented star made history by becoming the first Nigerian and female African artiste to win the Best International Act at the 2022 BET Awards. She is also the first Nigerian musician to debut at number 1 on the Billboard 100 chart.
The Wait for U track beat out several fierce contenders, including DJ Khaled's Beautiful, Jack Harlow's First Class, Kendrick Lamar's Die Hard and Latto's Big Energy.
The 27-year-old Nigerian act has been shown love by many African peers, who have constantly praised her vocal talent. Tems has had a constant rise since her 2020 hit Essence, where she was featured by Nigerian superstar Wizkid.
Congratulatory messages trickled in from Afrobeat singer Olamide and celebrated artistes Tiwa Savage, Waje and Omowunmi.
"It's Tems' time. Nobody can stop her shine. Superstar," posted Olamide.
The Nigerian artiste Burna Boy, who won Best Global Music album in 2021 however lost out to the enviable awards this year.
The Bank On It singer had been nominated in the Best Global Music Performance category for his song Last Last.
He lost out to South African acts Wouter Kellerman, Zakes Bantwini & Nomcebo Zikode for their collaboration. The three South African artistes came out tops at the 65th Annual Grammy Awards making yet another shock as many expected Burna Boy after his 2021 win.
And after failing to win, Diddy took to IG scoffing at Burna Boy whose 2020 album Twice as Tall he co-executed - the same that won him a Grammy.
"I helped you win your first and only Grammy award which I did out of kindness, and somehow you thought you could win another without my help? Oh okay…" he posted.
The fete, popularly referred to as the Grammys, is a Global Music Awarding Ceremony that is held annually.
The event was to recognise and appreciate the best recordings, compositions, and artistes of the year in the period between October 1, 2021, and September 30, 2022.
Although the Los Angeles-based arena has a capacity of about 20, 000, the Grammys news website hinted at hosting about 13, 000 people.
"Located in the centre of the 4-million-square-foot development, L.A. Live, Crypto.com can host up to 13,000 people. With an expected full crowd for the 65th Grammy Awards, hundreds of staff are working behind the curtains to organize the perfect show,".
That is according to one of the posts on the website, alongside an embedded video capturing how officials made preparations for the event.
The Sunday ceremony was watched by over 12.4 million people. raising the ceremony's program ratings for the program by 30 per cent compared to the previous year. This is according to data from Nielsen data.
Tems singer has added this to the list of accomplishments in her music career, following her Africa Future Awards win and her Oscar Awards nomination.
Afrobeat is a Nigerian music genre that involves the combination of West African musical styles and American funk, jazz, and soul influences, with a focus on chanted vocals, complex intersecting rhythms, and percussion. It is also known as Afro-pop or Afro-fusion.
Nigerian music was developed in the late 1960s by Fela Kuti, who was the first artist to play it together with drummer Tony Allen.
Since then, the song has evolved and grown through different generations and artiste phases like D Banj, 2 Face, P Square, Wizkid, Yemi Alade, Patoranking and the latest Ruger, Ayra Starr, Tems, experimented with different contemporary music of the time.
The genre has soared in popularity over the years, from Lagos to New York, and even Seoul, South Korea becoming one of the hottest styles around the world.
Experts in the music industry argue that Afrobeat's popularity is also due to the fact that its a new Universal world sound that blends all the past sounds like Dancehall and hip hop fusing them with infectious African rhythms embedded with hints of Afropop, Afro Jazz, Highlife, Latin Jazz, Dub, Reggae and Electronica to create a familiar yet distinguishable tune.
The sound has since ascended from the clubs of West Africa to some of the biggest music venues around the world. For instance, last year Burna Boy (one of the top Nigerian artistes) sold out Madison Square Garden in New York.
It has a capacity of around 20, 000 people, and this is way ahead of the Kenyan local music industry. The Kenyan industry is doing fairly well although the music has not got global attention.
In fact, has any Kenyan artiste ever been nominated for the Grammy Awards? Which artiste can have a concert and fill a 20, 000 capacity stadium in Kenya? Not more than five.
So how exactly does Afrobeat music keep growing and morphing to suit various generations?
Charles Otieno has been an entertainment journalist for over a decade. He says, "Afrobeats is like pizza."
Confusing, so I ask him to explain further.
"When you are making pizza, you need to have the dough to act as the foundation then you add the toppings of your choice. Be it chicken, or vegetables, you make the call."
He says originality is why Nigerian music keeps staying alive and gaining popularity.
"In fact, some of these songs the young people are jamming to are just bits taken from Fela Kuti songs here and there then given a modern vibe, the young people will enjoy because to them it is not new."
Considering his experience in the Kenyan entertainment industry, I ask him "So how can Kenyan artistes build a genre for themselves?"
He says "We already have a genre from back in the days. Kenya is identified with the Benga beat. So, if you identify yourself with it and create a way to modern music business techniques, slowly we will be there,"
Maybe this could be the reason Sauti Sol group has been popular over the years.
Nigerian wedding Master of Ceremonies Bravo says most young people in the West African country have opted to pursue careers in the creative and business sectors.
He adds that being a professional requires one to undergo a year of youth training before getting employed, a factor that most youth, shy away from.
MC B was responding to a question I jokingly asked on whether all Nigerians are actors, actresses, pastors and musicians.
In 1973, The National Youth Service Corps (NYSC), a one-year mandatory service for Nigerian graduates was established.
According to Nigerian Law, Decree No. 51 of 16th June 1993 outlines the objectives of the National Youth Service Corps Scheme as follows: 'To inculcate discipline in Nigerian youths by instilling in them a tradition of industry at work, and of patriotic and loyal service to Nigeria in any situation they may find themselves,'
No reports have been released to back these claims although it is a conversation held between peers on the street.
In Nigeria, the informal sector includes both registered and unregistered workers and businesses.
Reports show that more than 65 per cent of the active population in Nigeria belongs to the informal sector
According to the International Monetary Fund, the informal economy employs approximately 5.5 million people in Lagos State alone. This is roughly three-quarters of the state's 7.5 million labour force.
The West African country's population is 200 million people.
Related Topics