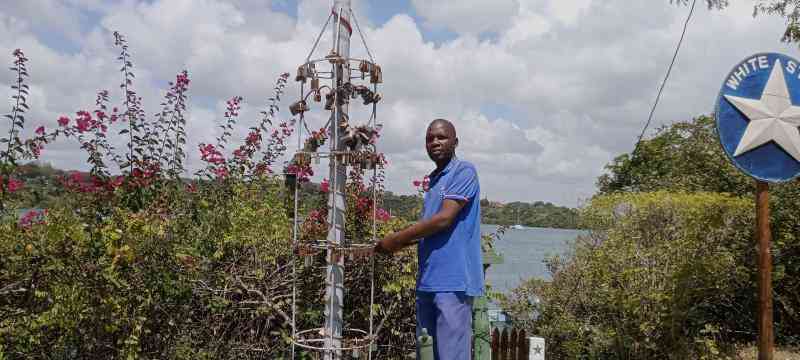 Old Ferry padlock of love, popularly known as 'kufuli ya mapenzi', in Kilifi County is slowly becoming the scene of a different love story. Over the last 10 years , padlocks have been discreetly attached to its railings. You notice them as you walk past it to the sea: one at first, a shiny brass lock, further on there is another, then another, clustered together close to the beach entrance. Most are simply covered with a pair of initials, many in the bold scrawl of teenagers. The locks celebrate the earnestness of first love.
Adjacent to the White Star Restaurant at the front of the iconic old ferry, couples lock in their love at the Padlock of Love installation. A sign in front of the hundreds of locks reads, "A Promise for Endless Love 'I Love You'". Created by an Italian citizen, Pes Pasquale, in February 2010, this statue in the heart of Kilifi town reminds couples to live in the moment.
Lovers and couples go with their padlocks, lock it as they swear eternal love and fling the keys into the sea.
For the past 10 years, old ferry love lock has welcomed those in search of romance; others come to this place to propose.
"Padlock of love is where Elizah and I tied our love in the sea, and we have lived happily ever after," said 29-year-old Edward Alex who plans to wed next year.
Alex and his girlfriend were in the early days of their relationship. They had met through friends at Pwani University and the spark was immediate.
When they got to the White Star floating restaurant, they spent hours walking through the beach, arms locked together, talking about things that couples do when the future seems infinite and hopeful.
They spoke of children's names and what they did or didn't like. And then they stumbled upon the historic love padlock. In truth, Alex had secretly planned for them to end up there. In his trousers pocket he had a padlock purchased the week before, on which he had engraved the initials of their names on either side of a rudimentary love heart. He took the lock out and showed it to his girlfriend, Mary, explaining that he intended to fix it to the love lock installation.
Lasting love
The lock would stand forever as a beautiful tribute to their lasting love. Mary was touched and they emotionally hugged. Alex clipped the lock onto the metallion , where it jostled for space with several others left by several loved-up couples. He then flung the key into the waters of the Indian Ocean.
"It honestly felt like one of the most romantic things I'd ever done," Alex says now. "It was so symbolic."
He says before deciding to officiate his love at the padlock of love spot, he had experienced several breakups in his dating life.
"Love was rarely a companion in my voyage, once in a while it paid a gruesome visit and left my heart broken," he said, giggling.
Edward's story represents that of other lovers who have visited the spot, locked up their love and flung the key into the sea.
Indisputably the only famous padlock of love in Kilifi, it draws in lovers from far and wide. These unique love locks lock one time only, meaning that once your love is locked, it is sealed for ever. Sealed, at least, until rust corrosion takes its natural course.
Alphonse Kamanza Nguthu has been working at the old ferry for five years and he says a week does not pass without a couple coming here to declare their commitment.
"If you and your partner hang a padlock on this installation and throw the key into the sea, your love flame will never die out, instead it will be forever locked," said Nguthu.
He said even couples in their wedding attire visit the area to lock their love, adding that this is a popular tourist spot.
"Tourists have visited the area and left their padlocks here and they make sure they come back here every time they visit Kenya," he said.
Nguthu said those who have visited the place believe there is a natural human impulse to give permanent shape to a mutable human emotion.
"People like to express their love or make declarations of love, and locking a padlock and throwing away the key seems to be a straightforward symbol of fidelity and commitment," said Ededu Peru, a fashion model.
Love-lock ritual
If the relationship sours or dies, tradition goes that you are meant to dive into the water to find the key.
"We want to be the 'only one' with a sexual partner as we wanted to be with the mother, and how much more certain can we be if we actually symbolically lock someone in? I suppose it is potentially less embarrassing than getting the name of your beloved tattooed across your bottom," Peru said.
With the trending banta 'matachana tu', couples have been flocking to this place just to make sure the banta never holds true.
Couples who have undergone the love-lock ritual say they feel really happy and free from life's uncertainties.
The padlock of love is a fun display of affection and a sweet symbol of everlasting love.
Related Topics