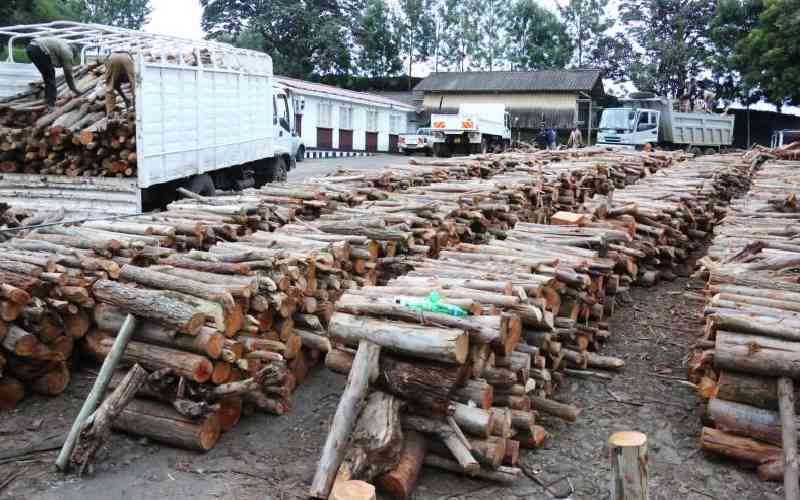 Imenti Central MP Moses Kirima in April tabled a motion in the National Assembly, asking the national government to ban growing of eucalyptus trees.
He also wanted State to issue an order that existing trees be uprooted, and punitive measures put in place against persons who defy the orders.
It is not the first time someone has come up in arms against eucalyptus trees. Indeed, no other tree species in Kenya has elicited intense debate than the eucalyptus
Eucalyptus is one of the most popular trees in Kenya due to its fast growth, multiple uses, ease of establishment, wide range of adaptation, and superior quality of products including timber and fibres.
According to the United Nations Food and Agriculture Organisation (FAO), the global area under eucalypts was estimated at 700,000 hectares in 1955, rising to 4 million hectares in 1979 and exceeding 10 million hectares to date.
Statistics from the Kenya Forest Service (KFS) indicate that the area under eucalyptus tripled from less than 50,000 ha in 2009 to the current 150,000 ha, making it the most popular and preferred tree species in Kenya.
Neighbouring Ethiopia, which has been planting the tree for over 400 years, has over 250,000 ha, Angola 390,000 ha, South Africa 1.2 million ha, Spain 390,000 ha, Brazil 4 million ha, India 4.5 million ha and China 8.3 million ha. In native Australia, 75 per cent of all trees are eucalypts. The Kenya Forestry Research Institute (Kefri) estimates that 50 per cent of global forest plantation consists of eucalypts.
Despite the growing popularity with farmers, environmentalists fear that widespread planting of eucalyptus - grown in Kenya for over 100 years - might cause drying up of water sources, rivers and springs. It may also reduce biodiversity, increase flooding, reduce nutrient cycling thereby affect agricultural crops and cause food insecurity and water shortage.
But are these environmental concerns genuine? Are they backed by facts and science or they are another case of environmental romanticism fuelled by fiction and speculation?
Fact is eucalyptus consumes much more water than other tree species grown in Kenya. For instance, a eucalyptus hybrid consumes about 2,526 litres of water per year compared to Earleaf acacia's (Acacia auriculiformis) 1,231litres, Albizia lebbeck's (Women's Tongue or Mkungu in Kiswahili) 1,283 litres and the Indian rosewood's (Dalbergia sissoo) 1,534 litres per year, according to studies by the Kenya Forestry Research Institute (KEFRI).
But this fact has been misrepresented and distorted. Fast growing trees not just eucalypts evapo-transpire faster than slow growers and this must be expected when they are grown for biomass production.
Eucalyptus is the most water use efficient tree, according to comparative studies by Kefri that pit water consumption and biomass production. For instance, for every litre of water consumed, eucalyptus produces 2.06 grammes of biomass compared to only 1.83 grammes produced by Women's Tongue, 1.31 grammes by Dalbergia sissoo, and 1.39 grammes by Earleaf acacia.
Compared to other crops, eucalyptus are not water guzzlers. Kefri has established that while eucalyptus require about 785 litres to produce one kilo of biomass, cotton, coffee and banana each require 3,200 litres, sunflower requires 2,400 litres and maize, sorghum and potatoes require 1,000 litres each to produce same amount of biomass.
Trees do not drink water in the literal sense. Along rivers we have evidence of streams flowing all the year round while giant eucalyptus trees tower over them. The decrease of water resources has been recorded everywhere in the country yet eucalypts are only found in few areas of the country.
"The curse of our water losses lies in misuse and mismanagement of agricultural land and clearing of forests, especially natural forests," states Dr Phanuel Oballa, a researcher on eucalyptus with Kefri.
Kefri and Kenya Forest Service (KFS), the government agency responsible for establishment and management of Kenya forests, recommend planting eucalyptus without any restrictions in areas with annual rainfall above 1,200mm. However, in areas with annual rainfall ranging between 400 and 1,200 mm, it is important to select species suited to the environment, like clones and hybrids specially developed for such areas, accompanied by proper management regimes.
A report by Christian Cossalter and Charlie Pye-Smith, 'Fast-Wood Forestry—Myths and Realities' cautions planting of eucalyptus in drier climates as plantations frequently reduce annual water yields, especially when they replace grasslands and farmland, thus leaving less water for other users. Large fast-wood plantations often reduce stream flow during the dry season as witnessed in South Africa. Large areas of riverside land were planted with eucalypts, black wattle and pine during the 1950s and '60s, which led to a dramatic decline in the water available to users further downstream.
As a result, in the mid-1990s, the South African government removed eucalyptus and other forest plantations from water catchments and riparian areas.
KFS believes that some of the concerns are driven by environmental romanticism and activism than science.
For instance, while it acknowledges that there is limited biodiversity in eucalyptus plantations, this is not only unique to the species. That is what is expected, just as it is in any other plantation be it of tea, coffee, cypress, pine, acacia, maize or avocado. Singling out eucalyptus is hypocritical. In fact, their cultivation saves biodiversity elsewhere by preventing the destruction of natural forests, land degradation and desertification by providing alternative tree products that would have otherwise been sought from natural forests, argues KFS in published guidelines for on-farm eucalyptus planting.
KFS notes that when eucalyptus is grown as a short rotation crop for high biomass production and removal, soil nutrients are depleted rapidly which conforms to conventional scientific argument. However, areas under eucalyptus have been found to have higher levels of micronutrients, compared to areas under crops such as tea of similar age. Long-term planting of eucalyptus has been reported to improve soil fertility while comparative studies of soils under eucalyptus and adjacent grassland have found no significant differences if the trees have a rotation of more than 10 years.
Studies have indicated that on degraded hillsides and wastelands, the net soil contribution of eucalyptus through litter fall is likely to be positive. Eucalypts also exhibit good potential for topsoil retention on degraded hillsides.
The Tree Biotechnology Trust Programme (TBTP) is developing and testing hybrids and clones of eucalyptus for drought prone sites in response to climate change.
"Technology and science have provided a viable platform even in Kenya to leverage on the need to balance growing of eucalyptus and environmental conservation for the good of all. We have been in the forefront of deploying eucalyptus hybrids suitable for growing in open savannah away from water catchment areas," says TBTP Executive Director Benson Kanyi.
"This is the option being pursued by countries such as Brazil where eucalyptus is thriving in the Cerrados alongside beef farming putting Brazil in the frontline in pulp and paper as well as being the number one exporter of beef to EU."
Related Topics