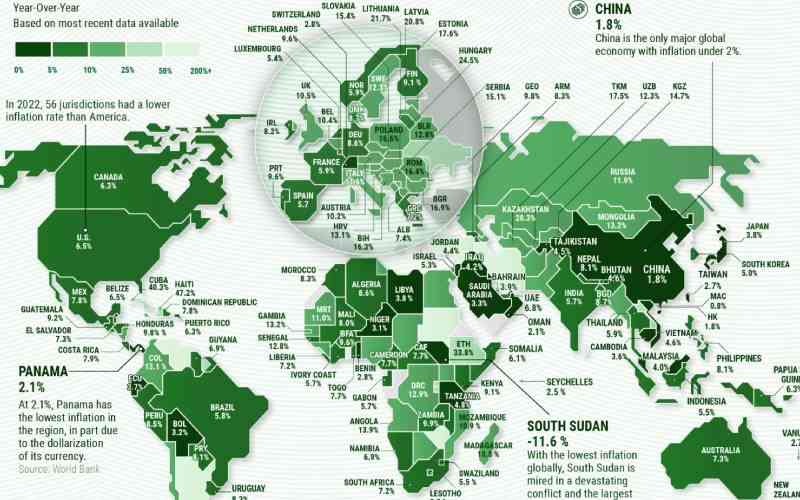 Investors are bracing for longer inflation.
The Federal Reserve indicated that more restrictive monetary policy is in the cards amid strong employment gains. In Europe, while inflation has fallen, it is still far above the 2% target. Across the Euro area inflation is estimated to have reached 8.5% in January.
At the same time, some countries have managed to tamp down inflation. Slower growth, cheaper import costs, and foreign exchange policy are some of the factors keeping inflation subdued.
As price pressures rattle global markets, the above infographic maps inflation rates globally using data from Trading Economics, focusing in on the countries with the lowest inflation levels.
World's lowest inflation rates
Many of the lowest inflation rates around the world are located in Asia, including Macau, China, Hong Kong, and Taiwan. In this region, widespread lockdowns strained growth and consumer spending, lessening inflationary pressures. Last year, Chinese consumers saved $2.2 trillion in bank deposits during these restrictions which were lifted earlier this year.
Inflation in the region was impacted by several other factors. Earlier on in the pandemic, Asian countries including China were less impacted by rising food costs, services inflation, and supply-chain disruptions, unlike what was seen in North America and Europe.
But now as China has reopened, some signs of inflation are beginning to appear. Food prices are up 4.8% annually in December, and hotel rates are rising.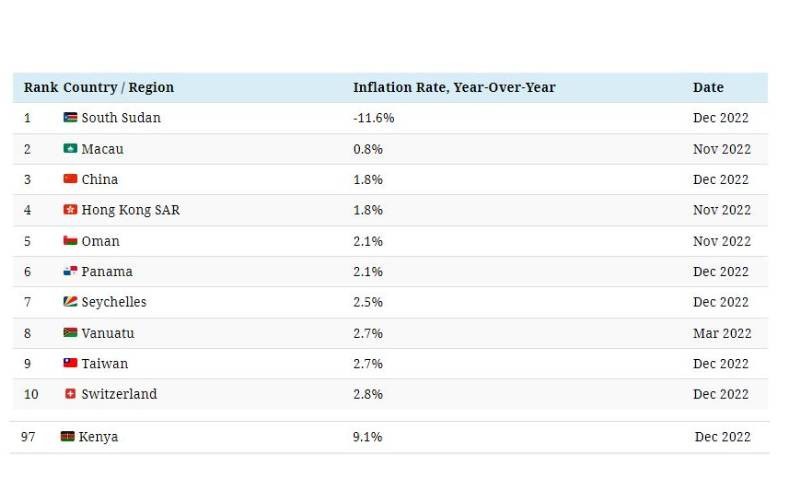 Globally, one outlier is South Sudan. Political instability and violence have depressed growth and inflation, which stood at -11.6% in December. As it faces a severe humanitarian crisis, the country has the lowest inflation rate worldwide.
Oil-producing nation Oman has also seen low inflation, at 2.1%. One reason for this is that the Omani rial is pegged to the U.S. dollar, keeping the currency anchored. Inflation has remained moderate over the last decade in the country.
In Europe, Switzerland has the lowest inflation rate, at 2.8%, or roughly one-third of the Euro area's. It is also the lowest rate in the OECD. The country's strong currency has shielded it from inflationary pressures and high import prices.
Meanwhile, Swiss production prices have risen marginally above inflation, to 4.1% annually in mid-2022. Last year, the Swiss central bank raised interest rates for the first time since 2007 from -0.75% to -0.25% following 20 years of deflation.
Panama has the lowest rate in Latin America. The dollarization of the Panamanian balboa has helped quash price pressures. In July, the government regulated the price of 72 items to keep the cost of living from rising after three weeks of protests as inflation climbed as high as 5.2% during the course of 2022.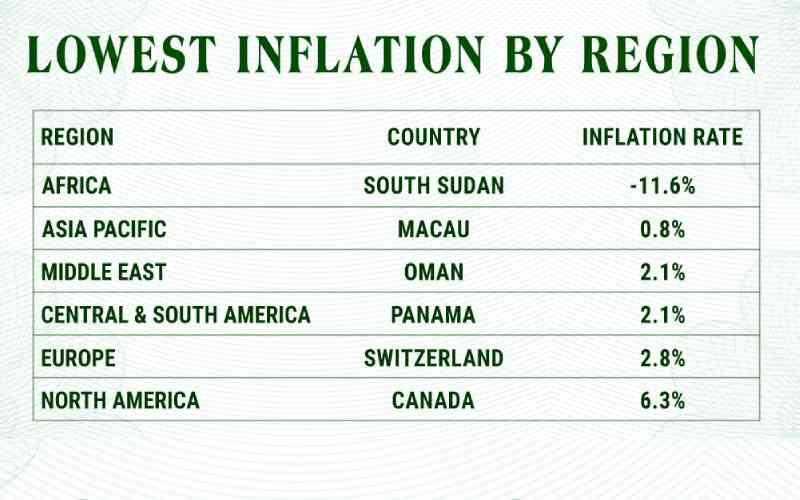 With the lowest inflation in Asia, Macau witnessed the tourism industry fall off a cliff given lockdown measures, and the economy saw both its GDP and inflation collapse in 2022. Its real GDP is projected to have fallen close to 30% for the year.
Future gazing
The IMF estimates that 84% of countries around the world will have lower inflation than last year. By 2024, both headline and core inflation are projected to remain above pre-pandemic levels at 4.1%.
Opposing forces of China's reopening and weaker global growth could offset inflationary pressures, yet this interplay - among a host of other factors - remains to be seen.
[Dorothy Neufeld]
Related Topics