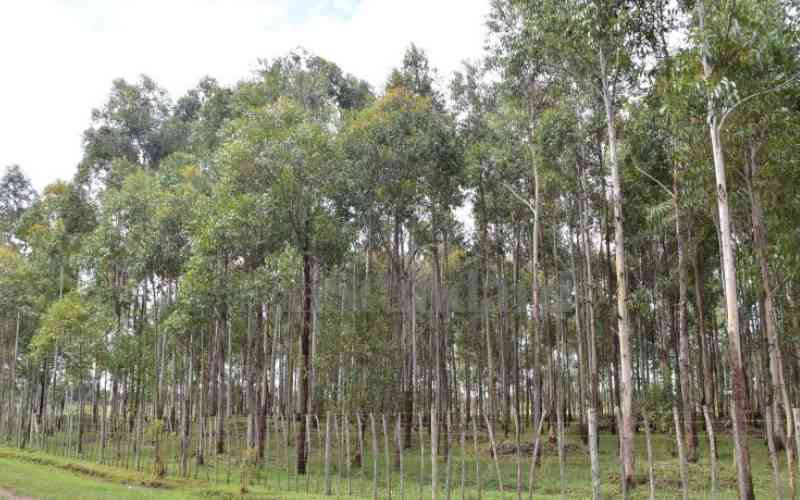 Three governors from Lake Region Economic Bloc have called for stringent laws to help eliminate eucalyptus trees in a bid to save dying rivers.
Kericho Governor Erick Mutai, Hillary Barchok (Bomet) and Simba Arati (Kisii) said several rivers in the lake region were on their deathbed due to the tree species that use a lot of water.
Dr Mutai said the only way out is to ban the trees from river banks and water sources. He said many swamps that feed major rivers in Bomet and Kericho, had been turned into grazing fields by the trees.
"We need a way out before we lose all rivers. While we talk about climate change, we should know what is bringing about the same," said Mutai.
"The trees consume huge volumes of water, and the only way out is to eliminate them from river banks and water sources," said Prof Barchok.
Mr Arati said counties should take the lead and ensure trees are planted away from rivers.
The governors spoke in Bomet when Barchok hosted them for tree planting along Nyangores River near Tenwek Water Falls.
Their calls come in the wake of worrying reports that rivers in the region, among them Mara, Nyangores, Kipsonoi, Chemosit, Itare, and Amalo, that feeds Lake Victoria with water are dying down due to eucalyptus trees upstream.
Tourism and Wildlife CAS Wilson Sossion said wildlife had been affected not only by pollution but also by receding water levels.
Related Topics