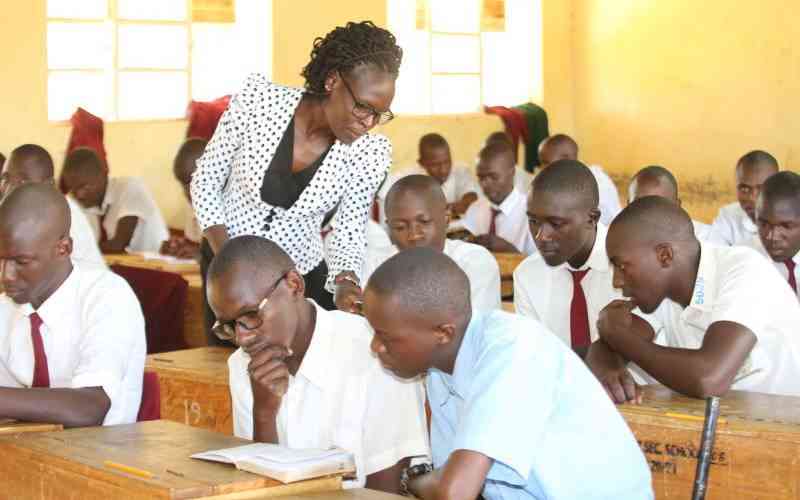 Directives by successive governments to schools to stick to school fees guidelines and other regulations have fallen on deaf ears.
Schools continue to charge extra levies and expose learners to extra learning hours despite directives by the government.
Barely a week ago, Education Cabinet Secretary Eziekel Machogu ordered schools to operate within the stipulated time of six hours and warned that learners should not be forced to do a lot of work at school.
But some parents and union officials blame the national government for the current situation.
They say continued delays by the State to release capitation funds had led some schools to devise survival tactics.
They note that the government cannot act on the warnings because it failed to avail funds.
They claim that even though the Education Ministry continues to issue stern instructions, they can never be enforced as the State has failed to release funds on time to enable schools budget for their annual programmes.
Parents say some of the extra levies are arrived at during school Parents, Teachers Association (PTA) meetings where levies are enforced for remedial, development projects in schools, monies to clear loans for buses acquired on credit, motivation for teachers, and even for transportation of students to school and back.
Most parents who are hard hit economically have raised concerns over the high levies despite the government policy on school fees and on teaching hours in the institutions.
Some schools charge fees above tens of thousands, something that has sent out a public outcry among parents, yet there is no action on the part of the government amid regular warnings.
Remedial lessons have also seen institutions start programs very early in the mornings and in the evenings, thus ignoring the 8 am to 3.45pm official teaching time.
"I pay Sh2,000 for remedial, motivation at least Sh1,000, Sh2,000 for an academic tour and Sh1,500 for weekend studies," said Joseph Masika, a parent at a school in Kitale, Trans Nzoia County.
Robert Trikoi, a resident of Saboti, said he was perturbed that his niece has been sent home several times by school management to collect monies for remedial lessons.
His sentiments were echoed by Lazarus Oburu, who said he has four students in different secondary schools. He lamented that whenever the students go home for half-time, they are often asked for extra funds or items even after he has cleared fees indicated in the fee structure.
Trans Nzoia branch Kenya National Union of Teachers (Knut) Executive Secretary George Wanjala noted that teachers have been trained to cater for slow learners, and going by the normal schedule, such learners would be left behind.
He pointed out that the teachers needed to create time to cover the subject areas that could not be captured well in the normal lessons.
"There are situations like slow learners failing to get concepts when a teacher is ill or was out of class due to other natural factors, and thus they have to create time to compensate," he said
According to Wellington Waliaula, the county chairman of the Parents Association, the government pays fees for students in Sub County and county schools, and the students should pay nothing more.
He cited that school heads had increased fees charged on students in Extra County and national schools partly sponsored by the government,out of the parents volition.
Waliaula also said it is dangerous for students to leave their homes so early for school or leave late, since they are exposed to risks such as kidnap, rape or defilement.
In Nandi, parents still dig deeper into their pockets to sustain their children in school.
Some schools have allegedly clandestinely conspired with some parents to endorse levies during AGM meetings, against the wishes of other parents.
But Christopher Mengich, a parent, said that the amount of capitation released by the government is insufficient based on high inflation, thus school management does request parents for more money.
"I have a candidate in one of the schools, and we agreed with the school management to pay Sh5,000 to cater for motivation and academic trips. We engaged, and we found it logical to support school programmes that will effectively better the performance of the children," he stated.
He said that including the boarding fees among other costs stipulated in the guidelines, he pays a total of over Sh80,000 annually.
Since transport is essential, some schools resort to charging parents between Sh3,000 to Sh5,000 for the procurement of buses.
Lenah Chemutai also said they are still paying for a vehicle obtained by loan, which remains a burden.
But County Education Director Horizon Muriuki said they have not received any complaints from parents over extra levies, saying most schools in the region pay school fees as per government guidelines.
"The only variation of school fees in most cases are occasioned by boarding fees in schools, and the government has strictly moderated to prevent exploitation of the parent," he stated.
In Nyanza, school heads continue to disregard the Ministry of Education policy guidelines on learning hours and school fees as parents and young learners bear the brunt of the anomalies.
Despite the government issuing a directive requiring schools to implement a six-hour learning schedule, The Standard has established that most schools have trashed the directive.
Less school hours for learners, Machogu orders
Several school heads claimed that the time is too short and they risk lagging in completing school syllabuses and claimed the decision by the Ministry is ill-thought.
According to the school heads, they are implementing remedial lessons in the morning and evening after agreeing with parents.
In Kisumu, Homa Bay, Siaya and Migori, some learners report to school as early as 5.30am in several private and public schools. Early lessons in some schools start at 6am.
Anna Juma, a mother of three in Nyalenda in Kisumu, said her daughter always reports to school a few minutes after 6 a.m. and returns only after 5 p.m.
Her concern, however, is the ballooning school fees for remedial lessons. She says she pays Sh2, 000 for remedial lessons.
Alex Otieno, whose son studies at St Annes Primary School in Ahero, says he doesn't mind his child getting to school by 6am and going back home by 6pm.
A school head in one of the schools told The Standard that they are trying their best to implement the learning hours as directed by the Ministry, but it is not easy.
"We are struggling with a shortage of staff, but several teachers always sacrifice to start their lessons early to enable them to cover all classes. This is not possible if you reduce learning hours," said the head teacher.
According to the Kenya Union of Post Primary Education Teachers (Kuppet) Executive Secretary for Kisumu Zablon Awange, schools have been forced to increase fees as a result of insufficient funds in the sector.
In South Nyanza, stakeholders in Homa Bay County want the Ministry of Education to put strict measures in following up regulations which should be implemented in schools.
Parents Michael Akelo and Daud Omundo said head teachers don't adhere to the stipulated time pupils should report to schools.
Kakamega Kuppet chairperson John Wabuti said due to the hard economic times and delays in the disbursement of capitation money to schools, head teachers have no choice but to revise fees to keep their schools running.
According to Wabuti, most schools are adhering to the education ministry policy on learning hours.
A spot check by The Standard in Western showed many schools keep learners in school until 5pm or 6pm, and some schools have incorporated additional charges to the normal fee structure for extra coaching.
Kakamega Little Lilies Academy Director and Treasurer of Western Private School Association Geit Amahawa says that due to hard economic times, schools have been forced to revise their school fee structure to ensure learning goes on smoothly.
He argues that the government directive on learning hours could affect students' overall performance, particularly slow learners.
According to Joseph Ambani, a parent, the government directive to have learners stay in school for six hours would create confusion and disrupt syllabus coverage.
Kakamega Sub-County Education Director Mwangi Kabora said school heads must follow the spelt-out policies to the letter.
According to Kabora, the school heads have no option but to do as directed by the government.
In Mombasa, Knut Executive member Dan Aloo said the government should be strict in enforcing the Basic Education Regulation Act 2013, 2014, and 2015, on the time required for learning in schools.
Nakuru Kuppet Organising Secretary Joseph Chebukaka said parents should not complain of extra levies in schools, because they also participate in meetings where the extra fees are discussed.
"Headteachers, Board of Management (BoM) of schools, and Parents Teachers Association (PTA) are allowed by the Ministry of Education to agree and approve extra school levies," said Chebukaka.
He said the same parents have the power to refuse the extra levies.
According to Chebukaka, the government's policy on fees is a problem because it is discriminatory.
He noted the policy provides that parents of learners in National Schools pay Sh53, 554 annual fee, those of County Schools pay Sh40,535 annually, and the fees decrease in Sub Counties and Wards.
In Nyeri and Muranga counties, some schools have classes up to 7.30pm. Other schools insist on Saturday classes from 7am to 11.20pm.Reporting by Martin Ndiema, Edward Kosut, Sharon Owino and James Omoro, Lydiah Nyawira and Boniface Gikandi, Daniel Chege, Benard Lusigi, Wills Oketch]
Related Topics