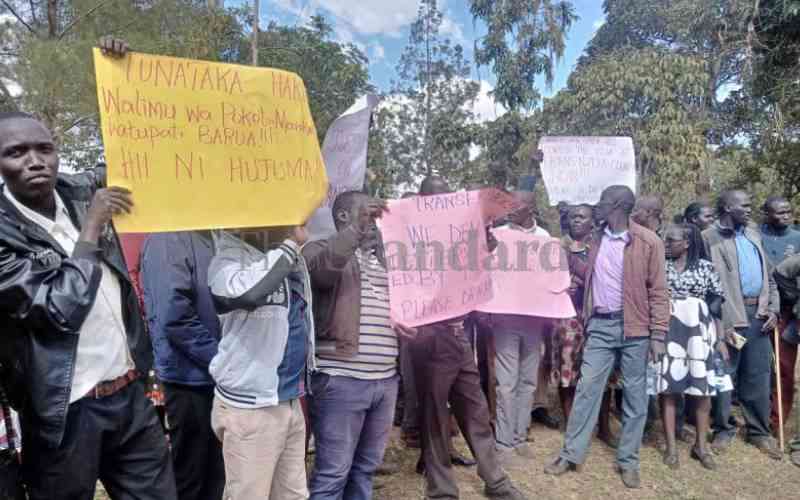 More than 200 teachers from West Pokot working in Trans Nzoia County on Monday marched to the Teachers Service Commission (TSC) offices in Kitale to demand transfers.
The primary school teachers protested that delocalisation had been abolished yet TSC had denied them transfer to their counties.
The teachers were turned away by officials who insisted that they should go back to their working stations.
Led by John Kimtai, a teacher at Cheptandan Primary School, they complained that the delocalisation programme had brought them suffering, citing family break-ups.
The teachers accused TSC of refusing to effect their transfers despite the government scrapping the delocalisation programme.
"Other teachers in other counties have been moved back to their home county, but TSC has refused to let us go back to our home county," protested Kimtai.
They alleged that delocalisation has fuelled family separation, arguing that moving them back home will fix the problem.
"Since I was transferred to Trans Nzoia County, all is not well in my family. My husband suspects I am unfaithful to him, and we are asking TSC to move us back to save our marriages," said Eve Lokosoywan.
Some said they want to go back home and take care of their elderly parents and property.
"Some of us have elderly parents who need our care. We have also lost our investments at home," said Justus Riongon, at teacher at Munyaka Primary School.
They said they have been denied the opportunity to benefit from hardship allowance.
They also said they were not getting hardship allowance like in West Pokot.
The teachers claimed two of their colleagues had died out of frustration.
"We are suffering. We are stressed and depressed. We don't want to die because of working in an unfriendly environment," one of the teachers said.
Some of the teachers who have disabilities said it was unfair for TSC to ignore their plight.
They vowed to camp outside TSC offices until their issues are addressed.
"We are going to camp here until we get transfer letters from TSC," said one of the protesting teachers.
Efforts by The Standard to get a comment from TSC county director Ali Jamal were unsuccessful as he failed to answer calls and SMS.
Related Topics