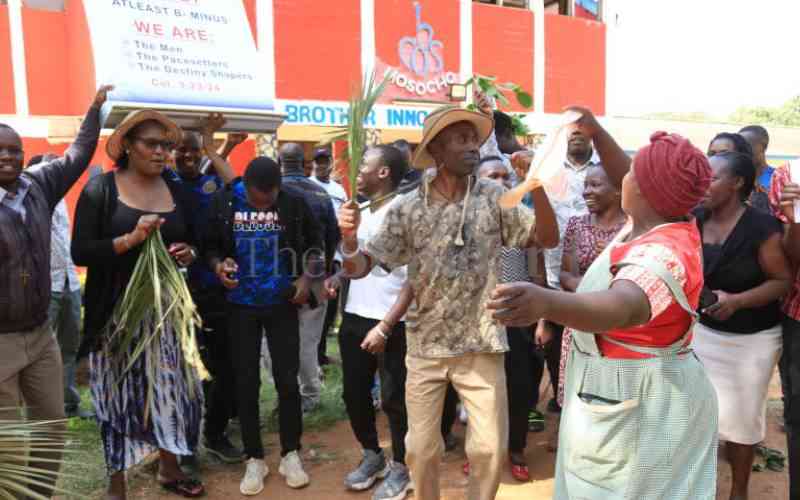 Many schools have doubled their enrolment in the last eight years. And despite the high numbers, they have maintained excellent performance.
In Kisii, for example, some of the top schools registered as high as 800 candidates but were ranked top during the Kenya Certificate of Secondary Education examination (KCSE).
Kereri Girls in Kisii Central with a population of more than 2,700 students registered 822 candidates in the 2022 KCSE examination.
The school Principal, Teresa Atieno says this was the largest number of candidates ever to sit for the national examination.
"Despite the numbers, we were able to record 557 university entry grades. It has not been an easy journey," she said.
The school had four A (minus); four 79 B (plus) and 98 B (plain) with a mean of 7.312 up from 7.30 in 2021.
Ms Teresa says the school is battling with a lack of proper and enough infrastructure. "We have put in more infrastructure but still we need more. There is a need to have more dormitories and classrooms."
With 471 candidates having sat for KCSE at Nyabisase Secondary, the principal David Ogega, noted that 444 of them passed and will be joining university.
Ogega said the performance was exemplary.
"We faced challenges handling more than 300 day scholars. True, a number of them came from poor family background, and in most cases, they could miss classes. Attending remedial classes for this group was a challenge," he said.
The school's population has risen from 130 students in 2015 to the current 2,000.
At Nyabururu National Girls School, 422 candidates sat for KCSE and out of that number, 383 candidates scored C plus and above. The school's mean score was 8.61.
School Principal Joyce Orioki said the form one enrolment has been increasing hence the high number of form four candidates.
"We must embrace the government's 100 per cent transition to form one. This comes with its own challenges that include congestion due to unlimited infrastructure. That notwithstanding, we will have to work smart in giving our children a conducive learning environment," she noted.
She says, for the school to achieve a near 95 per cent pass, teachers have to work as a team.
Sironga Girls and St Charles Lwanga Ichuni Girls had 314 and 529 candidates respectively.
Despite the high numbers, the schools posted a mean of 7.69 and 7.0.
Sironga had 241 candidates with C plus and above, while Inchuni Girls had 343 with minimum university entry grades.
Cardinal Otunga Mosocho, which a few years ago had a decline in its academic performance, had 320 students achieve grades to join university.
Tombe Girls Principal, Jane Nyanumba says the improved infrastructure in the school has attracted more students.
The school had a mean of 9.2 having registered 187 candidates.
"Students' mindset, teamwork, and better facilities are all the key factors that have put us at the top. Mentorship programmes also contributed to our improved performance," she said.
Related Topics