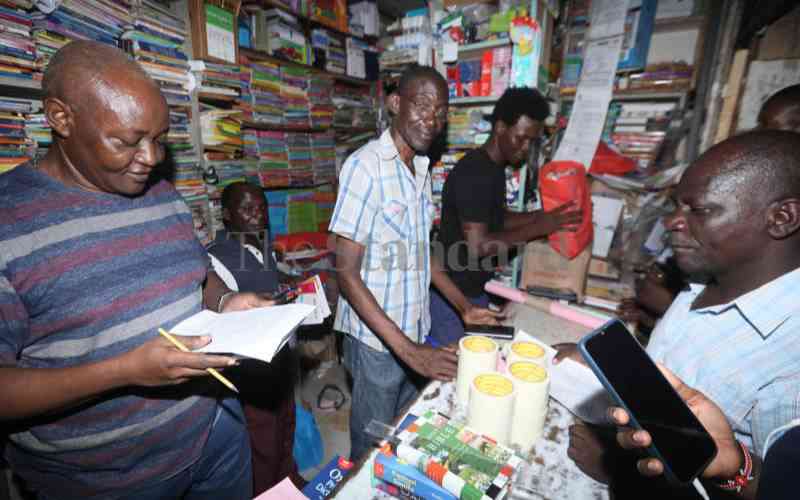 After two years of disruption of the country's education calendar by the Covid-19 pandemic, normalcy resumes after schools open for the first term beginning today.
Confronted by harsh economic times, parents are now struggling to raise fees for their children.
This comes as a section of teachers' union officials said the government is ill-prepared in terms of providing capitation funds, guaranteeing adequate infrastructure in schools, and also staffing.
An official said parents are experiencing financial constraints while some schools have accumulated arrears in non-paid fees due to regular closure and opening of schools during short terms over the last two years, a situation he said, escalates risks of increased dropout cases.
Despite the myriad of challenges, parents in several parts of the country were yesterday in a last-minute rush to prepare their children ahead of the opening.
There were long queues of shoppers at the bookshops, supermarkets, and uniform outlets in most major towns.
In Bungoma, crowds flocked to shops and supermarkets as early as 8 am. Matatu operators cashed in on the last-minute rush as parents trooped the town centre to shop for school essentials.
Most of the public service vehicles were heading to Kisii, Kisumu, Kakamega, Vihiga, and Busia with a section of the travellers interviewed saying they chose to travel a day before the opening day to avoid the last-minute rush.
Major town centers in Vihiga, Kakamega, and Busia counties had a sizeable number of parents and learners flocking to book shops and bank agents.
Parents interviewed said they have been compelled to pay whatever little they have hoping school managers will understand the situation.
Francis Chavanji, a parent from Majengo in Vihiga said this term's school fee was the highest he was going to pay since 2020.
So far, 365 students have benefited from Vihiga County government's full scholarship programme.
Vihiga Governor Wilber Ottichilo while handing over the bursaries urged parents to be patient as they work on a plan to increase the funding.
Agnes Ondeyo from Kakamega said she was shocked by the price increase of key items such as shoes and uniforms.
In Nandi, Monica Rop, a parent from Kapsabet, said she has two children, one joining Form One and another in Form Three, and was worried about how she will raise their fees.
"I am required to complete first term fees amounting to about Sh50,000 for the first term on reporting day. Books and students' personal effects are expensive due to inflation and we have spent a lot of money over the long holidays since we had to feed them," she stated.
Some parents also noted that Form One reporting day came on short notice after the Ministry of Education released the placement list recently.
Ester Wangari whose daughter has been admitted to Nakuru High said she hasn't been able to raise the money required by the school.
"The government should consider extending admission of Form Ones for about two weeks to give parents time to look for money. I am a businesswoman and we are currently struggling," she claimed.
Unlike in the past when supermarkets and bookshops did booming business on the eve of school opening, several stationery and bookshops in Kapsabet town recorded minimal activity.
One of the bookshop keepers claimed that some parents have been strolling into their business to only check on the cost of some CBC books but were not buying them.
"Some parents are opting to pay school fees first and then purchase course books among other learning aids later," said Mark Kosgei one of the shop attendants.
Mr Paul Rotich, the Kenya Union of Post Primary Teachers (Kuppet) Secretary in Nandi County expressed fear that the majority of parents across the country are facing financial difficulties and that there was a risk some learners could drop out of school.
"For the last two years, they have not had breathing space due to short school terms that opened and closed at short intervals thus exhausting their financial resources," said Rotich.
Rotich said a number of parents are expected to buy new sets of uniforms as their children transit to Junior Secondary under the CBC programme, while others are to secondary schools.
"The government is not well prepared for new challenges coming due to CBC. There is no infrastructure, and staffing is low. There is a need for additional classrooms, laboratories, libraries, and teachers," noted Rotich.
He said the government has deployed only one teacher per class, hence parents will be prompted to hire more on Board of Management (BoM) bases at their (parent's) costs.
Richard Magutu, a parent in Trans Nzoia whose son is joining Junior Secondary said he required about Sh 10,000 to buy a new uniform. There are other expenses such as text books and other learning materials.
"Considering the current economic situation, the cost of school requirements is a burden and unaffordable," said Magutu.
John Wafula said he had been forced to sell two cows to raise money to buy items for his son who is joining Form One.
"I have just sold my two cows to raise money for my son to join high school. Education has become costly and I'm not sure where to get money to support my son to complete his education after selling the cows which were the family's source of livelihood," said Wafula.
He said the Sh40,000 he got from selling the animals is not enough to meet all the expenses.
Livestock traders, he said, are taking advantage of the crisis to offer poor prices.
A cow that is supposed to fetch Sh30,000 is going at as low as Sh18,000.
In Migori county, Eunice Okeyo, a mother of three, noted that she could not afford to buy the required school uniform for her children as it was too expensive.
Janet Anyango, also a parent said she bought essentials only to get her daughter started in the first term. "I have only managed to get a few items for my daughter due to financial constraints. Hopefully, I will add more personal effects after a month."
Book stores and school uniform shops in Migori town, however, recorded brisk business even as the parents lamented about the harsh economic times.
"I have been able to sell more than 200 books in just two days," Carlos Omondi, a bookseller in Migori town said.
Parents in Homa Bay appealed to the government to consider reducing school fees for secondary education.
Caroline Ouma, a parent with a child at Asumbi Girls and Ringa Boys said the high cost of living and school fees made her life unbearable.
Related Topics