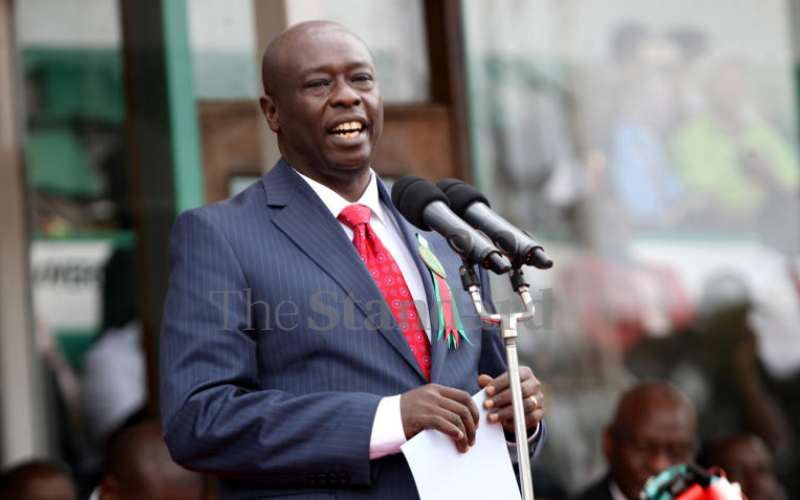 Deputy President Rigathi Gachagua has warned those planning to engage in examination irregularities that the government will firmly deal with them.
The DP said: "Anyone who tries to infiltrate the system or pretend to have access to examination papers will face the music. We have measures in place to ensure such characters are identified, arrested and made to face the full force of the law."
"We have given firm directions to the Director of Criminal Investigations (DCI) to act speedily. We want cybercrime detectives to be alert day and night and hunt down these fellows cheating Kenyans that they have access to examination papers," said Gachagua
The DP, who spoke on Friday when he launched the examination season at Kenya National Examination Council (Knec) officers in South C, Nairobi County, warned examination officers against conspiring with cheaters "because that will see you end up in wrong places".
"Do not take yourself to the culprits, you will be arrested. Do not make attempts to join with them because the law will catch up with you yet, that is not necessary," said Gachagua.
"There is dignity in earning money in a good way, through hard work," he said and asked parents and guardians not to allow themselves to be conned by those claiming to have exam papers.
The event was attended by regional, county and sub-county directors of education. County commissioners and their assistants were also present.
Gachagua sought to assure Kenyans that the national exams will be credible. "We have taken all measures to ensure insecurity and the biting drought in some parts of the country do not affect the administration of these exams that begin on November 23 and end on December 23."
He said the government has put measures in place to ensure schoolgoing children in drought-hit areas do not miss exams because of hunger and thirst. He said the government is distributing food distribution in arid and semi-arid areas.
Knec chief executive officer David Njeng'ere said a total of 3.4 million candidates will sit Grade Six, Kenya Certificate of Primary Education (KCPE) and Kenya Certificate of Secondary Education (KCSE) examinations this year.
"We have a plan to ensure exams are not interrupted in any way, including in hotspot areas. We have gone a step further to ensure for no reason will a candidate miss exams," the DP said.
On Competency Based Curriculum (CBC), Gachagua said the government will respect the views of parents.
Education Cabinet Secretary Ezekiel Machogu assured Kenyans of examinations credibility.
"We have been able to identify the loopholes and how to deal with them. The process of administering exams has formally started," Machogu said.
He added: "We also agreed with the county commissioners and county directors of education on how to manage the 493 examination storage and distribution centres. There will be closer cooperation amongst all the government agencies which will provide daily progress reports."
The three exams will be done concurrently from November 28 up to 30 then Form Four exams continue till December 23.
Teachers Service Commission chief executive officer Nancy Macharia said teachers are ready and committed to supporting the Kenya Kwanza government to deliver on its education agenda.
She said they have worked with Knec and vetted 46,941 heads of institutions to play the role of examination centre managers in schools. "We have also trained 48,192 supervisors and 206,548 as invigilators. At least 46,751 will be ready to mark the exams."
Dr Macharia added: "We have cancelled leave for all our field officers from November 14 so they can be available to oversee examinations."
Related Topics