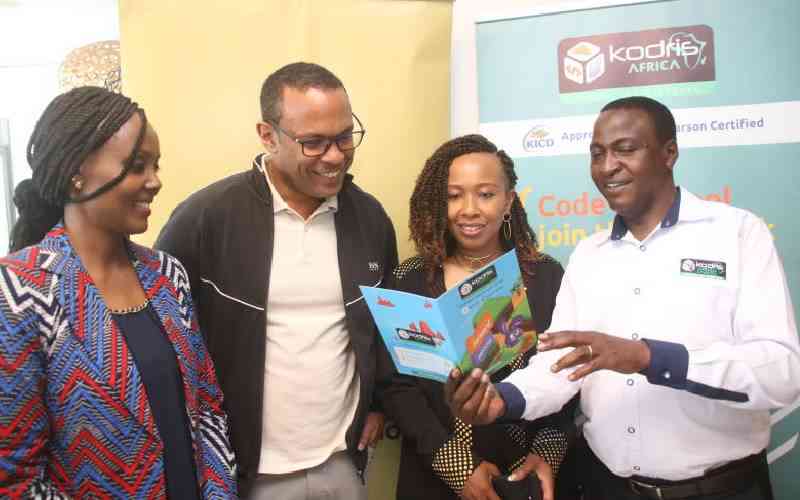 Kenya National Examinations Council (Knec) is developing assessment tools that will be used to examine the coding syllabus in primary and secondary schools.
Education stakeholders and tech giants have affirmed their commitment to adopt coding as a subject of study from the elementary level and as key driver to grow the digital economy. "We have an obligation to assess all curriculum developed by the Kenya Institute of Curriculum Development (KICD). We have already kicked off the process of developing procedures and assessment tools for the syllabus," said Knec Chief Executive Officer David Njengere.
Dr Njengere said the mode of examining and assessing the curriculum will be done in a way that ensures that no child is disadvantaged.
"The bulk of the work is with KICD to submit it to us so that we can prepare for the assessment and finalise the process on time," Njengere said.
Njengere was speaking during a symposium organised by Kenya Association of International Schools (KAIS) in partnership with Kodris Africa, Rusinga School and the Kenya Commercial Bank (KCB).
"We are all aware that in 2017, the government distributed digital devices to all public primary schools. We don't need new devices, it's the same infrastructure we shall use to assess the learners on their understanding of the coding syllabus," said Njengere
The symposium brought together close to 120 international schools and tech giants, Liquid Telcom, Safaricom, Google, Amazon and Microsoft Africa.Coding is the process of converting human intentions into commands that computers can understand. The lessons are presented to the learners through an interactive online studio.
The Assistant Director of e-Learning at KICD, Charles Munene said that in the last two decades, curriculum reforms have been driven by rapid technological and social changes, saying coding is becoming the most in-demand job skill of the future.
He said as a country it must align its curriculum to the to the rising demand of technological skills at the job market.Jane Mwangi, KAIS Head of Secretariat, said there's need to train learners on digital skills from the elementary level (Grade One). This in a bid to impart the right knowledge and skills needed to drive the fourth industrial revolution in digital economy. The Digital economy dubbed 'the 4th Industrial Revolution' is the trend towards automation and data exchange in manufacturing technologies and processes which include cyber-physical systems, industrial internet of things, cloud computing, cognitive computing, and artificial intelligence.
"If you look at developed countries like Singapore and Japan, they have been teaching their learners coding from kindergarten, same to international schools in the country. We are glad that public and private schools are finally catching up," said Ms Mwangi. She went on: "We want to applaud KICD for approving the coding syllabus. For once, international schools and the government are reading from the same page in preparing learners for the job market,"
Technology is rapidly changing the landscape of the workforce with employers across the world increasingly seeking a digitally skilled labour force.
It is projected that by 2030, 50-55 per cent of all jobs in Kenya will require some level of digital skills with the demand being primarily driven by digital technologies. While echoing Mwangi's sentiments, Jack Ngare, the head of Google Africa, said the only way Kenya and Africa are going to stay at par with developed nations is by introducing coding at the elementary level of schooling.
"Coding is one of the building blocks in IT and empowering our people to understand and build some of the technological products that we consume. We need to start teaching coding in this country right from elementary level," said Ngare. He added: "Rather than just being consumers of technology, we build it as well. We were left behind by the 1st, 2nd and 3rd industrial revolutions, are we going to allow ourselves to be left behind by the 4th industrial revolution too?"
Microsoft Africa Development Centre Managing Director Catherine Muraga noted that coding has become so central to all career paths globally, saying that as a country, we have to make sure that our children are well equipped for efficiency and productivity.
"We want to capture the young minds of our learners and set them up in the IT revolution and no one should be left behind. We are happy that Kenya is the first country in Africa to deploy coding syllabus for primary and secondary schools," said Ms Muraga
Kodris Africa CEO Mugumo Munene emphasised the importance of teaching learners more than just how to use computer applications.
International schools represented at yesterday's symposium were Jawabu, Oshwal Academy Nursery, Rusinga School, St Christopher, Roseline Academy, Machakos School, Aga Khan School, Braeburn Imani International, Braeburn Nanyuki, Braeburn Garden Estate, Braeside, Brookhaven Academy, Brookshine, Brookhouse, Crawford International, Cavina, Greensted International, Hillcrest International and Kiota.
Others were Light International, Lukenya Academy, Lenana, Montessori Learning Centre, Msingi Bora Kindergarten, Mustard Seed International, Mumbini Secondary, Makini, Nairobi Academy, Nairobi Jeffrey, Peponi House Preparatory, Peponi School Ruiru, Premier Academy, Roseline Academy, Rophine Junior, Regis, St Christophers, St Austin Academy, St Andrews Turi, Sabis, St Peters Gathuthuini, Riara and Banda.
Related Topics