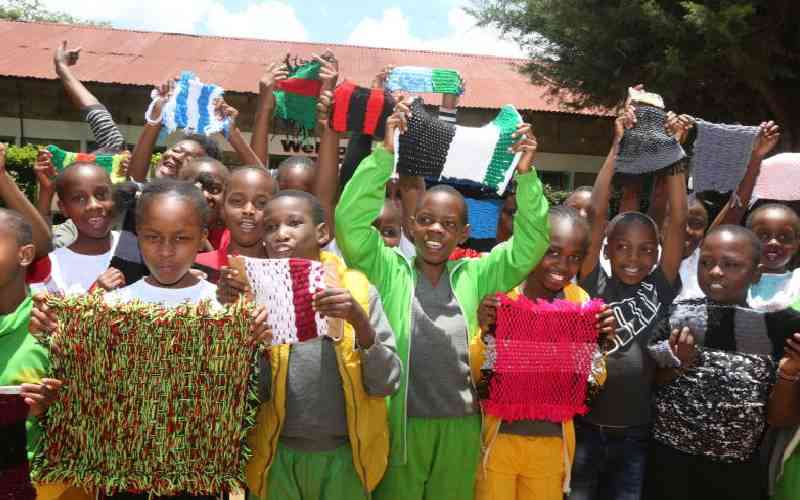 Education stakeholders are already pointing out grey areas in the Competency-Based Curriculum (CBC) they want to be addressed even before President William Ruto picks a task force to collect views from Kenyans before making recommendations.
While some teacher's unions, parents and the church want the proposed junior secondary schools (JSS) to be hosted in primary schools, education experts are asking for caution.
Stakeholders also want the government to clarify costs to be borne by parents and the burden that will be shouldered by the government.
They also want a clear funding roadmap for the CBC complete with clear transition guidelines ahead of the major shift from 8-4-4 to the 2-6-6-3 education system.
During his swearing in ceremony, Dr Ruto said he had noted that there is a robust discussion on the CBC, and pledged that after the taskforce concludes its work, a decision will be made before the impending transition of first group of the new system.
"We are particularly alive to the anxieties of parents on the twin transitions of the last 8-4-4 class and the first CBC class in January next year. I assure that there will be a solution to the matter before then," added the President.
National Parents Association (KPA) and the Kenya National Union of Teachers (Knut) want junior secondary learners to be retained in primary schools on account of their young age.
''How will these children cope up and adjust to high school in overcrowded schools and also with senior students? Majority of these learners still need parental care and exposing them to such situations will be tantamount to negligence,'' says Nicholas Maiyo, the KPA chairman.
Parents also fear that moving the learners to secondary wing could push up fees.
Knut secretary general Collins Oyuu says there's no need to build more classes in secondary schools "while there is already existing infrastructure at primary school level."
"The focus should be on training and hiring more teachers. The class seven and eight classrooms will accommodate grade seven and eight," he says.
For the Kenya Union of Post Primary Education Teachers (Kuppet) national chairman Omboko Milemba, the team should address thorny issues like inadequate teaching and learning resources, overcrowded classrooms, and dealing with low ability learners.
Kuppet secretary general Akello Misori, on his part, says the taskforce should lay out an elaborate plan to ensure not ad hoc decisions are made along the process.
He says curriculum change is a high stake, technical, political, and sensitive issue. There are many cynics and sceptics who challenge initiatives to change.
According to him, the rationale for the proposed reforms should be well thought out and communicated effectively and efficiently.
Misori further stated that the twin transition in January 2023 might prove difficult since the 2.5 million learners moving to the secondary level is too big for the government to hold.
The Alternative Provision of Basic Education and Training (APBET) National Secretary Paul Wanjohi also favours retaining the Grade 7 learners in primary schools.
"If we continue to construct classrooms yet some of them will be left empty in primary schools, I think we are wasting resources. Instead of all these unnecessary expenditure, the learners should transit to the primary schools they are currently schooling," Wanjohi said.
Peter Sitienei, national chairman, Special Schools Heads Association of Kenya, said advocating for day schools in Junior Secondary will be punitive for their learners.
''We have only had 38 Special needs Schools spread across the country which are boarding. Talking of day schools in Junior Secondary, it will really discriminate against our learners,'' said Sitienei.
Sitienei also noted that special schools are underfunded as compared to regular schools.
"Our learning materials are too expensive. We need head teachers from special schools to be included in the taskforce to address our plights,'' he added.
Janet Muthoni Ouko, formerly the County Executive Committee member for Education, Nairobi said the task force to be set up should handle the CBC issue with care since it might drain all gains made.
She says curriculum development and change should be guided by a systematic and holistic approach, which is critical to ensuring effectiveness and sustainablity instead of piecemeal reforms.
Muthoni noted that the time frame remaining to the transition is too short and might lead to panic amongst parents.
''A lot of rationalisation and finances have been invested in the system with the majority of learners in primary schools having adopted the system. Let the taskforce fix what has not been working well instead of scrapping it off,'' Muthoni stated.
Evans Mjumbe, a teacher in Nairobi, said the text books are single use for every child, with parents forced to buy the same textbooks when their other children are admitted.
He said the double transition is a mirage since some learners are too young to domicile in high schools.
Pamela Kadenge, head teacher, Simboyi Primary, says the government needs to inject more funds in schools in order to have a smooth transition.
''We need to have enough resources in order to have the requisite infrastructures and human resources to handle the high number of learners we have,'' Kadenge stated.
Kadenge further added that the new system is meant to mould learners into practical, all-round adults, beyond the academic classwork demanding for time and finances.
Related Topics