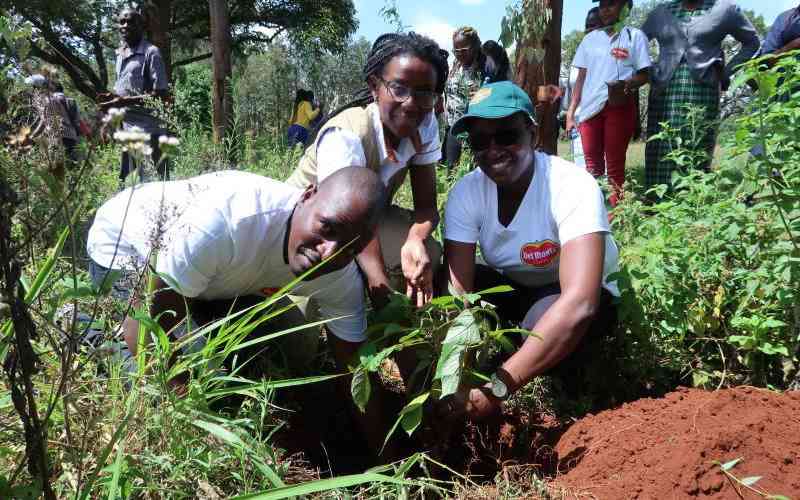 The effects of climate change continue to be seen and felt around the world. Intense summer heatwaves, severe flooding and damaging storms are becoming ever more common. The fear is that future generations will have to pick up the pieces if concerted global action isn't taken before it's too late.
Many believe that putting climate change-related subjects on school curriculums will help young people cope better with the reality of global warming, both practically and psychologically.
Last year, a global study revealed that climate anxiety affects the daily life of nearly half of young people. The research, carried out by the University of Bath, was based on surveys of 10,000 young people across 10 countries - 75 per cent of respondents said they believe "the future is frightening".
The United Nations says that it should be part of teaching in all schools by 2025. A study by UNESCO analysed education plans in nearly 50 countries and found that more than half make no reference to climate change. Only 19 per cent made any mention of biodiversity.
Despite signatories to the 2015 Paris agreement agreeing to improve education around climate change, very few countries have put this commitment into action.
A law was passed in Italy in 2019 which made it the first country to make climate-related studies compulsory in schools. All state schools are required to dedicate around an hour a week, or 33 hours per year, to climate change issues.
Cambodia has integrated climate change into a new and expanded earth science curriculum in 2020, with 15 pilot schools. Argentina's parliament approved a National Law of Comprehensive Environmental Education in 2021. Topics relating to climate change are taught in primary and secondary schools in the UK.
A report by Education International, a union which represents millions of teachers worldwide says that many countries are neglecting commitments to provide climate change education. Its research says that out of 95 countries that have submitted new or updated Nationally Determined Contributions (NDCs) as part of their commitment to the Paris Agreement's goals, just 24 per cent specifically mentioned the education of young people. It says that none are calling for compulsory Climate Change Education (CCE) as part of their national climate strategy.
The report authors also point out that developed nations in particular aren't doing enough: "None of the top 20 carbon emitting countries nor the top 20 wealthiest countries that have submitted their updated NDC makes a reference to CCE. Only three of the top carbon emitting countries mentioned the wellbeing of future generations. Instead, it is countries with the lowest carbon emissions that are more likely to discuss CCE in the context of their national climate strategy." Cambodia, Dominican Republic, Colombia and Argentina are all noted in the report as having taken concrete steps to embed climate studies into their education systems.
A survey by campaign group Teach the Future revealed that more than half of teachers in the UK believe their subject does not teach climate change in a meaningful or relevant way.
Related Topics