Every year, thousands of Kenya Certificate of Secondary Education (KCSE) candidates fail to attain minimum university entry qualification of C-plus. Many never make it to gainful employment. That is the situation Julia Nyambura was facing in 2011.
Fast forward to February 2022: she harvests 2.7 tonnes of a herb - from a quarter of an acre - and makes Sh30,000.
Scientifically known as Pelargonium graveolens, the rose-scented geranium is a perennial herb economically valuable for its essential oil.
The species is native to South Africa but intercontinental trade from as far back as the medieval era has seen it spawn in other parts of the world. The earliest evidence of geranium farming in Kenya is from 2017. That is the year Fairoils Limited - a company involved in essential oil production and marketing -began signing geranium farming contracts with farmers around Mt Kenya.
Last month, Nyambura harvested 856 kilogrammes from the same plot and made Sh12,000. "Drought is to blame for the reduced production," she says.
The monies may seem paltry to city dwellers but for a 28-year old Fourth Former, in a remote village in Laikipia, tens of kilometres away from the nearest tarmac, "it is good money."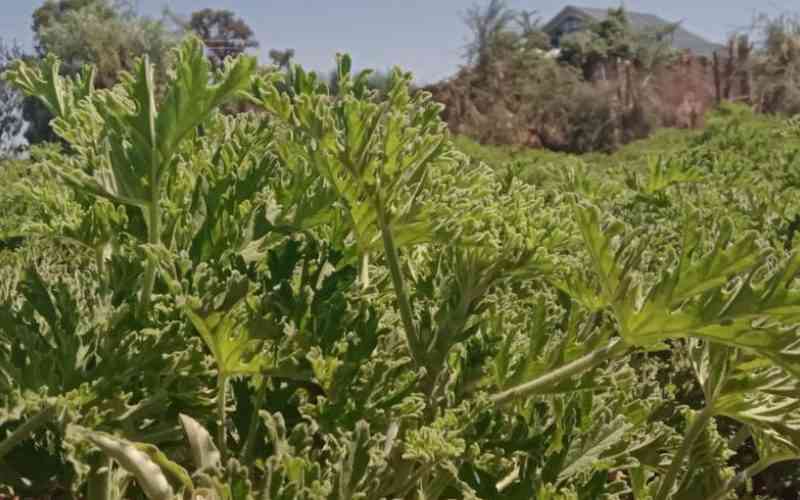 For the next four or so years, Nyambura is expected to harvest geranium at least three times every year - from the same plot - without ever planting a new crop.
"We harvest the canopy. What is left after harvesting grows back into a new canopy - then we harvest again: until five years are over," she says.
Go getter
In high school, Nyambura had her eyes trained on a well-paying job in the ICT industry. She received her KCSE results and swiftly made peace with the unexpected.
She however possessed a go-getter spirit that sent her looking for jobs anywhere and everywhere. In 2013, she jetted to Lebanon; to work as a house keeper.
"It was a good a good job. I earned decently, I would say, but the cost of living was so high that I couldn't save anything."
She jetted back from Lebanon in 2016, almost as she left: retreating back to the natural tranquil that is her home in Wiumererie village.
But Nyambura still wanted to be a productive member of society. She still harboured dreams to be self-sufficient; to not just be another couch potato in her parent's homestead.
"I started researching about farming," she says. "A part of me has always been fascinated by the idea that a seed can replicate into a harvest."
As she researched, she stumbled upon geranium. The plant fascinated her. Not only was it adapted to arid and semi-arid conditions - like those in Laikipia - it was also a repellant to a wide range of animals: from tiny insects (pests) to large mammals (elephants).
Passion for farming
Post-Lebanon Nyambura wanted to be a farmer: making money while at it. In 2020, she met Jackson Githui, an agricultural extension officer with Laikipia County Government.
Githui, it so happened, was part of a climate smart farming programme funded by Korean International Cooperation (KOICA) and implemented by UN Women and Food Agriculture Organisation (FAO) in partnership with the Ministry of Agriculture and state department for gender.
"The programme's aim has been to integrate gender into Climate Change Adaptation (CCA) and Climate Smart Agriculture (CSA), leading to empowerment.
"At the time, there were two farmers growing geranium in the area. As an extension officer, I was curious about the plant.
"I could tell it was a new species in the area. I was able to get a contact of the company that had introduced the farmers to the crop.
"I made calls. Some meetings followed. This was exactly what I was supposed to teach farmers in the programme.
"I urged the farmers to take it up. I then linked them to the company that was entering into contracts with farmers to grow geranium," Githui says.
Nyambura was one of the women Githui recruited for training. As a member of Kapron Self Help Group, which Githui was in charge of, she attended trainings on CSA and women empowerment. Before 2020, Nyambura had already developed interest in geranium. Githui's advice cemented her resolve to join the fray.
"I planted my first geranium crop in June 2021," she says. "I have so far harvested twice, and all I need to do is keep weeding the farm and continue harvesting every four or so months."
Geranium scores on multiple fronts, notes David Kariuki, an agronomist who doubles up as Mt. Kenya region manager in charge of field operations at Fairoils.
He says: "First, the crop is adapted to ASAL areas. It needs little water and is always green. A farmer is assured of some harvest even during drought, like now.
No pesticides needed
"Secondly, geranium requires very little in terms of input. After buying seedlings (an acre of land needs 12,000 seedlings) the farmer does not need to buy any other thing: fertiliser and pesticides included.
"Also, the plant has a very strong smell that is repellent to animals - both domestic and wildlife. In this area it is common for elephants to attack farms and destroy crops. With geranium, the farmer can rest easy."
Known as Women Economic Empowerment through Climate Smart Agriculture (WEE-CSA), the project has so far trained over 2,400 farmers (mostly women) on climate smart farming, economic empowerment, and gender equality.
"The trainings have elevated my confidence as a young farmer," Nyambura says.
The farm under which her geranium grows belongs to her father, John Wachira. "I approached him as a daughter, but also confidently as a woman, and requested that he allows me to use it," she says.
Mr Wachira is ecstatic at his daughter's exploits on the farm. "She is very development oriented: I am impressed," he says.
Nyambura's mother, Lucy Wangui, adds that their young girl has been industrious working the soil. "She shares with us some of the revenue. A few times she has fed us," Wangui says.
According to Githui, Nyambura's story is remarkable because she has implemented a number of project lessons on climate smart agriculture.
"She has taken up geranium. She has also diversified the crops she grows - she has a kitchen garden with spinach, kale and beans for consumption.
"She has dug a small dam to collect and store water when it rains, and uses the water to irrigate the crops. She is also keeping some poultry. She has various ways of earning a living and feeding the family," he says.
The theme for 2022 World Rural Women's Day - marked on October 15 - is 'Rural Women confronting the global cost of living crisis.' Nyambura is definitely doing her part. Her next move is to upscale from a quarter acre to 1.5 acres.
Related Topics